Famously Dead A-Z:

Cause of Death:
View information about Merle Haggard's death here on famously-dead.com. You can view information about Merle Haggard's death and other famous deaths. You can view by name or by cause of death. We also have included the most popular famous deaths.
Merle Haggard's Death

Merle Haggard
Music
April 6, 1937
April 6, 2016
Pneumonia
The life and death of Merle Haggard:
He was a country music icon who had a tough start in life but ended up with millions of fans.
Merle Ronald Haggard was born in California after his parents and two older siblings moved from Oklahoma, where they escaped the Depression-era Dust Bowl. They lived in a make shift home that his father James remodeled out of an abandoned railroad boxcar.
Merle had a tough childhood because his father died suddenly when Merle was nine. Raised by a mother who was always at work to support the family, Merle fell in with a wild bunch of friends and had numerous scrapes with the law, from petty crimes to car theft.
The one saving grace from his upbringing was the fact that his older brother gave him his used guitar when Merle was 12 which Merle taught himself to play by listening to records.
He escaped from a trio of juvenile facilities by the time he was 14. An escape attempt from the Bakersfield jail landed Merle in San Quentin prison in 1958. His exposure there to death row inmate Caryl Chessman, and the fact that a prison buddy was executed, led Merle to reconsider his future.
Merle was released from San Quentin in 1960 and – after becoming a country music star -was granted a full pardon for past crimes in 1972 by then-California Governor Ronald Reagan. Merle said Reagan gave him a second chance at life.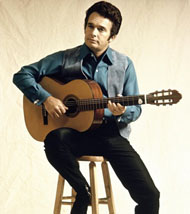 He developed a country music style of his own, appealing to the common man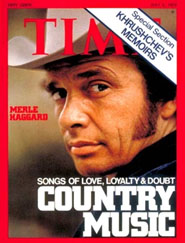 He raced to the top of the cartridge charts with songs like Okie from Muskogee, which put his career into orbit.
With lines like "We don't smoke marijuana in Muskogee…We don't take our trips on LSD" and "We don't burn our draft cards down at the courthouse" it made him a spokesman for the "Silent Majority" in a nation concerned about the rising counter-culture. He was invited to sing at the White House by President Richard Nixon. In fact, Merle was an admitted pot smoker himself.
He also had several number one country hits based on his own prison experiences, like "Mama Tried."
The Grateful Dead and folk singer Joan Baez later recorded cover versions of that song.
A country music giant playing guitar, fiddle and singing and writing songs, Merle was a leader of country music "Bakersfield Sound" of the 1960's, but he resisted simple categorization. Merle won two Grammys, a Grammy Lifetime Achievement Award…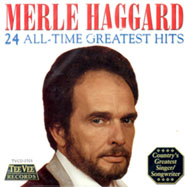 and a 2010 Kennedy Center Honor…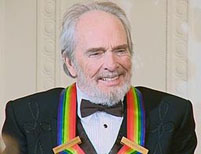 …and is a member of the Country Music Hall of Fame, indicted in 1994.
Merle was married five times. His first marriage to Leona Hobbs ended in divorce but they had four children: Dana, Marty, Kelli and Noel.
Wife number two was Bonnie Owens…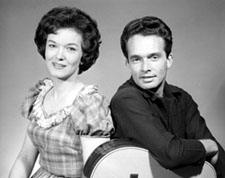 …the former wife of this country music partner Buck Owens…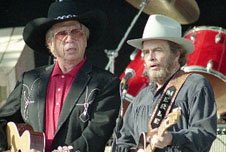 …and a country singer herself.
Merle and Bonnie divorced in 1978 but remained friends and collaborated in music.
A 1978 marriage to Leona Williams ended in 1983…and Merle then married wife number four, Debbie Paget in 1985. It lasted until a 1991 divorce.
Here he is pictured with fifth wife Theresa Ann Lane.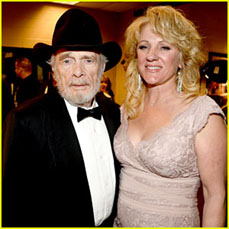 They married in 1993 and had two children, Jenessa and Ben.
Merle died suddenly in on the exact date of the 79th birthday, a victim of the pneumonia he'd been battling for months. Besides his widow Theresa, his survivors include his six children; a sister; and many grandchildren.
A private funeral service, pre-planned by Merle, was held in Palo Cedro, California. Haggard expressed a desire to be cremated.