Famously Dead A-Z:

Cause of Death:
View information about Maurice Gibb's death here on famously-dead.com. You can view information about Maurice Gibb's death and other famous deaths. You can view by name or by cause of death. We also have included the most popular famous deaths.
Maurice Gibb's Death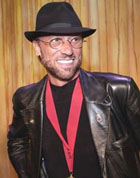 Maurice Gibb
Music, Politics
December 22, 1949
January 12, 2003
Twisted Intestine
The life and death of Maurice Gibb:
He was one of the three Brother's Gibb, one of the most significant bands of the 1960's and '70's – especially in the disco genre. But the life of this gifted singer, songwriter and instrumentalist came to a very sudden and unexpected end.
Maurice Ernest Gibb was born on the Isle of Man, 35 minutes after his fraternal twin Robin Gibb, who was also a member of the Bee Gees. They had an older brother Barry (the third Bee Gee), a sister Lesley and another brother, Andy Gibb, who was born several years later and who also had a successful singing career.
As early as 1955, the older Brother's Gibb were heard singing by their parents and they joined a band called the Rattlesnakes.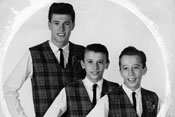 Three years later, the Gibb family moved to Queensland, Australia and the Bee Gees were formed. They moved to Sydney in 1963 and began their recording career.
While his brothers Robin and Barry sang lead, Maurice became famous multi-instrumentalist, excelling at keyboards, bass, guitar and percussion.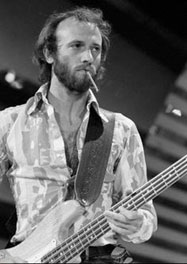 Even thought he was best known for his musicianship, he did some lead vocals, on songs like "On Time", "Lay It on Me" and "Closer than Close".
He also did falsettos on "Nights on Broadway" in live performances, even though Barry did it on the studio recording. The Bee Gees were a smash act, especially after their songs in the hit movie "Saturday Night Fever."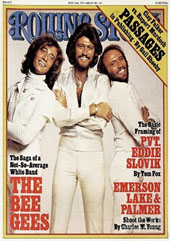 In his personal life, Maurice dated Scottish pop singer Lulu and they married in February, 1969…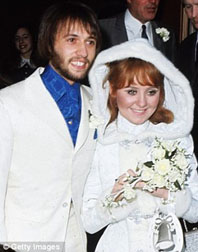 …but divorced in 1973, childless. Maurice married his second wife, the former Yvonne Spenceley in October, 1975.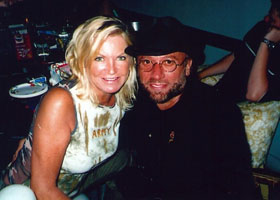 They had two children, Adam and Samantha.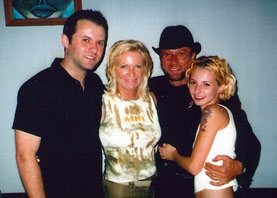 They remained married until his died, despite his growing problems with alcoholism, which included his pulling a gun on his family in 1991.
Maurice says he battled booze since the 1970's and that John Lennon introduced him to his favorite drink, scotch and Coke. He underwent rehab but died of complications of a twisted intestine. His wife, children and surviving brothers were at his side.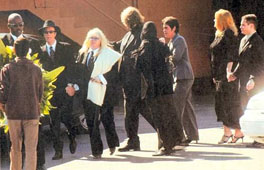 Besides his family, Michael Jackson was among the music world notables who attended his funeral.
Maurice Gibb was cremated and his brothers Barry and Robin stopped performing. Maurice's twin Robin died in May, 2012. Youngest brother Andy died in 1988.