Famously Dead A-Z:

Cause of Death:
View information about Robin Gibb's death here on famously-dead.com. You can view information about Robin Gibb's death and other famous deaths. You can view by name or by cause of death. We also have included the most popular famous deaths.
Robin Gibb's Death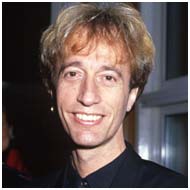 Robin Gibb
Musician, Singer, Songwriter
December 22, 1949
May 20, 2012
Liver and Kidney Failure
The life and death of Robin Gibb:
He played several instruments, wrote songs and sang lead. He even enjoyed some success as a solo act. But in his career, the sum was greater than the individual parts and his main claim to fame is - he was one of the Bee Gees, a group of singing brothers who were a giant act during the disco craze in the late 1970's.
The group was made up of oldest brother Barry and fraternal twins Maurice and Robin.

The Brothers Gibb (Bee-Gee's) had a younger brother Andy Gibb, who had a successful solo act.
Robin Hugh Gibb and his brothers Barry and Maurice were born on the Isle of Man in England to Hugh and Barbara Gibb. The family moved to Manchester before settling in a suburb of Brisbane, Australia.

When their popularity grew, they returned to England. Robin played a variety of instruments including keyboard, organ, piano, and guitar. Their first success in the U.S. was with 1967's "New York mining disaster 1941"
Robin briefly left the group in March 1969…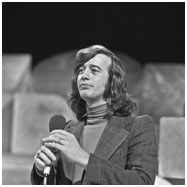 …for a solo career and he was initially successful with "Saved by The Bell" in the United Kingdom. He also reportedly wrote a dozen songs for the Welsh singer, Tom Jones.
However, in 1970, Robin rejoined his brothers and they recorded together again. Their first Number One single was "How Can You Mend a Broken Heart"
Robin also sang lead on the group's hit "I Started a Joke"
The Bee Gees really hit it big during the disco craze the late 1970s with songs like "You Should Be Dancing", "More than a Woman" and other huge hits from the movie "Saturday Night Fever", starring John Travolta.
Robin married Molly Hullis in 1968 and they had two children together: Spencer and Melissa. The couple divorced in 1980 after years of living separate lives. His second marriage in 1985 was to Dwina Murphy Gibb and they had a son, Robin-John.
Gibbs' fourth child, Snow, was born during his eight year affair with his housekeeper, Claire Yang.
Tragedy hit the Bee Gees when youngest brother Andy Gibb, died in England of myocarditis in 1988.
Then, in January 2003 twin brother Maurice died in Miami Beach of complications from twisted intestine.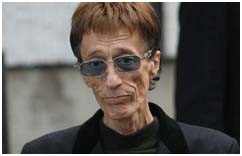 Robin himself died in May 2012 at the age of 62 from liver and kidney failure brought on by colorectal cancer. He was buried at the Church of St. Mary the Virgin, near his home in Oxfordshire.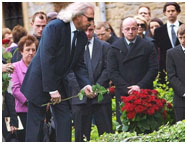 His only surviving brother, Barry, paid last respects.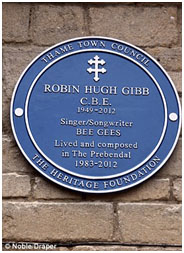 And a blue plaque...a mark of honor…was placed on Robin's house.