Famously Dead A-Z:

Cause of Death:
View information about Al Jarreau's death here on famously-dead.com. You can view information about Al Jarreau's death and other famous deaths. You can view by name or by cause of death. We also have included the most popular famous deaths.
Al Jarreau's Death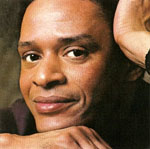 Al Jarreau
Music
March 12, 1940
February 12, 2017
Undisclosed
The life and death of Al Jarreau:
This talented singer and musician spanned the pop, R&B and Jazz genres and won seven Grammy Awards…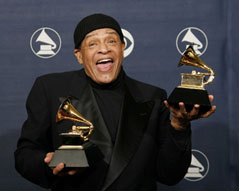 ….and was a nominee for another twelve. He also died two days into his retirement.
Alwin Lopez Jarreau was a native of Milwaukee, Wisconsin and had five siblings, four older than he. His father was a minister and singer in a Seventh Day Adventist Church and his mother played the church piano. As a boy, he and his family performed at church benefits and concerts.
After graduating Lincoln High School, Al attended Ripon College, where he earned a psychology degree. He then got a Master's Degree in Vocational rehabilitation from the University of Iowa and worked as a rehab counselor in San Francisco.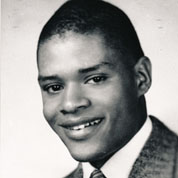 But he also moonlighted in a jazz trio and his Bay Area success led to his full-time career in music at the age of 28.
He started appearing at hot venues in Los Angeles and on TV with Mike Douglas, Merv Griffin and Johnny Carson. His nightclub appearances put his singing, alongside acts like John Belushi.
His biggest hit song came in 1981 with "We're in This Love Together."
His last big hit was the Grammy nominated theme song to the TV show "Moonlighting."
And Al also was one of the music superstars in the 1985 charity song, "We Are the World."
Al was married twice, divorcing first wife Phyllis Hall after four years in 1968. His second wife was model Susan Player. They were married from 1977 until he died and had a son, Ryan, photographed here when Al was awarded his star on the Hollywood Walk of Fame.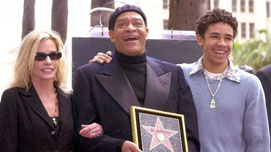 He's survived by them along with two brothers and a sister.
As early as 2010, Al suffered some health crises, suffering from respiratory and heart problems. He came down with pneumonia in June 2012, forcing his to cancel several concert appearances in France.
And on February 8th, 2017, he was hospitalized for exhaustion in Los Angeles. He cancelled the rest of his tour dates for the year and announced his retirement on February 10th and two days later, Al Jarreau died, one month before turning 77. Beyond exhaustion, the exact cause of his death was not announced.