Famously Dead A-Z:

Cause of Death:
View information about Johnny Carson's death here on famously-dead.com. You can view information about Johnny Carson's death and other famous deaths. You can view by name or by cause of death. We also have included the most popular famous deaths.
Johnny Carson's Death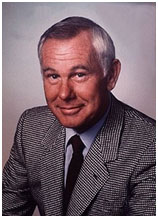 Johnny Carson
TV host
October 23, 1925
January 23, 2005
Respiratory Failure
The life and death of Johnny Carson:
He's the gold standard of late night television hosts. This is the guy folks have in mind when late night comedy is discussed. He is still the king, despite being off the air for decades and probably will never be dethroned.
John William Carson was born in Corning, Iowa. His father Homer was a power company manager and his mother Ruth was a housewife. Johnny had a strained relationship with his Mom, never feeling she gave him credit or felt joy for his accomplishments.
His first crack of performing came at the age of 12 when Johnny found a book on magic at a friend's house and then ordered a mail order magician's kit.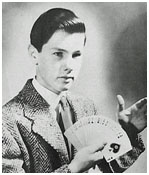 Abracadabra, "The Great Carsoni" debuted at age 14 and Johnny was paid three dollars for performances at local picnics and country fairs.
Carson joined the Navy in June 1943…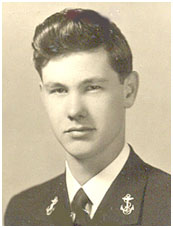 …was commissioned as an ensign and posted a 10-0 amateur boxing record while serving on the USS Pennsylvania in the Pacific. He later attended the University of Nebraska where he graduated with a Bachelor of Arts degree in radio and speech.
Johnny began broadcasting in 1950 at radio station WOW in Omaha, Nebraska. They also had a TV station and Johnny started hosting a Saturday morning program called "The Squirrels Nest". Foreshadowing what was to come, one of his routines was interviewing pigeons on the roof of the local courthouse.
He moved to California in 1951 looking for work and found it at the CBS station KNXT-TV, where he hosted a comedy show called "Carson's Cellar" from 1951 to 1953, and a variety show called "The Johnny Carson Show" from 1955-1956.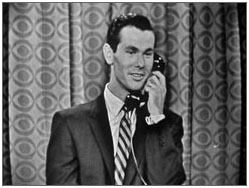 Red Skelton, already a big star in his own right, invited Carson to join his comedy writing team and Johnny later began appearing on Jack Benny's show.
Johnny then moved to New York in 1957 to host "Who Do You Trust?" On that show he did some live commercials, which didn't always work out great.
Meantime, NBC-TV's "The Tonight Show" was having a change in leadership. Steve Allen was the original host of "Tonight" and his success in the late night slot led to a primetime variety show in 1956. Jack Parr replaced Allen as the host of "Tonight". Then Paar left the show in 1962 and Johnny's success on "Who Do You Trust" led NBC to have Carson take over. TV history was about to be made.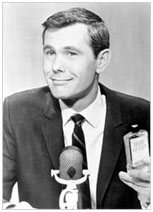 Johnny never looked back. With his dry style and quick wit, Johnny owned late night television.
Besides interviews of top show biz names, Carson added his own unforgettable characters, like Art Fern.
Aunt Blabby.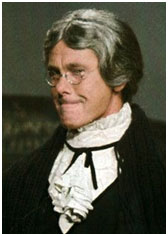 And "Carnac the Magnificent"
In the summer of 1971, Johnny stopped hosting the show five days a week, with a guest host filling in on Monday nights. And by 1972, the show moved from New York to Burbank, California.
Carson helped to launch the careers of many performers, including David Letterman, Jay Leno, Jerry Seinfeld, Ellen DeGeneres, Tim Allen, Drew Carey, Roseanne Barr and Joan Rivers. (He never spoke to Rivers again when she took a job on another network in competition with his show)
But he also riled several people too. Actor Raymond Burr, angered by Carson's continuing fat jokes, refused invitations to the Tonight Show.
And Johnny even angered Mr. Rogers! He made a joke of the Mr. Rogers character where you played an evil Mr. Rogers urging kids to steal money from their parents. Fred Rogers was not impressed and Johnny later apologized for making fun of him.
Johnny also had outside business ventures, including a successful clothing line called "Johnny Carson Apparel."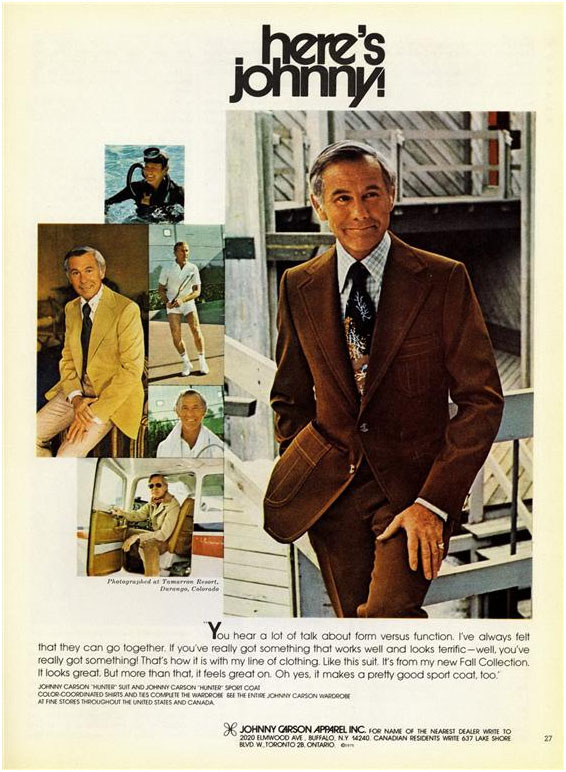 He also was a major investor in the DeLorean motor company, which was a failure.
He also tried marriage several times and they weren't always successful either.
He and his first wife, Jody Walcott…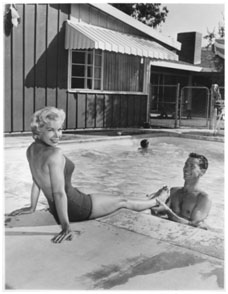 …had three sons.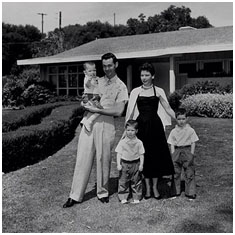 ...but the marriage was stormy, with infidelities on both sides they divorced in 1963.
He quickly married Joanne Copeland in August, 1963.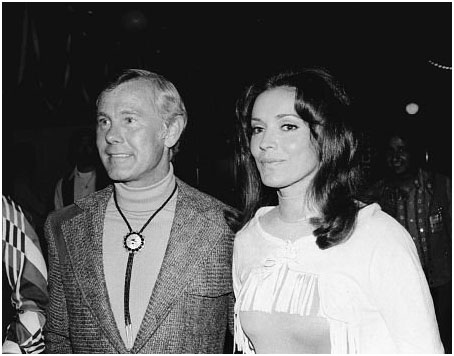 They divorced in 1972 and she got $6000 a month in alimony until he died.
And by the end September of that year, Johnny announced he married a former model, Joanna Holland…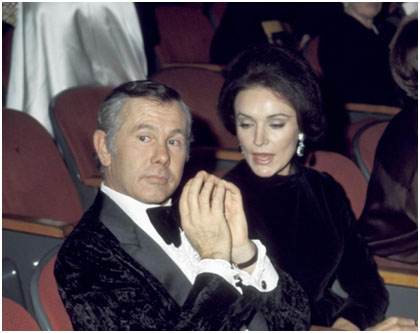 …who bore a striking resemblance to the wife he'd just left behind.
They divorced 1985 and Holland received $20 million in cash and property.
Wife number four was Alexis Maas…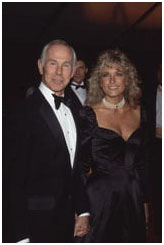 …and it lasted until Johnny died.
Known to be a shy person despite his witty TV persona, Johnny was a heavy smoker for decades and in March 1999 he suffered a severe heart attack in his home in Malibu. He underwent quadruple bypass surgery at age 73.
Six years later on January 23, 2005 Johnny died at Cedars-Sinai Medical Center in West Hollywood of respiratory figured. He'd been suffering from emphysema and was 79 years old.
His body was cremated and his ashes were given to his widow, Alexis
No public memorial service was held in accordance with the family's wishes; although numerous tributes were paid to Johnny after he died by celebrities from all walks of American life.