Famously Dead A-Z:

Cause of Death:
View information about Joan Rivers's death here on famously-dead.com. You can view information about Joan Rivers's death and other famous deaths. You can view by name or by cause of death. We also have included the most popular famous deaths.
Joan Rivers's Death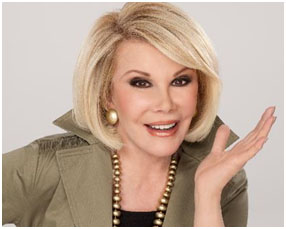 Joan Rivers
Comedian, TV Host, Writer, Actress, Producer
June 8, 1933
September 4, 2014
Complications from surgery, including Cardiac Arrest
The life and death of Joan Rivers:
She was a pioneering woman on television, known for standup comedy and hosting talk shows. She came to prominence in the mid-1960s as a guest on the "Tonight Show" and always credited Johnny Carson as her mentor. Unfortunately their relationship fell apart several years later although she continued to enjoy success in other ways.
Joan Alexandra Molinsky was born in Brooklyn, New York in a Jewish family. Her parents Beatrice and Meyer were Russian immigrants. She spent her early years in Brooklyn before the family moved to Larchmont in Westchester County.
She first went to Connecticut College and then attended Barnard College, graduating with a Bachelor of Arts degree in English literature a 1954.
Before getting into show business, Joan worked at various jobs including a tour guide at Rockefeller Center and as fashion consultant at Bond Clothing Stores. In fact, her first, brief marriage was to James Sanger, the son of a merchandise manager at Bonds. (That's Joan in this picture.)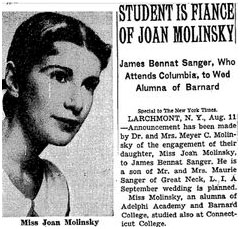 Her agent suggested she change her name and she chose Joan Rivers as her show biz name.
She started appearing in plays and performing in various comedy clubs in New York City's Greenwich Village in the late 1950's.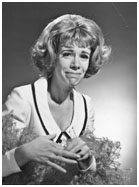 And she made her first appearance on the "Tonight Show" with Johnny Carson in February, 1965.
By the 70's she was on various TV comedy in variety shows, including 'The Carol Burnett Show "and "The Hollywood Squares."
And her relationship with Carson grew stronger, with Joan becoming his regular guest host in August 1983.
But three years later her relationship with Carson was completely breached, when the new Fox TV network announced it was giving her a late night talk show, the first woman to get one.
But Carson, who said he learned of the show in a competing time slot from Fox - and not from Rivers herself - felt she was disloyal and never spoke to her again.
Here's Joan's side of the story.
Rivers did not appear on the Tonight Show again until February 2014 when she made a brief appearance when Jimmy Fallon took over. On March 27, 2014 she returned for an interview, her last appearance on "Tonight."
And her late night adventure at Fox turned out to be more tragedy than comedy. When Rivers challenged Fox executives who wanted to fire her husband Edgar Rosenberg…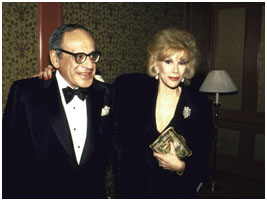 …as the show's producer, Fox fired both of them. Three months later in May, 1987 Rosenberg committed suicide.
Joan was also open about multiple cosmetic surgeries.

And also about some affairs she had while married to Rosenberg, including actor Robert Mitchum.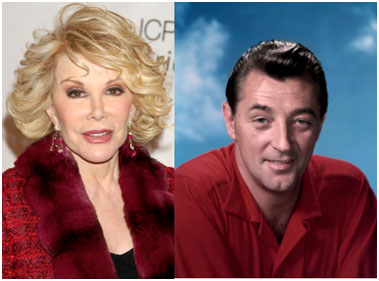 Rivers claimed they hooked up after a 1960's Tonight Show appearance.
Joan later teamed up with her daughter Melissa …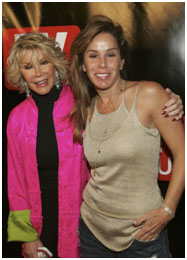 …in some TV ventures, like "Joan & Melissa, Joan Knows Best?"
On August 28, 2014 Joan Rivers experienced severe complications stopping during throat surgery at a clinic in Manhattan, including interrupted breathing. Rushed to Mount Sinai Hospital, she was put into a medically induced coma after reportedly going into cardiac arrest.
The next day Melissa stated Joan was resting comfortably but on August 30 it was reported Rivers was put on life-support and she was placed in a private room on September 3.
One day later, on September 4th, Melissa announced that Joan Rivers was dead at the age of 81.
Joan received a star's send off at a funeral service at Temple Emanu-El in Manhattan on Sunday, September 7th. She'd famously said: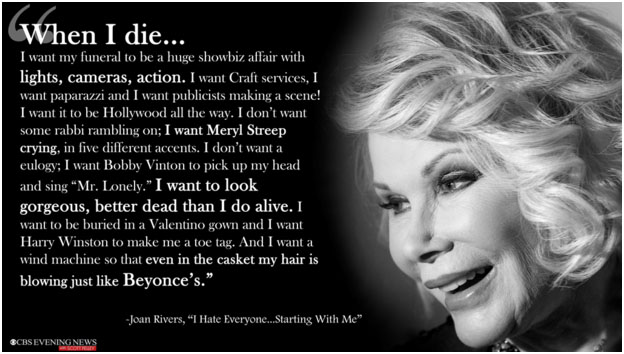 Celebrities from all walks of life gathered to pay their last respects, from Donald Trump to Matthew Broderick…

…to radio shock jock Howard Stern, who spoke at the service.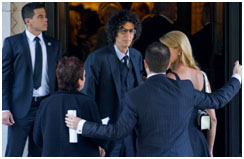 Joan was buried at Forest Lawn Cemetery in Los Angeles with the red carpet that her funeral attendees walked on.
In October, 2014, the New York City medical examiner's office reported that Rivers died of low blood oxygen during a procedure to treat voice changes and acid reflux. She suffered a low blood oxygen level, cutting off oxygen to the brain.
It was called a therapeutic complication. She had been sedated with propofol, the same sedative that contributed to the death of Michael Jackson.