Famously Dead A-Z:

Cause of Death:
View information about Fred Rogers's death here on famously-dead.com. You can view information about Fred Rogers's death and other famous deaths. You can view by name or by cause of death. We also have included the most popular famous deaths.
Fred Rogers's Death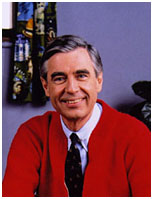 Fred Rogers
Children's TV Host, Educator
March 20, 1928
February 27, 2003
Cancer
The life and death of Fred Rogers:
In towns and cities across America, no matter their exact geographical locations, millions of kids grew up in this guy's neighborhood.
Unlike most hosts on TV shows for kids, Mr. Rogers was soft-spoken, gentle and spoke directly to his audience. As a result, he gained fame and respect from several generations of people. He was an icon of education, entertainment and a symbol of patience, morality and compassion – an all-around good guy.
Frederick McFeely Rogers was born in Latrobe, Pennsylvania outside of Pittsburgh. His parents were James and Nancy Rogers and he had one sister Elaine. Growing up, he spent a lot of time with his maternal grandfather - Fred McFeely – who was interested in music. Little Fred would often sing along with his mother while she would play the piano and he was playing the instrument himself by the age of five.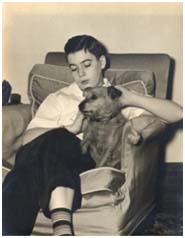 In 1946, Fred graduated from Latrobe High School. He attended Dartmouth College for two years and then went to Rollins College in Winter Park, Florida - earning a Bachelor of Arts degree in music composition in 1951.
He also met Sarah Joanne Byrd in Florida…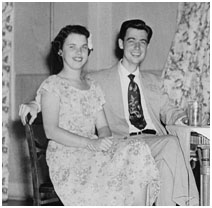 …and in June 1952, she became Mrs. Rogers. They had two sons, James and John.
Fred was ordained as a minister in the United Presbyterian Church in 1963, and lived a very clean life – neither smoking nor drinking, while eating a vegetarian diet and swimming every morning.
And even freeze frames like this…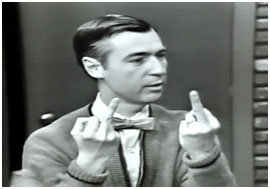 …didn't capture his true nature. While some websites suggest he was flipping off the audience, he was actually in the middle of performing a kids' song in which participants would hold up corresponding fingers.
His integrity as a person in many ways paved the way to his fame. Fred was fascinated with the potential of television, but was displeased with the way TV dealt with children and he wanted to change it. He got a job with NBC in New York in 1951 mainly because of his music background, working on music related programming. He also worked on a kids' show but concluded commercial TV's reliance on ads limited its ability to educate kids.
So he left NBC and moved to WQED, a public TV station in the Pittsburgh area, in 1954 - working as a puppeteer on a show dedicated to youngsters with Josie Carey.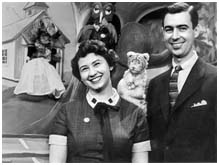 For the next seven years, Fred and Josie perfected their unscripted live show, using lots of puppets.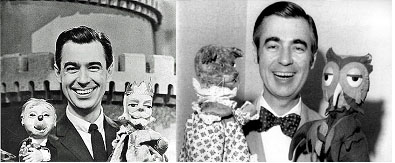 Fred later explained why those puppets were so important.
He also started wearing those sneakers, because they were quieter as he moved along the studio's set.
In 1963, Fred moved to Toronto where he made a deal with the Canadian Broadcasting Corporation to develop a 15 minute show called "Misterogers". He later acquired the rights to the show from the CBC and returned to Pittsburgh to further develop the program. It was distributed by PBS starting in 1971…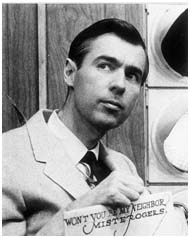 …and soon, kids from all over spent some time in Mister Rogers Neighborhood.
Because of his ground-breaking work, the show won four Emmy Awards and Fred was presented with a lifetime achievement award at the 1997 Daytime Emmys. He also received the Presidential Medal of Freedom, 40 honorary degrees, a Peabody award and was also inducted into the television Hall of Fame.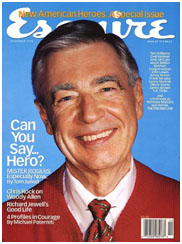 TV Guide ranked him number 35 on its list of the fifty greatest TV stars of all time.
Fred also wrote many of the songs heard on his show and more than three dozen books, including titles like…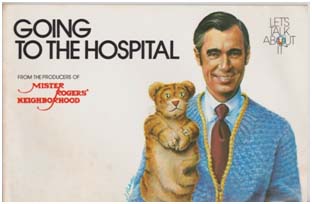 …"Going to the Potty" and "When a Pet Dies."
Fred was diagnosed with stomach cancer December 2002, long after he retired from the screen. He underwent surgery, which was unsuccessful and died on the morning of February 27, 2003 at home with his wife by his side. He was just a few months shy of his 75th birthday.
His death was an especially big story in Pittsburgh, and the entire front page of the Pittsburgh Post-Gazette published the next day was devoted to him, along with other special coverage.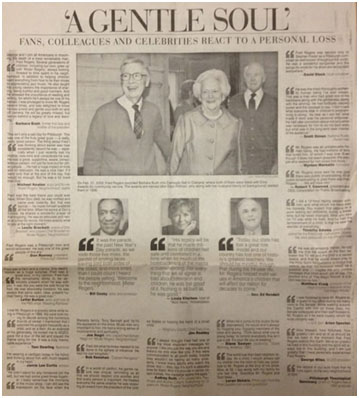 Mr. Rogers' final resting place is in Unity Cemetery in Latrobe, Pennsylvania.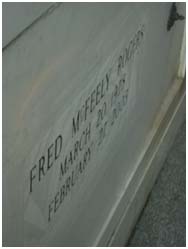 However, Mister Roger's spirit lives on for a new generation of viewers…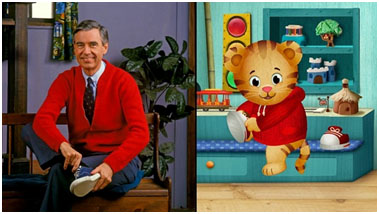 …in "Daniel Tiger's Neighborhood" on PBS. The show's built around the fictional offspring of one of Fred's original puppet characters, Daniel the Striped Tiger. Four year old Daniel wears a red cardigan and sneakers, just like Fred, and speaks directly to the viewer, just like the show's inspiration.