Famously Dead A-Z:

Cause of Death:
View information about Merv Griffin's death here on famously-dead.com. You can view information about Merv Griffin's death and other famous deaths. You can view by name or by cause of death. We also have included the most popular famous deaths.
Merv Griffin's Death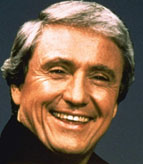 Merv Griffin
TV host, Game Show Creator
July 6, 1925
August 12, 2007
Cancer
The life and death of Merv Griffin:
He is best remembered as a television talk show host but what you may not know about him might stagger you. He was also a radio and big band singer, acted on Broadway and in movies and developed some of the most famous TV game shows ever, some still very popular today. In fact, in the entertainment industry, he was considered a major force.
Mervyn Edward Griffin was born in San Mateo, California to his stock broker dad, Mervyn Sr. and his homemaker mom, the former Rita Robinson. He was raised as a Roman Catholic in his Irish- American family and started signing in the church choir as a youngster. By the time he was a teenager, he was making some extra money as the church organist and his talent on the keyboard proved to be his springboard into show business.
He went to San Mateo High School and then the junior college in his hometown before moving on to the University of San Francisco. He didn't serve during World War II, designated with a 4F medical deferment because of a slight heart murmur. When hostilities broke out in Korea some years later, he was deemed fit to serve but was over 26 years of age and no longer subject to the military draft.
By that time, he was a veteran performer on radio, having started on a nationally syndicated show on San Francisco based KFRC.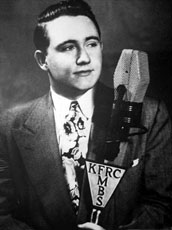 But Merv was an overweight adolescent and when some of his radio fans saw him, they were disappointed. So Merv made up his mind to lose weight, shedding a whopping eighty pounds in only four months.
His svelte new image helped to beef up his career because orchestra leader Freddy Martin invited him to tour with his group, which Merv did for four years. But Merv always had his eyes open, starting his own record label in 1945 called Panda Records. Using it, he recorded the first album ever on magnetic tape in the U.S., called "Songs by Merv Griffin". Griffin also had a nightclub act and his popularity zoomed with his hit record in 1950 - a novelty song called "I've got a Lovely Bunch of Coconuts."
Doris Day caught his club act and helped him get a screen test at Warner Brothers and that helped him land supporting roles in musicals like "So This Is Love."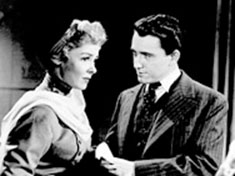 But Merv didn't see his future in movies and decided to get into the growing TV business instead. Foreshadowing his great success in game shows, Merv hosted one called "Play Your Hunch"…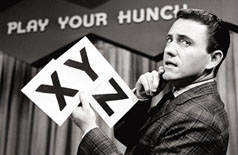 …from 1958 to 1962, mostly on NBC. He also guest hosted other shows and was given the chance to host and produce "Word for Word" on NBC in 1963.
He met the original "Tonight" show host, Jack Parr during a live show, ending up as a guest host for "Tonight" when Parr left. When Johnny Carson won the job as full-time host of "Tonight", NBC remembered Merv and gave him a 55 minute daytime talk show in 1962, but it was off the air in 1963.
However, Merv found a comfortable venue and launched his own syndicated show for Westinghouse which played in various time slots in various cities, even against Carson in some places.

Here he is photographed with his sidekick, the British actor Arthur Treacher.
The show ran for 21 years and won eleven Emmy Awards. TV viewers in a later generation got a sense of Merv's impact when an episode of Seinfeld was dedicated to Kramer snapping up Merv's old set.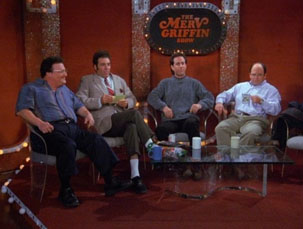 In 1969, Merv had his one big stumble. CBS offered him a late night show directly against Carson but Merv and the network couldn't agree on his guests, which CBS felt were too controversial. When Merv inked a deal with rival Metromedia for a syndicated daytime show, CBS fired him - but his new show syndicated show started within a few days and ran until the mid 1980's.
He retired from talk shows in 1986 and left the biz as one of the world's wealthiest entertainers…because in the mid 1960's he created and produced "Jeopardy!"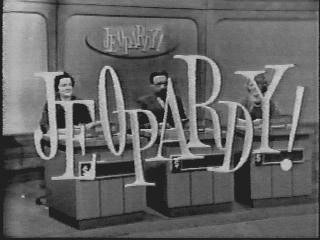 …a show that had two popular hosts, first Art Fleming and later Alex Trebeck.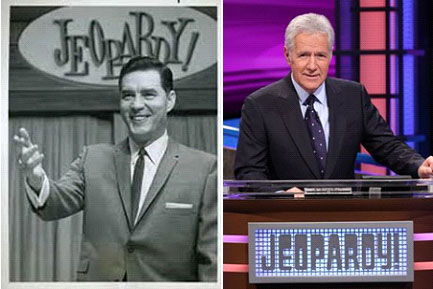 Merv credited his wife Julann with getting the original idea on a plane ride…provide the answer and make someone think of the question. Merv even wrote the music for the Final Jeopardy Round.
When NBC dropped Jeopardy in 1975 from its daytime schedule, Merv came up with "Wheel of Fortune", which made him another personal fortune.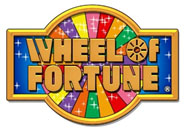 But he did not monopolize the category. His attempt to turn the board game "Monopoly" into a TV game…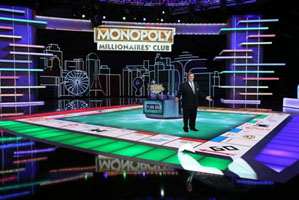 …did not pass go!
Merv had a son Tony with his wife Julann, although the couple divorced and he fended off palimony lawsuits from a couple of men. Merv called it extortion and both lawsuits were thrown out of court. Nevertheless, there were rumors and books about his secrets.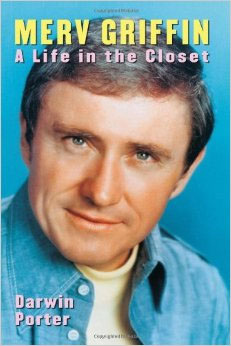 Merv was first treated for prostate cancer in 1996 and the disease claimed him eight years later at the age of 82. Survived by his son Tony and two grandchildren, many Hollywood stars attended his funeral services in Beverly Hills at the Church of the Good Shepherd.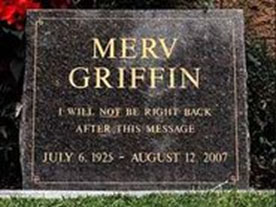 Merv's buried at Westwood Village Memorial Park in Los Angeles. And he has a star on the Hollywood Walk of Fame.