Famously Dead A-Z:

Cause of Death:
View information about Marlon Brando's death here on famously-dead.com. You can view information about Marlon Brando's death and other famous deaths. You can view by name or by cause of death. We also have included the most popular famous deaths.
Marlon Brando's Death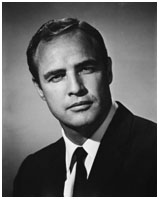 Marlon Brando
Actor
April 3, 1924
July 1, 2004
Respiratory Failure
The life and death of Marlon Brando:
He's considered one of the greatest actors of his generation, bringing to life characters as diverse as Stanley Kowalski, Terry Malloy and Vito Corleone, among others. And he won Best Actor Oscars for his roles as Malloy and the Godfather.
His name in fame is the same as the one on his birth certificate. Marlon was born in Omaha, Nebraska. His father Marlon Sr. was a pesticide and chemical feed manufacturer and his mother Dorothy was an actress.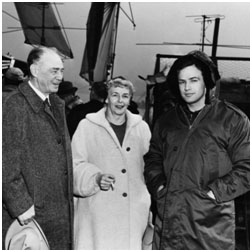 She was way before her time, wearing pants, smoking and driving cars. Known as Dodie, she also had a drinking problem. In later years Marlon expressed regrets about his mother's condition but had more anger for his father - who used to tell him he would never amount to anything. Senior was very wrong about Junior.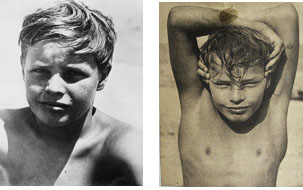 Nicknamed Bud as a kid, he developed an early style of imitating others and he excelled in the theater at Shattuck Military Academy.
He tried to enlist in the army but he was 4F because of a bad knee.
After enjoying the experience in a school play Marlon went to New York and to try acting and where he studied the craft. Though destined for Broadway, he got his start further east in early summer stock roles in Sayville, on Long Island, New York.
He zoomed to fame as Stanley Kowalski in 1947 in the Tennessee Williams play "A Streetcar Named Desire" on Broadway…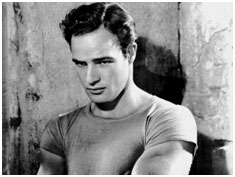 …and was a hit in that role what it was turned into a movie.
Brando later said he based his character on the boxer Rocky Graziano.
Other major film roles followed, including the life of Emiliano Zapata in "Viva Zapata!" in 1952.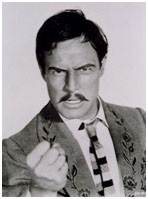 …and as a bad boy motorcycle gang member in "The Wild One."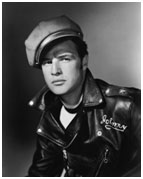 1954 saw him rise to the top in "On the Waterfront" as Terry Malloy…

…for which he won the Best Actor Oscar. Watch Brando in this classic scene with Rod Steiger.
His only role in a musical was in "Guys and Dolls" in 1955, in which he clashed with his co-star Frank Sinatra.
By the time the 1960s came, his stardom was starting to fade and by the early 1970's many in Hollywood considered Brando washed up. But his role as Vito Corleone put them back on top with another Oscar-winning appearance.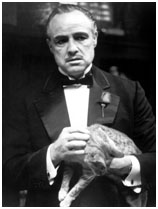 He even devised special make up, using cotton balls to puff up his cheeks.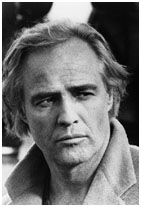 Now here he is in another scene that made movie history.
Brando and Robert DeNiro are the only actors who won Academy Awards for playing the same character. Brando as Lead Actor for Vito Corleone in 1974 and DeNiro has Best Supporting Actor as Corleone in 1974's "Godfather II."
"The Godfather" was followed by "Last Tango in Paris"…

…a movie noted for its highly sexual content.
And still more memorable roles followed as Jor-El in 1978's Superman.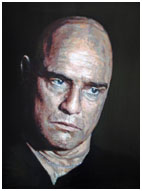 …and Colonel Walter Kurtz in "Apocalypse Now" in 1979…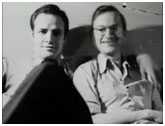 Despite his enormous success, Brando's troubled family life ( marked with many wives, lovers and children – 16 and maybe more and some admitted gay encounters)…his obesity (ballooning to over 300 pounds and suffering from diabetes)… and his notorious reputation sometimes got more attention than his acting.
He died of lung cancer and was cremated and his ashes were placed with those with his longtime friend and actor Wally Cox…
…and they were scattered - partly in Tahiti and partly in Death Valley.
Meantime, his reputation remains intact as one of the greatest actors ever. Some say the greatest.