Famously Dead A-Z:

Cause of Death:
View information about Tennessee Williams's death here on famously-dead.com. You can view information about Tennessee Williams's death and other famous deaths. You can view by name or by cause of death. We also have included the most popular famous deaths.
Tennessee Williams's Death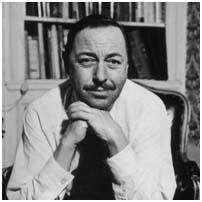 Tennessee Williams
Playwright
March 26, 1911
February 25, 1983
Overdose
He was one of America's most noted playwrights because he wrote what he knew. Many of his best known characters had deep-seated problems, which was something he personally struggled with.
Thomas Lanier Williams came from a dysfunctional Mississippi family. As a small child he suffered from a case of diphtheria which nearly killed him and left him weak. His father, Cornelius – a descendant from tough Tennessee stock - was tough on him, considering him effeminate. His mother Edwina, trapped in an unhappy marriage, focused her smothering attention almost entirely on him.
As a member of a fraternity at the University of Missouri, he didn't fit in well because his frat brothers found him to be a socially awkward loner. And while he tried heterosexual relationships, they didn't work out. So in the 1930's, Williams admitted that he was homosexual and accepted it - living as a homosexual the rest of his life.
When he was on his game, Tennessee Williams was borrowing from his life experience, his words reflecting his personal anxiety. He referred to his real-life high school setting in his break out play, "The Glass Menagerie."
And his character Stanley Kowalski in "A Streetcar Named Desire", was based on a guy he worked with at a factory. It was a role forever tied to Marlon Brando, seen here with Kim Hunter and Vivien Leigh.
Another play that transferred very well to film was "Cat on a Hot Tin Roof."
Some of Williams' other famous titles include: "Orpheus Descending" and "Sweet Bird of Youth".
Towards the end, though, his dependence on drugs and alcohol diminished his output and appeal and hampered his writing.
Tennessee Williams was found dead in a New York City hotel room on February 25, 1983. Originally it was thought that he choked to death on the cap from a bottle of eye drops he used, and that his use of drugs and alcohol contributed by suppressing his gag reflex.
But further investigation by the New York Medical Examiner revealed that Williams actually died of a drug and alcohol overdose, not from choking. The report was later modified to say he died of acute seconal intolerance.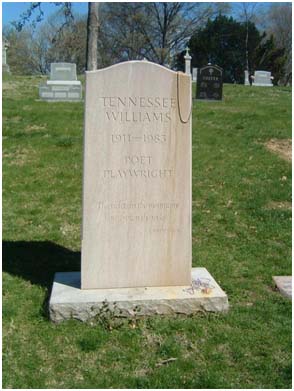 Tennessee Williams is interred not in Tennessee, but at Calvary Cemetery in St. Louis, Missouri.