Famously Dead A-Z:

Cause of Death:
View information about James Garner's death here on famously-dead.com. You can view information about James Garner's death and other famous deaths. You can view by name or by cause of death. We also have included the most popular famous deaths.
James Garner's Death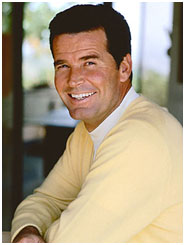 James Garner
Actor
April 7, 1928
July 19, 2014
Natural Causes
The life and death of James Garner:
His easy, understated style made him a star in TV series and in feature films. James Garner used subtlety to portray cowboy gamblers, war heroes and private detectives in a career that spanned more than half a century.
The name on his birth certificate was very similar to his stage name: James Scott Bumgarner was born in Norman, Oklahoma to a carpet layer and his wife.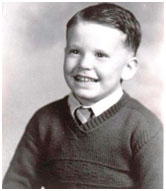 He had two older brothers – one was also an actor, Jack Garner.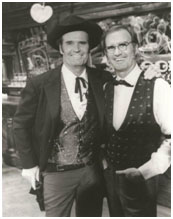 James' mother died when he was only five years old and James and his brothers were sent to live with relatives.
The family was reunited when his father remarried. But James hated his step-mother, Wilma, who beat all three of the boys, particularly James. She once forced James to wear a dress in public and he says he eventually started fighting with her and choked her to stop her from killing him. Their violent tangle ended his father's second marriage.
Towards the end of World War II, James joined the Merchant Marines but often complained of being sea-sick. He joined his father in Los Angeles when he turned 17 and did some swim suit modeling…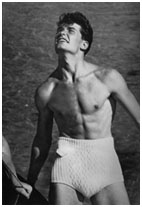 …but said he hated the work and quit.
James then joined the National Guard and served in Korea where he won the Purple Heart after being wounded.
Garner had some small film roles, playing in "Sayonara" with Marlon Brando, but his star really started to shine in 1957 in the comedy western series "Maverick", in which he played the role of Brett Maverick.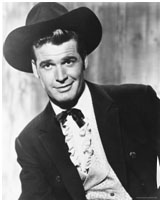 Here he is in a scene with another screen mainstay, Clint Eastwood.
A second character was added after the first seven episodes, Brett's brother, Bart Maverick, played by Jack Kelly.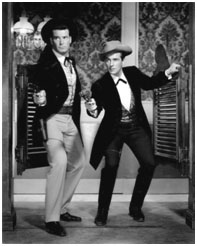 James quit Maverick in its third season in dispute with Warner Brothers.
He turned to feature films, and appeared in "The Children's Hour" and "The Great Escape" with Steve McQueen and Charles Bronson. James filmed this "Great Escape" scene with Donald Pleasance.
By the 1970's, James was ready to switch back to TV in "The Rockford Files", as a private detective.
His 1980's film credits included an Academy award nomination for Best Actor in "Murphy's Romance", opposite Sally Fields.
And in 2004, Garner starred in "The Notebook", opposite Gene Rowlands, while a younger version of his character was played by Ryan Gosling.
Despite his Hollywood success, James was a family man. He married TV actress Lois Clark in 1957…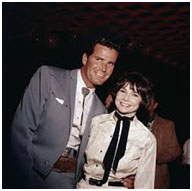 ...and they had a daughter, Gretta.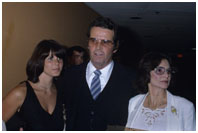 (Lois had a daughter Kimberly, from a previous marriage.)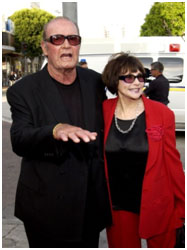 James Garner, who died less than a month before their 58th wedding anniversary, has a star on the Hollywood Walk of Fame.