Famously Dead A-Z:

Cause of Death:
View information about Mel Allen's death here on famously-dead.com. You can view information about Mel Allen's death and other famous deaths. You can view by name or by cause of death. We also have included the most popular famous deaths.
Mel Allen's Death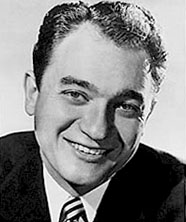 Mel Allen
Radio and TV Announcer
February 14, 1913
June 16, 1996
Heart Failure
The life and death of Mel Allen:
Be it radio or TV, for decades his voice meant baseball was on the air…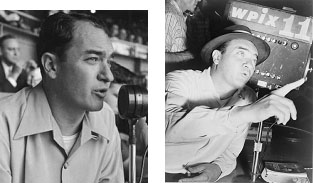 …especially when history was being made.
Mel Allen was the Voice of the New York Yankees, including the day of Babe Ruth's famous farewell speech…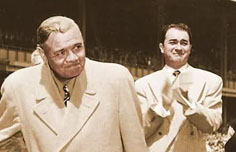 ...to the fading playing days of another Yankee superstar, Mickey Mantle.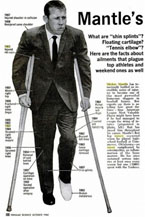 And in between, he was describing the heroics of Hall of Famers Joe DiMaggio, Bill Dickey, Yogi Berra, Whitey Ford, Phil Rizzutoo as the Yankees racked up pennant after pennant, and World Series upon World Series championship.
Melvin Allen Israel was born in Birmingham, Alabama, where he developed the smooth Southern drawl that amplified his rich, clear voice. His first speaking job was as a public address announcer for football games of the Alabama Crimson Tide.
He quickly moved to the broadcast side for the team's games in 1933.and when he graduated from the University of Alabama's School of Law in 1937, he went to New York for a week's vacation.
His New York stay lasted for pretty much the rest of his life.
He auditioned for a job as an announcer with CBS Radio and was hired for $45 a week, very good for the Depression Era. And he wasn't always assigned to sports, but did big band remotes and game shows.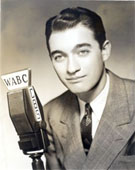 It was at that time that he changed his name, on the air and legally, to Mel Allen.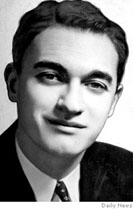 He started doing baseball as a color commentator for the 1938 World Series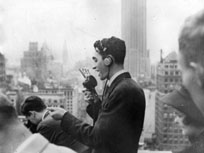 …and then did Washington Senators games in 1939, before moving to New York where he worked both Yankee and Giants' home games. He continued working for both teams until 1941, when the games were off the air because they couldn't find a sponsor.
He came back for both New York teams in 1942(add to his list of hall Fame descriptions: the Giants' Carl Hubbell, and Mel Ott) but then joined the Army for World War Two, serving on Armed Forces Radio.
When the War ended, Allen was back in the broadcast booth, now working Yankee games exclusively.
He added to the American lexicon, with phrases like; "How About that?"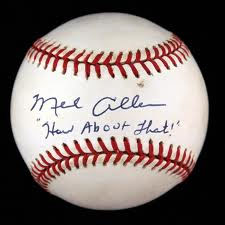 …and "Going, going gone" for Yankee home runs.
In the winter, Mel also worked pro football games for the Washington Redskins and New York football Giants and even worked as a disc jockey with a mid-day show on 1010 WINS in 1947.
Mel didn't leave the Yanks' broadcast booth until the end of the 1964 season.
There was never a formal explanation by the Yankees for replacing Mel with Joe Garagiola.
There were rumors that he was an alcoholic, a drug addict, had a nervous breakdown and that he was gay. (Mel never married.) There were other reports that Mel had gotten on the wrong side of ownership for introducing Mickey Mantle to his personal physician in 1961, making a Mantle injury even worse.
Later, he said he thought it was because the team's longtime sponsor, Ballantine Beer, wanted him out because of poor sales – even after he voiced so many of their commercials.
Mel bounced around for a while, briefly joining the broadcast team for the Milwaukee Braves and Cleveland Indians…but was resurrected when, no longer just the voice of the Yankees, he became the voice of Major league baseball, with the syndicated TV highlights show "This Week in Baseball".
He also came full circle when he returned to Yankee Stadium to emcee Old Timers Day and Mickey Mantle Day…
…and even did some games for the Yanks in 1976.
Mel Allen died of heart failure at the age of 83.
He is buried at Temple Beth El Cemetery in Stamford, Connecticut …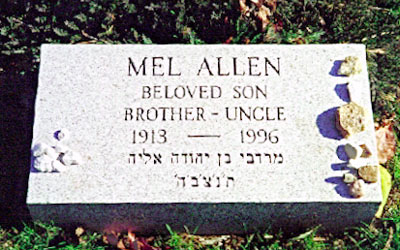 …and is honored by the Baseball Hall of Fame and by a plaque at Yankee Stadium.