Famously Dead A-Z:

Cause of Death:
View information about Phil Rizzuto's death here on famously-dead.com. You can view information about Phil Rizzuto's death and other famous deaths. You can view by name or by cause of death. We also have included the most popular famous deaths.
Phil Rizzuto's Death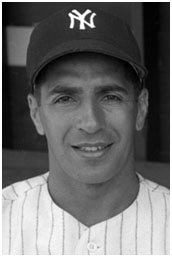 Phil Rizzuto
Baseball
September 25, 1917
August 13, 2007
Natural causes
The life and death of Phil Rizzuto:
He was a Hall of Fame shortstop as a member of several World Championship teams and an American league Most Valuable Player. He was also a play by play announcer who called a couple of the most dramatic home runs in baseball history. And he also got a gold record for his role in a hit record in 1977 and was a familiar face as a TV pitchman.
Philip Francis Rizzuto was born in Brooklyn New York, the son of a streetcar operator and his wife. He attended public schools in New York City and played baseball and football at Richmond Hill High School. He was relatively small, 5 feet, 6 inches tall and ranging between 150-160 pounds.
In fact, when he tried out for the Brooklyn Dodgers as a teenager, then Dodger manager Casey Stengel – who'd later manage Rizzuto in his New York Yankee glory years – told him to forget it, he was too small. Rizzuto never forgave him.
He signed with the Yankees in 1937 and became their starting shortstop in 1941, the year of Joe DiMaggio's famous 56 game hitting streak. He was nicknamed "The Scooter", for the way he motored around the bases.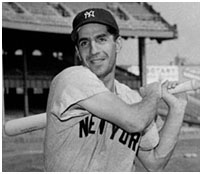 After serving in the Navy during World War Two, Rizzuto nearly ruined his baseball future when the Mexican league tried to lure him away from the Yankees.
He stayed with the Yanks and became part of that string of Championship teams from 1947, then 1949-1953, specializing in the small ball skills like bunting, base-running and fielding.

He was the American league Most Valuable Player in 1950.
When his Yankee playing days were over, the recently released Rizzuto was enraged but held his tongue. It was another wise decision, because after a brief stint calling games for the cross town New York Giants, the Scooter came to the attention of the folks at Ballantine beer...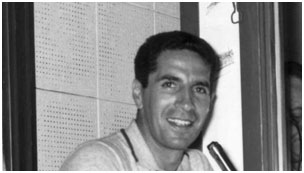 …and the major Yankees sponsor insisted he join their broadcast team, with the likes of legends like Mel Allen and Red Barber.
Fans loved Rizzuto's unorthodox style, his generous use of the phrase "Holy Cow!" other catchwords like "Huckleberry" and in later years his shout outs to fans.
He was also doing the play by play when Roger Maris hit his sixty first home run in 1961
Phil was also calling the game when Chris Chambliss iced the Yankee's pennant victory in 1976.
The Scooter and his legendary teammate Yogi Berra…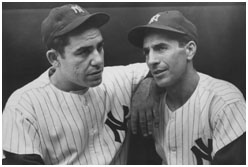 …were partners in a New Jersey bowling alley.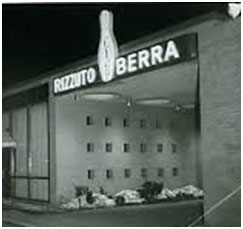 And he was a very versatile guy in many ways. In 1977, Phil recorded a bridge in Meal Loaf's "Paradise by the Dashboard Lights", and got a gold record for it.
He also was a popular TV pitchman in the New York area.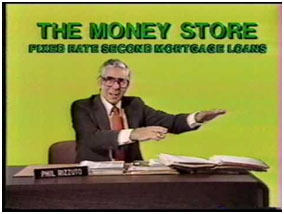 Rizzuto was married to his wife Cora Esselborn Rizzuto…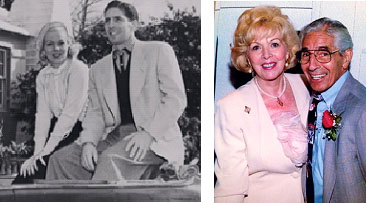 …from June 1943 until he died, and they had three daughters and a son.
Rizzuto was in failing health and died in his sleep at age 89, the oldest living member of the Hall of Fame.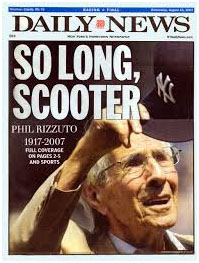 He was cremated with his ashes given to loved ones.
In addition to his Hall of Fame Plaque…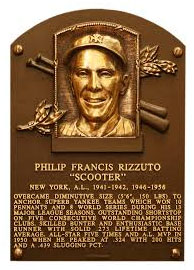 …Phil's number 10 was retired by the Yankees in 1985.