Famously Dead A-Z:

Cause of Death:
View information about Flip Wilson's death here on famously-dead.com. You can view information about Flip Wilson's death and other famous deaths. You can view by name or by cause of death. We also have included the most popular famous deaths.
Flip Wilson's Death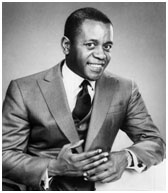 Flip Wilson
Comedian
December 8, 1933
November 25, 1998
Cancer
The life and death of Flip Wilson:
He was very popular as host of a weekly variety series on NBC TV, winning two Emmy Awards and a Golden Globe. In fact, he graced the cover of a January edition of Time magazine in which he was proclaimed "TV's first Black Superstar".
Clerow Wilson Junior was born in Jersey City, New Jersey to a poor family. His handyman father wasn't able to find much work in the Depression years and when Clerow was seven, his mother abandoned the family. His father put the kids in foster homes and after drifting from foster care to reform school, 16 year old Clerow lied about his age and joined the Air Force.
His barracks pals said he was always 'flipped out' as he made them laugh, and the nickname "Flip" stuck.
After his Air force stint, Flip went to work as a bellhop at the Manor Plaza Hotel in San Francisco and found extra work as a drunken patron between regularly scheduled acts. It was so popular, he started performing in clubs throughout the state and the act became very polished over time.
So, in the 1960's he started appearing at New York's Apollo theatre and TV's Tonight Show, Ed Sullivan Show and Rowan & Martin's laugh in
He had a very funny bit about Columbus planning to discover America, which he performed on the Dean Martin show
He later introduced Geraldine Jones…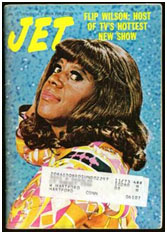 …who was a regular character on his own NBC-TV variety show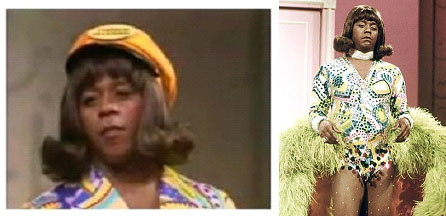 And Geraldine herself found Ray Charles
His 70's variety series was a big hit and remained on the air through 1974.
When its run ended, he continued making guest spots and later, a CBS sitcom "Charlie & Company"…

…from 1985 to '86.
He was married twice, to Lavenia Dean…

…and Tuanchai MacKenzie. Both marriages ended in divorce. Flip was the father of two sons and a daughter.
Flip Wilson died of liver cancer in Malibu, California at the age of 64. He was cremated and his ashes were given to loved ones.