Famously Dead A-Z:

Cause of Death:
View information about Satchel Paige's death here on famously-dead.com. You can view information about Satchel Paige's death and other famous deaths. You can view by name or by cause of death. We also have included the most popular famous deaths.
Satchel Paige's Death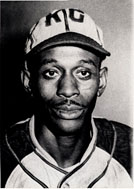 Satchel Paige
Baseball
July 7, 1906
June 8, 1982
Heart Attack
The life and death of Satchel Paige:
He was unquestionably the premier pitcher of baseball's segregated Negro Leagues and some say might have been the best pitcher ever, if he had the chance to play in the Majors in his prime. As it was, he did make the Big Leagues later in life as a 42 year old rookie and was an All-Star, playing in the pro ranks in when he was almost 60.
His real name was Leroy Robert Paige. He picked up the nickname Satchel because he hauled luggage at a train station as a boy. His father John Page was a gardener and his mother Lula was a domestic worker and he grew up in Mobile, Alabama in the part of town known as Down the Bay.
Just before he started his baseball career, and with the death of his father, Lula changed the spelling of the family name from Page to Paige, thinking it sounded a little more upscale. Growing up poor, his introduction to baseball was something similar called "top ball", in which kids would use sticks and bottle caps instead of bats and balls. His mother said he would rather play ball than eat as a boy.
But just before becoming a teenager two weeks - before his 13th birthday - Leroy was arrested for shoplifting and was sent to a state reformatory - the Industrial school for Negro children in Mount Meigs, Alabama. And it was there under the guidance of one of the teachers that Satchel learned how to pitch. Ironically his story is similar to another baseball icon, Babe Ruth, who learned how to play the game in a reformatory in Baltimore.
17 year old Satchel was let out of reform school six months early in December 1923 and started playing for several semipro baseball teams in the Mobile area. He moved on to the Chattanooga White Sox in the Negro Southern League and from there it was on to the Birmingham Black Barons of the Negro nationally. During his legendary career, Satchel was practically unhittable, with his high leg kick, hesitation pitch and slinging style.
His legend was made thanks to stories about the way he sometimes told his fielders to sit down because he planned to strike out the side, and then did it as a matter of course.
From 1926 to 1947, he dazzled the Negro League crowds while playing for the Chattanooga Black Lookouts, the Birmingham Black Barons, the Baltimore Black Sox, the Cleveland Cubs, the Pittsburgh Crawfords, and the Kansas City Monarchs, the New York Black Yankees, the Memphis Red Sox, the Philadelphia Stars and the Trujillo All Stars in the Dominican Republican in 1937.
In the 1930's, barnstorming against white only baseball All-Star teams, Satchel would win, even when matched against another legendary pitcher of that era, Hall of Famer Dizzy Dean of the St. Louis Cardinals.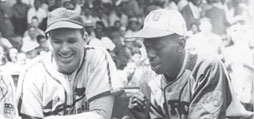 He also barnstormed with Bob Feller, a fellow Hall of Famer and one of his future teammates on the Cleveland Indians.
But the baseball color line prevented him from getting into the big leagues and he didn't see daylight to the majors until his Kansas City Monarchs teammate Jackie Robinson…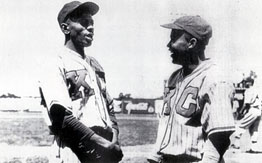 …was signed by the Brooklyn Dodgers. Not long after, Satchel – who deep down felt he earned the chance to be the first black player in the Majors - finally got his own chance to play in the big leagues when he signed a contract with the Cleveland Indians.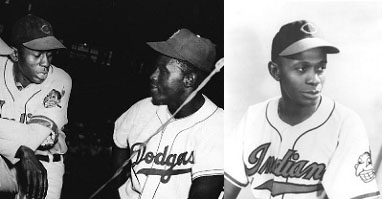 He was a member of the Indians in their World Series Championship year of 1948. He also played in front the largest crowd to ever watch a regular season night game, when more than 72,000 fans packed Cleveland's Municipal Stadium on August 3rd of that year.
After Cleveland, he played with the precursor of today's Baltimore Orioles, the St. Louis Browns…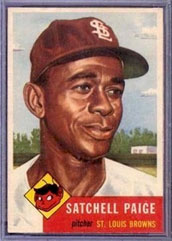 …and was a two time representative for them on the American League All-Star team.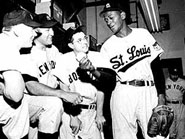 He was with the Browns from 1951-53. And then, after a 12 year hiatus came back again to pitch one game against the Boston Red Sox for the Kansas City Athletics in 1965, at the age of 59!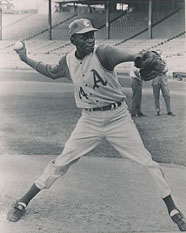 He surfaced in a big league uniform again in August, 1968 when the Atlanta Braves signed him to a contract through the 1969 season as a pitching coach/pitcher, so he could log enough service time to get a big league pension.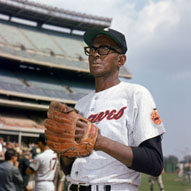 And even though he was past his prime in the big Leagues, his accomplishments in the Negro Leagues secured him a spot in the Baseball Hall of Fame in 1971.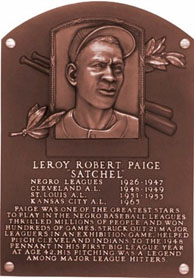 Satchel was indeed a colorful ballplayer and had many notable quotes including: "don't look back, something might be gaining on you", among others.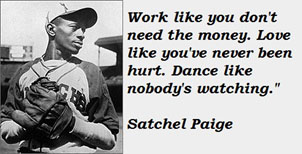 Satchell even acted in a movie, United Artist's "The Wonderful Country" which starred Robert Mitchum and Julie London. Satchel played Sergeant Tobe Sutton, a Union Army Cavalry Sergeant. He was a deputy sheriff in Jackson County, Missouri in 1968. And Satchel was also a guest on TV's "What's My Line":
Satchell married his longtime girlfriend Janet Howard in October, 1934.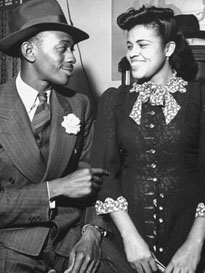 They separated after a few years and she had him served with divorce papers while he was walking onto the field for a game at Chicago's Wrigley field. In the late 1940's, he married girlfriend Lahoma Brown and they had seven children together.
The end came for Satchell during a power failure at his home in Kansas City in June, 1982 just a month shy of his 76th birthday. He died of a heart attack and is buried on Paige Island near his wife…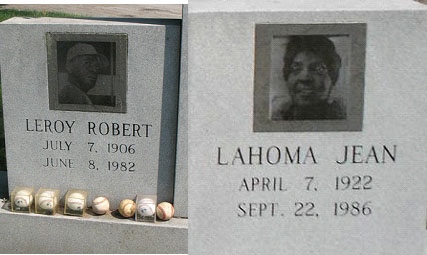 …in the Forest Hill Memorial Park Cemetery in Kansas City, the town where he'd starred many years as the premier pitcher for the Monarchs.
Befitting a baseball legend, made for TV movie called "Don't Look Back" aired in 1981.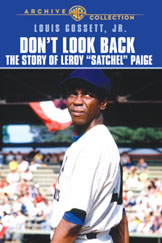 Satchel was paid $10,000 for his story and technical advice. The movie was based on the book about Satchel called "Maybe I'll Pitch Forever".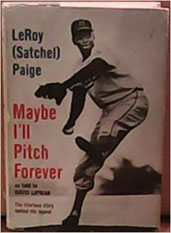 And Paige was portrayed by Delroy Lindo in the made-for-cable film "Soul of the Game" in 1996.