Famously Dead A-Z:

Cause of Death:
View information about Ryan Freel's death here on famously-dead.com. You can view information about Ryan Freel's death and other famous deaths. You can view by name or by cause of death. We also have included the most popular famous deaths.
Ryan Freel's Death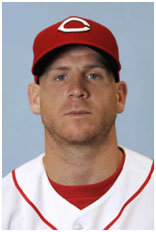 Ryan Freel
Sports / Baseball
March 8, 1976
December 22, 2012
Suicide
The life and death of Ryan Freel:
He was a scrappy utility player playing second base, third base and all three outfield positions for several major league baseball teams, but who suffered some serious head injuries along the way. After he committed suicide, his family donated his brain tissue for research into chronic traumatic encephalopathy, a degenerative neurological condition that's associated with multiple concussions. The condition has plagued other professional athletes, including NFL star Junior Seau, along with ice hockey players and wrestlers.
Ryan Paul Freel was born in Jacksonville, Florida and was selected in the tenth round of the 1996 amateur draft out of Tallahassee Community College by the Toronto Blue Jays. During his career between 2001 and 2009, Ryan played for the Blue Jays, Cincinnati Reds, Baltimore Orioles, and Chicago Cubs and ended his career after a stint with the Kansas City Royals.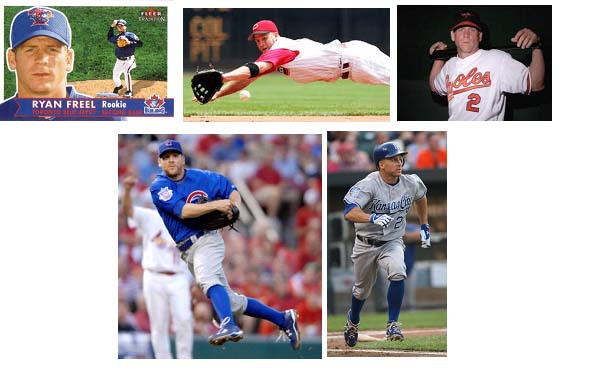 He played with a thrilling, all out style - running into walls, diving into seats and crashing into teammates as he tried to catch the ball. During his playing days, it's estimated that he suffered as many as ten to fifteen concussions.
He was playing center field for the Reds on May 28, 2007 when he collided with right fielder Norris Hopper, injuring his head and neck and being rushed away in an ambulance.
Then, in 2009 while with Baltimore, he was hit on the head by a pickoff throw while he was a runner on second base at Boston's Fenway Park.
Ryan was placed on the disabled list after that injury, after brief stints with the Cubs and Royals, he retired a year later.
Freel also had alcohol related problems, pleading guilty to drunken driving in Kentucky in 2005 and charged with disorderly intoxication in a Tampa pool hall in 2006.
Just before Christmas, 2012, Ryan was found dead at his home in Jacksonville, Florida, of a self-inflicted gunshot wound.
He left behind his wife Christie (who said she saw his memory decline), three daughters…

..and his mother Norma. The family urged baseball to confront brain injuries after it was revealed that Ryan suffered from Stage II C-T-E, the first Major League Baseball player to be diagnosed with chronic traumatic encepalopathy.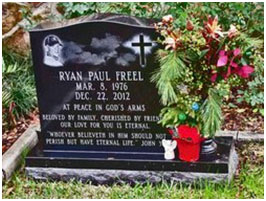 Ryan's interred at Oaklawn Cemetery in Jacksonville, Florida.