Famously Dead A-Z:

Cause of Death:
View information about Roy Halladay's death here on famously-dead.com. You can view information about Roy Halladay's death and other famous deaths. You can view by name or by cause of death. We also have included the most popular famous deaths.
Roy Halladay's Death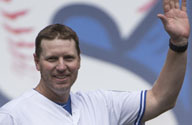 Roy Halladay
Baseball
May 14, 1977
November 17, 2017
Plane Crash
The life and death of Roy Halladay:
In his day he was a major baseball star who many thought was worthy of induction to the Hall of Fame. He was a two-time Cy Young Award Winner (2003 and 2010), who not only pitched a perfect game but also put no hitter in a playoff game. But his life was tragically cut short when he joined the list of unfortunate baseball stars – Roberto Clemente, Thurman Munson and Corey Lidle - who died before their time in a plane crash.
Harry Leroy Halladay was born in Denver, Colorado and grew up in nearby Arvada. His dad flew planes for a food company and his mother was a homemaker.
After graduating from Arvada West High School, Roy was the first-round pick in the 1995 MLB draft, the 17th player chosen overall. During his years with Toronto, a member of the Blue Jays' broadcast team tagged him with the nickname "Doc", a reference to the gunslinger in the Old West.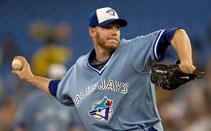 He starred with the Blue Jays for eleven seasons and was an 8-time All-Star, six times for the American League and twice in the National League, after he was traded to the Philadelphia Phillies.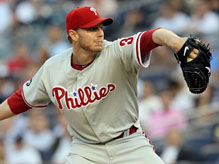 As a Phillie, he pitched a perfect game in against the division rival Florida Marlins in May 2010.
And in October of that year, he became only the second player to pitch a no-hitter in the post-season, when he blanked the Cincinnati Reds in Game One of the National League Division Series.
Roy went on to star with the Phillies for four seasons and he retired from the game in 2013 after some arm problems. He then started a new hobby - flying his own plane.
Roy and his wife Brandy had two children…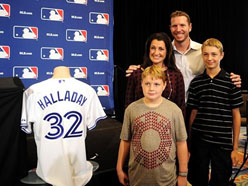 …and was living in retirement in Tarpon Springs, Florida.
On election day November 7, 2017 Roy took off from Florida in his ICON A5 amphibious plane…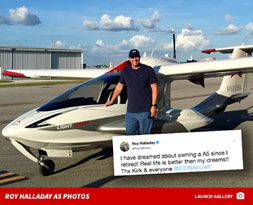 …which crashed upside down in shallow water (6 feet) in the Gulf of Mexico, about ten miles off the coast of St. Petersburg.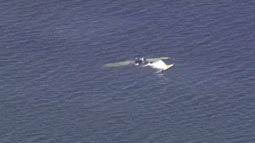 The plane was registered in his father's name – by then a retired commercial pilot. Roy's body was recovered, the only one on board.
An autopsy report prepared by the Pinellas-Pasco Medical Examiner's office showed Roy was impaired at the time of the crash. His body showed evidence of morphine, an amphetamine and the sleeping medication Ambien. There was also evidence of Prozac in his system and a blood alcohol content level of .01. The National Transportation Safety Board said its investigation continues.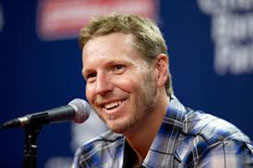 Roy Halladay was only 40 years old.
In a show of respect, the Toronto Blue Jays retired his number 32 on Opening Day in 2018, with players wearing a Number 32 patch on their sleeves for that season. Halladay's other team, the Philadelphia Phillies, announced they would posthumously induct him to their Wall of Fame at Citizens Bank Park on August 4, 2018.