Famously Dead A-Z:

Cause of Death:
View information about Ron Santo's death here on famously-dead.com. You can view information about Ron Santo's death and other famous deaths. You can view by name or by cause of death. We also have included the most popular famous deaths.
Ron Santo's Death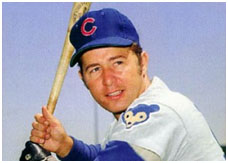 Ron Santo
Baseball
February 25, 1940
December 3, 2010
Complications from Diabetes, Bladder Cancer
The life and death of Ron Santo:
He was a nine time National League All-Star third baseman, won the Gold Glove Award five years in a row (1964-68) and he was the firebrand leader of the Chicago Cubs in the 1960's. Although he never made it to the World Series, he eventually made it into the Baseball Hall of Fame, posthumously, after dying from bladder cancer and complications of the Type 1 Diabetes that plagued him for his entire big league career.
Ronald Edward Santo was born in Seattle, Washington, the younger of two children to Louis and Vivian Santo. Louie Santo drove an ice cream truck and worked as a bartender. But the parents divorced when Ron was a boy and his mom later married a man named John Constantino, who Santo referred to as Dad. He lost them tragically in 1973when they both were killed in a car crash while travelling from Seattle to Scottsdale, Arizona, where Ron was based for spring training.
Ron grew up near the minor league home of the Seattle Rainiers, the top farm club of the Cincinnati Reds. He worked at Sicks Stadium as an usher, in the press box and as a clubhouse boy. He once said he had to polish future Reds outfield Vada Pinson's shoes and three years later was playing against him.
That's because Ron was a three sport star at Seattle's Franklin High School and he became friends' with a Chicago Cubs regional scout.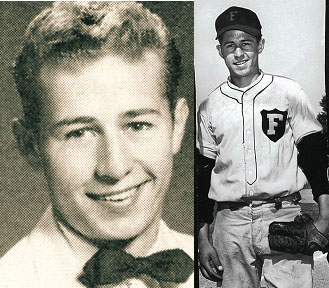 Although other teams, including the Reds, offered him more money to sign, Ron signed with the hapless Cubs in 1959. The Cubs were one of the worst teams in the National League and Ron saw a faster path to the majors with them.
Santo came up to the Cubs In 1960.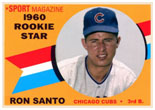 He was a teammate and friends with former Cubs rookie of the year Ken Hubbs and was deeply saddened when Hubbs died in a plane crash in February, 1964.
Ron was a perennial National League All-Star third baseman, excelling at bat, in the field and on the bases.

But he hid the fact that he was a diabetic, fearing he'd be forced into retirement if anyone knew about his illness. (He learned he had Type 1 Diabetes just after graduating from high school.) In 1969 his Cubs made their strongest run at the National League pennant in decades but lost to the New York Mets. Some thought Chicago was jinxed when a black cat made it onto the field at Shea Stadium while Ron was in the on deck circle.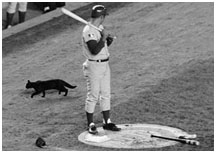 That season he developed the habit of clicking his heels after a Cubs' home victory. Manager Leo Durocher asked him to continue doing it and it became his trademark.
But it antagonized opponents and when the Cubs' faded late in the 1969 season, Ron suddenly stopped doing it on September 2nd and never repeated it. However, on the day Santo was enshrined in the hall of Fame in 2012, all of the Cubs did the click in tribute at the start of their game.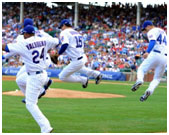 He played his entire career in Chicago, the last of which with the cross-town White Sox…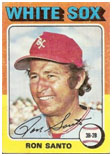 …then after retiring, rejoined the Cubs in their broadcast booth.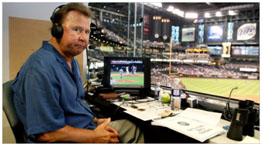 His game calls were made with a sense of humor.
Ron also kept busy in the off season with jobs at a Chicago specialty insurance company, a fuel oil and his pizzeria.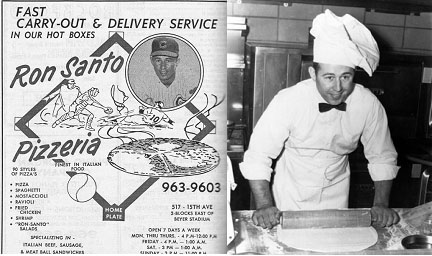 He married his high school sweetheart Judy Lynn Scott in January, 1960 and they had three children together. They divorced in 1982 and Ron married his second wife Vicki in 1983.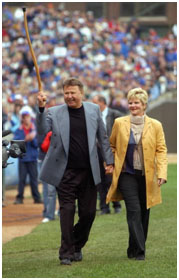 They remained married until his death.
Santo's long struggle with diabetes led him to help raise 65 million dollars for the Juvenile Diabetes Research Foundation. But his health faltered and both of his legs were amputated just below the knee because of diabetes.
His son Jeff directed a documentary film about Ron called "This Old Cub", about Ron and his struggle with his illness.
Although his attempts at getting into the Hall of Fame were squelched several times Ron Santo eventually did make it - although posthumously. His widow Vicki accepted his plaque.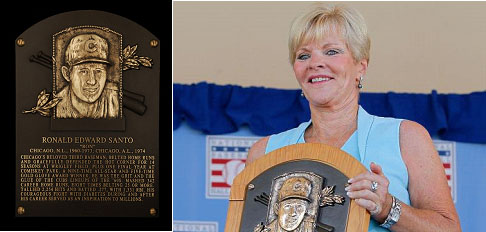 Santo's Cubs' number 10 is retired.

There's also a statue of him playing third-base at the Cubs' home, Wrigley Field.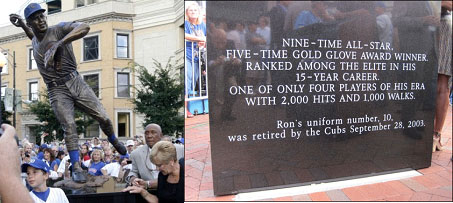 Ron Santo was cremated. Fittingly, his ashes were scattered at Wrigley.