Famously Dead A-Z:

Cause of Death:
View information about Ken Hubbs's death here on famously-dead.com. You can view information about Ken Hubbs's death and other famous deaths. You can view by name or by cause of death. We also have included the most popular famous deaths.
Ken Hubbs's Death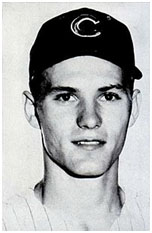 Ken Hubbs
Baseball
December 23, 1941
February 15, 1964
Plane Crash
The life and death of Ken Hubbs:
He was a rising star who literally came crashing down to earth at a tragically young age, not given the chance to reach his full potential. He played only two full seasons for the Chicago Cubs and was named the National League's Top Rookie in 1962. He was the first rookie to ever win the Gold Glove Award and at the time of his death was considered the best defensive second baseman in all of baseball.
Kenneth Douglass Hubbs was born in Riverside, California and grew up in nearby Colton. He was a standout athlete and played in the 1954 Little League World Series.
He starred in three sports in high school: basketball, football and baseball.
Notre Dame wanted him to play quarterback. UCLA's legendary basketball coach John Wooden wanted Kenny to play for him.
But Hubbs chose baseball, signing with the Chicago Cubs as a free agent before the 1959 season. He zipped through the minor leagues and by spring training, 1960 went to the Cubs' rookie camp as a shortstop-outfielder.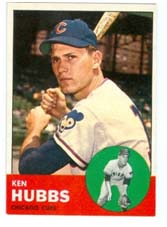 During their 1961 season, the Cubs were sorely in need of a second baseman, even though light hitting Don Zimmer was a National League All Star that season. Hubbs debuted against Philadelphia on September 19, 1961 and played in ten games the rest of the year.
When the New York Mets drafted Zimmer in the 1961 expansion draft, Hubbs was left standing as Chicago's second baseman for 1962 and had a sparkling season; named National League Rookie of the Year, the second consecutive Cub to win after future Hall of Famer Billy Williams did it in 1961.
In 1963, his play at second base helped the Cubs, who haven't won a World Series since 1908, to finish with an 82-80 record.
Young Kenny was hob-knobbing with some of the greats of the game…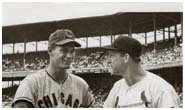 …seen here with St. Louis Cardinal Stan Musial
And his fame was growing.
But Ken had a fear of flying. Cubs' teammate and another future Hall of Famer, Ron Santo, called it sheer terror every time the team flew to a new city. So Hubbs decided to battle his fear head on.
He took flying lessons.
In the winter between 1963 and 1964, he received his pilot's license. On the morning of February 13th, on a flight from Provo, Utah, Kenny figured he could beat stormy weather. He didn't file a flight plan and took off for Colton, California.
It was snowing heavily with temperatures around -1F and Kenny's plane crashed.

He died at age 22.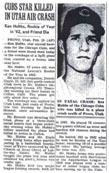 His funeral was held a few days later, with teammates Santo and Cubs' superstar Ernie Banks among the pall bearers.
Kenny was buried at Montecito Memorial Park in Colton.

His potential as a baseball player was never fully realized.