Famously Dead A-Z:

Cause of Death:
View information about Ralph Branca's death here on famously-dead.com. You can view information about Ralph Branca's death and other famous deaths. You can view by name or by cause of death. We also have included the most popular famous deaths.
Ralph Branca's Death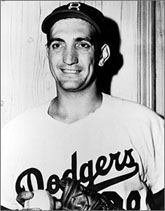 Ralph Branca
Baseball
January 6, 1926
November 23, 2016
Undisclosed
The life and death of Ralph Branca:
He seemed destined to being a top major-league baseball pitcher but instead went down in history for throwing the most famous homerun ball ever.
Ralph Theodore Joseph Branca was born and raised in the New York City area in Mount Vernon, New York. His father John emigrated from Italy and was a trolley car driver. His mother Kati was Jewish, but Ralph was raised as a Roman Catholic.
He was a gifted athlete as a boy and went on to play baseball and basketball at New York University, which he attended for one year. He then signed a contract to pitch for the Brooklyn Dodgers.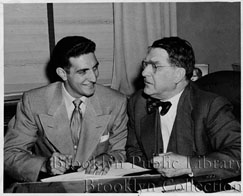 His rookie season was in 1944 and Ralph was an All-Star three years later, when he won 21 games for the Dodgers and appeared to be on a career path to star for them. Branca was an All Star for three straight seasons.
Ralph also befriended Jackie Robinson, unlike several Dodger players who shunned Robinson when he joined the team.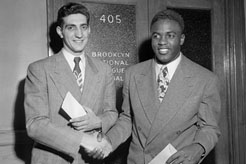 That was in 1947.
Fast forward to 1951 when the Dodgers were locked in an intense pennant race with the crosstown New York Giants. The Dodgers had led by 13 1/2 games as late as August but by October their lead melted and they were locked in a three-game, winner-take-all playoff series with the Giants.
The Giants won the first game helped by a homerun by Bobby Thomson off Branca. Then the Dodgers came back in Game Two with the 10 nothing blowout. It came down to the rubber Game Three at the Polo Grounds in Manhattan and the Dodgers clung to a 4-2 lead in the bottom of the ninth inning.
But their starter Don Newcomb grew tired. With two men on base Dodger manager Chuck Dressen called in Branca to put out the fire.
Branca threw a first pitch strike and then threw the second pitch out of the strike zone. But that second pitch not only defined his career, but the man's entire life. Thomson hammered it to the short leftfield porch at the Polo Grounds for a season ending, pennant clinching homerun.
"The Giants win the pennant!!!" screamed Giants' radio broadcaster Russ Hodges. And as the Giants of their fans exalted in their victory, Branca and the crestfallen Dodgers returned to their clubhouse in centerfield.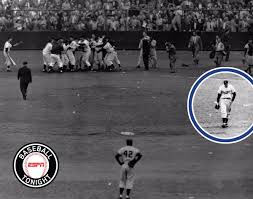 No one was more disappointed than Branca, who was photographed face down and with his head hung low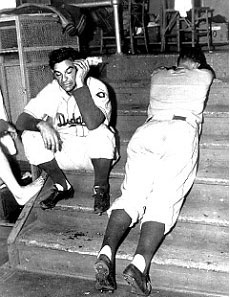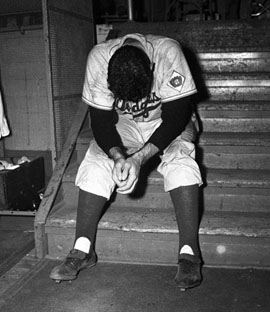 It came to be the defining moment of his career.
He and Thomson often appeared together, joined at the hip like Siamese twins in one of the most famous events in baseball history.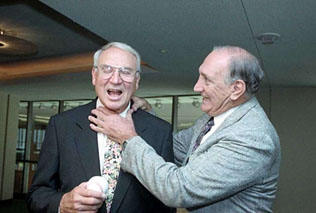 They even became friends and made many joint appearances at trade shows and on TV.
But Ralph's career was never the same between back trouble starting in the Spring of 1952 and the shock of what happened. He played with Detroit for parts of two seasons, 1953-54 and finished his baseball career with the New York Yankees in '54.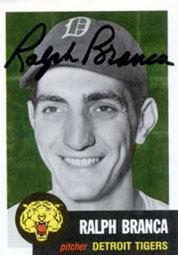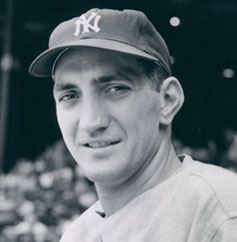 He came back briefly with the Dodgers in 1956, then receded into a professional career outside of baseball. Thompson died a few years before Branca did, but they will always be linked together in one of the first famous moments in baseball history.
Branca married Ann Mulvey…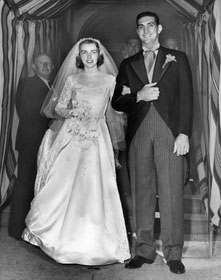 …the daughter of part-owner of the Dodgers and they had two daughters.
Branca died just before Thanksgiving 2016. His death was announced by his son-in-law Bobby Valentine, the former major league manager.