Famously Dead A-Z:

Cause of Death:
View information about Mel Ott's death here on famously-dead.com. You can view information about Mel Ott's death and other famous deaths. You can view by name or by cause of death. We also have included the most popular famous deaths.
Mel Ott's Death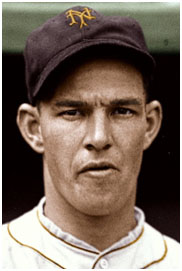 Mel Ott
Baseball
March 2, 1909
November 21, 1958
Car Crash
The life and death of Mel Ott:
For many years, he stood out as the man with the most career home runs in the National League until Willie Mays passed him in 1966. He was also the first National League hitter to ever top 500 homers in his career, ending with 511. The relatively tiny slugger (only 5' 9" and 170 lbs.) also managed the New York Giants, was a play by play announcer for the Detroit Tigers and died before his time in a car wreck.
Melvin Thomas Ott was born in Gretna, Louisiana. He was one of three children born to Charles and Carrie Ott. Mel learned baseball as a young boy, because his Dad and two uncles played semi-pro ball. He could hit the ball harder than most of the other guys, despite his relatively small size.
And although the New Orleans team in the Southern Association rejected him as "too small", 16 year old Mel joined a semi-pro team in nearby Patterson, Louisiana and wowed everyone. It eventually earned him a tryout with the New York Giants in September, 1925. He was signed the following January and began his historic Giants' career…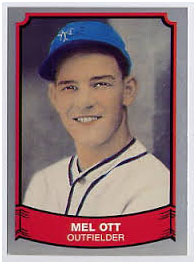 …in which he led the National League in home runs six times - despite an unorthodox swing.
He would lift his leg, much like a pitcher preparing to throw…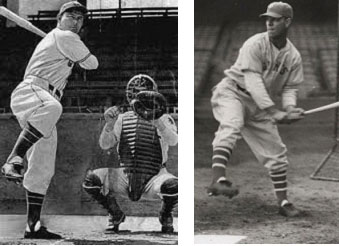 …and he made great use of the short foul lines in the bathtub shaped home of the New York Giants…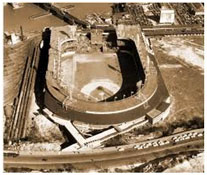 …the Polo Grounds.
He was also recognized as one of baseball's best right fielders and played in three World Series, with the Giants winning the Championship in 1933. Mel's seen picture here with his cross town slugging rival, Lou Gehrig, at the all-New York 1937 World Series.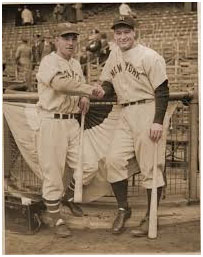 Mel spent his entire career with the Giants…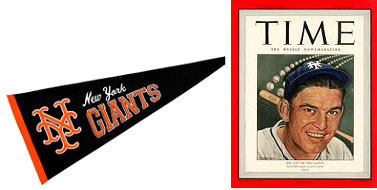 …serving as a player-manager from 1942 to 1947. He retired from playing in June, 1947.
Ott was replaced as Giants' manager midway through the 1948 season. It was Mel's relatively easy going style that prompted his successor, Leo Durocher, to utter his famous quote: "Nice guys finish last."
Still a Giants' hero, Mel's his number 4 was retired by the Giants in 1949 while they were still based in New York.
The number's currently posted on the left field façade at Giants' current home field, AT&T Park, in San Francisco.
Mel was elected to the Baseball Hall of Fame in 1951.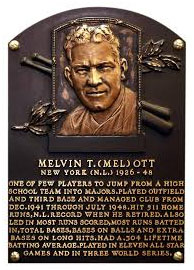 And in 1999 he ranked 42 of the 100 Greatest Baseball Players by "The Sporting News" and was a nominee for the All-Century Team.
Mel went on the broadcast game on the Mutual radio network in 1955 and from 1956 to 1958…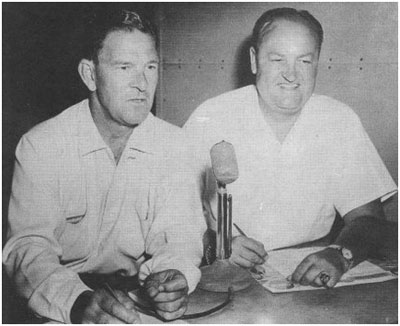 …did play-by-play for the Detroit Tigers with broadcast partner Van Patrick.
Mel Ott's life ended tragically after he was involved in an auto accident in Bay Saint Louis, Mississippi in the fall of 1958. He and his wife Mildred were travelling in dense fog when they were hit head on by a car that had veered into their vehicle.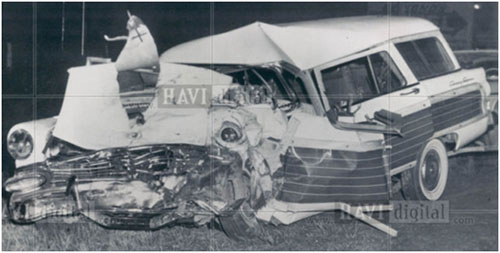 Rushed to a New Orleans hospital, he died a week later from his injuries. (The other driver was killed and Mildred Ott was seriously injured.)

He's buried at Metairie Cemetery in New Orleans.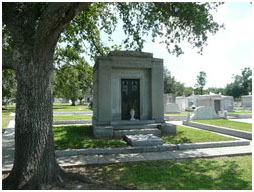 And since 1959, the National League honors its annual home run champ with the Mel Ott Award.