Famously Dead A-Z:

Cause of Death:
View information about Luis Arroyo's death here on famously-dead.com. You can view information about Luis Arroyo's death and other famous deaths. You can view by name or by cause of death. We also have included the most popular famous deaths.
Luis Arroyo's Death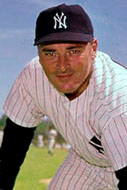 Luis Arroyo
Baseball
February 18, 1927
January 13, 2016
Cancer
The life and death of Luis Arroyo.
He was a blocky little left handed relief pitcher who was a surprising hero on the 1961 New York Yankees, considered by many as one of the best baseball teams ever. He'd join their games in late inning relief and posted saves in more than half of the 25 victories of the team's ace, Whitey Ford, with the help of his tantalizing screwball.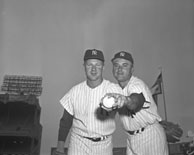 Luis Enrique Arroyo Lugo was born in Penuelas, Puerto Rico, the third son of sugar cane laborer Felipe Arroyo and his wife Modesta Lugo.
Arroyo started his career in the Puerto Rico Winter Leagues and joined the Majors with the St. Louis Cardinals in 1955 at the age of 28 as a starting pitcher…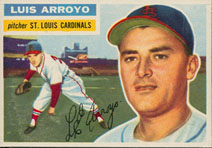 ...and was a National League All-Star in his rookie season but was peddled at the end of the year to the Pittsburgh Pirates and later to the Cincinnati Reds.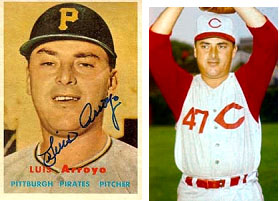 He enjoyed modest success – but was not a star.
He joined the Yankees in July, 1960 as their first Puerto Rican player ever and was an important member of their bullpen and was their star closer in that historic 1961 season. While Arroyo's heroics stood out, most of the attention centered on Roger Maris and Mickey Mantle's race to break the single season home run record. (Which Maris did with 61 on the final day of the season.)
Well-liked and respected by his teammates, Luis played in the 1960 and 1961 World Series against his former teams – Pittsburgh and Cincinnati, but hurt his arm in 1962 and was never as effective. He scouted for the Yanks and would return for Old timer's festivities, posing for pictures with the legendary Yankee closer Mariano Rivera.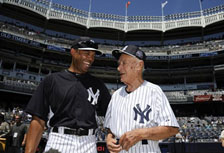 Arroyo was married twice and was survived by a daughter, Milagros, and three sons - Paicky, Louis and Harold, along with eleven grandchildren and a great-granddaughter.
Luis died of cancer at his home in Ponce, Puerto Rico at the age of 88.