Famously Dead A-Z:

Cause of Death:
View information about Roger Maris's death here on famously-dead.com. You can view information about Roger Maris's death and other famous deaths. You can view by name or by cause of death. We also have included the most popular famous deaths.
Roger Maris's Death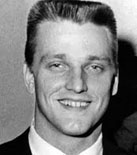 Roger Maris
Baseball
September 10, 1934
December 14, 1985
Cancer
The life and death of Roger Maris:
He achieved one of the greatest individual accomplishments in all of sports in the 20th century but not only was he not able to enjoy it when it was happening; he was not even given full credit for what he did until many years later, after his death.
He was born Roger Eugene Maras in Hibbing, Minnesota and was raised in North Dakota. This is unusual for a baseball player, since most usually come from warm weather climates where they have more opportunities to be playing outdoors. (He shared the same hometown as another 1960's Icon: music legend Bob Dylan.)
The Maras's family name was changed to Maris by Roger's father Rudolph, who had a rocky marriage with Roger's mother Corinne. They divorced in 1960, when Roger was already a big star with the New York Yankees.
In high school , Roger starred in football was recruited by the University of Oklahoma, but changed his original plan to attend and returned home to Fargo to be with his ailing other brother Rudy, who was stricken with polio.
Maris got into baseball when he was signed by the Cleveland Indians in 1953 and after some time in the minor leagues.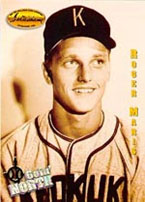 ...joined the Indians in April, 1957.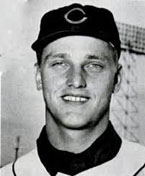 Roger was an up-and-coming star but Cleveland traded to the Kansas City Athletics in 1958. He represented the A's in the 1959 All-Star game.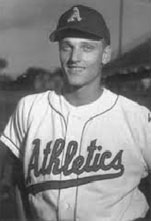 The A's were then known as practically a farm team for the New York Yankees and New York crafted another off-balance deal with Kansas City in December, 1959 when they got Maris in a multi-player swap.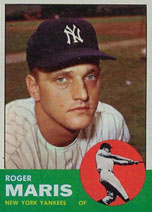 He promptly became a star and was named 1960 American League Most Valuable Player and an All Star. The Yankees also began a string of five World Series appearances and Roger played in all of them.
And it was in the following year of 1961 that Maris made baseball history when he and teammate Mickey Mantle…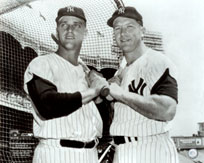 …challenged the record for most home runs in a season – sixty - established by Yankee legend Babe Ruth in 1927.
The press had a field day of the summer of '61, calling them the M&M boys…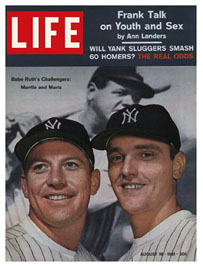 …with some writers trying to make it sound like they were feuding when in fact they were roommates in a Queens's apartment when the team played at home.
Mantle suffered a late season illness and injury and Maris was left to go it alone. He could not in fact hit the record of 60 home runs within 154 games, to meet a deadline then baseball commissioner Ford Frick had imposed. A rule was put into place, saying that to beat Ruth's record you had to do it in the same number of games as he did 154.
Maris fell short but made those eight extra games. On the final day of the 1961 season against pitcher Tracy Stallard of the Boston Red Sox; Maris slammed his legendary 61st home run, as called by Phil Rizzuto on WPIV-TV on October 1, 1961.
But a strange thing happened along the way. The press never warmed to Roger because he was blunt and often uncooperative. And most Yankee fans wanted Mantle to set that record and Maris never received true love and respect from them.
Nevertheless, Maris was one of baseball's brightest stars, which meant endorsement deals…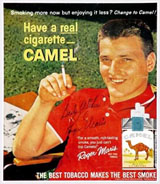 …and some high-profile autograph hounds, like President John F. Kennedy, at the White House in 1962.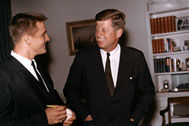 He remained with the Yankees through the 1966 season but by this time, he'd never come close to matching his 1961 accomplishment and was not held in very high esteem by the Yankee brass, the fans or the media.
So Roger was traded after the season to St. Louis…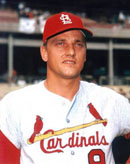 …for a journeyman infielder name Charlie Smith.
However, with the Cardinals Roger played in another couple World Series and showed that he really was one of the prime players of his era, although he has never made the baseball Hall of Fame.
A devoted family man, Roger married his high school sweetheart, Patricia…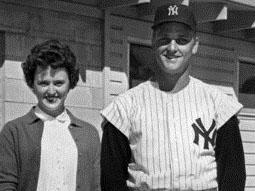 …and they had six children, four sons and two daughters.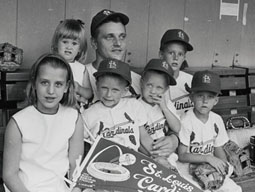 In 1991 an eight man panel voted to remove the mythical asterisk next to Roger's name. Commissioner Fay Vincent said the change allowed Maris to receive the recognition he deserved.
Unfortunately, Maris didn't live long enough to enjoy it. He died at the age of 51 of Hodgkin's Lymphoma in December 1985 after opening up a beer distributorship in Gainesville, Florida after retiring from baseball.
Maris also didn't hold the single season home run record for long. Mark McGuire hit 70 homeruns and Sammy Sosa hit 66 in 1998. And Barry Bonds is the current record holder with 73 in 2001.
Although he was never enshrined in the baseball Hall of Fame, Maris does have a retired number and plaque at Yankee Stadium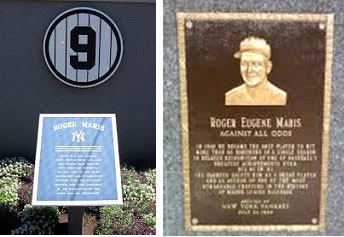 And in 2001, the movie "*61" depicted Maris' dramatic effort to beat Ruth's record, with actor Barry Pepper starring as Roger.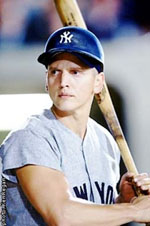 Roger Maris is buried at Holy Cross Cemetery in Fargo, North Dakota.