Famously Dead A-Z:

Cause of Death:
View information about Kirby Puckett's death here on famously-dead.com. You can view information about Kirby Puckett's death and other famous deaths. You can view by name or by cause of death. We also have included the most popular famous deaths.
Kirby Puckett's Death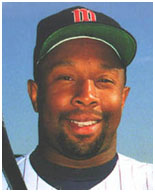 Kirby Puckett
Baseball
March 14, 1960
March 6, 2006
Stroke
The life and death of Kirby Puckett:
He was chunkier than most centerfielders but he sure could hit. Kirby Puckett starred for the Minnesota Twins, spending his entire 12 year career with the team. A ten time All Star and twice a World Series champ, he's the Twins all-time leader in career hits, runs, doubles and total bases.
You may not realize it, but when he retired his .318 career batting average was the highest by any right handed American League hitter since Joe DiMaggio!
Born Anthony Kirby Puckett in Chicago, Illinois he was raised in a south side housing project. He played high school baseball in the Windy City but couldn't get a college scholarship, so he went to work on an assembly line for Ford Motor Company.
But he got the chance to attend Bradley University and after a year transferred to Triton college. Even though he was a relatively short 5 foot eight, the Twins selected him in the first round of the 1982 Major League Baseball draft.
He was a rookie in 1984…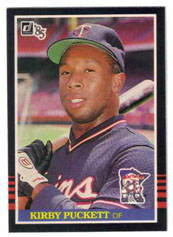 …and was an immediate star. In 1987 Minnesota reached the postseason for the first time since 1970 and Kirby helped lead them to that year's World Series Championship.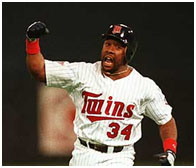 He won the American League batting title in 1989 with a .339 average.
And in 1991 he helped the Twins get back to the American League championship and was the MVP of the League Championship Series. The Twins went on to win the World Series again that year against the Atlanta Braves.
During the spring of 1996, he lost the vision in his right eye because of glaucoma and was forced out of baseball. His number 34 was retired by the Twins in 1997.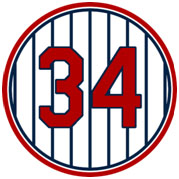 However, after his retirement from baseball his reputation suffered. In March 2002, a woman claimed he shoved her in his Bloomington condominium in the midst of an 18 year relationship. And then there was an incident in which he was accused of groping a woman in a restaurant bathroom and he was charged with false imprisonment.
The police took his mug shot…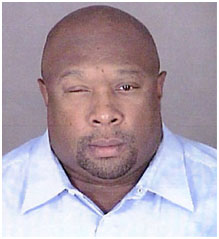 ...but he was found not guilty on all counts.
Nevertheless, he was pressured into relinquish his role as a Twins' Executive VP.
Kirby was elected to the Baseball Hall of Fame in his first year of eligibility in 2001.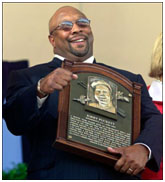 On the morning of March 5, 2006 Kirby suffered a severe stroke and underwent emergency surgery. But it failed and the end was near, his former teammates were told. He died just a week shy of his 46th birthday.
A private memorial service was held and then a public ceremony was held at the Minneapolis Metrodome attended by family, friends, ballplayers past and present, and about 15,000 fans to say goodbye to the Twins' hero Kirby Puckett. He was cremated and his ashes were given to his loved ones.
There's a statue memorializing him at the plaza of Target Field in Minneapolis.