Famously Dead A-Z:

Cause of Death:
View information about Jose Fernandez's death here on famously-dead.com. You can view information about Jose Fernandez's death and other famous deaths. You can view by name or by cause of death. We also have included the most popular famous deaths.
Jose Fernandez's Death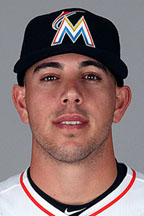 Jose Fernandez
Baseball
July 31, 1992
September 25, 2016
Boating Accident
The life and death of Jose Fernandez:
It's always a shocker when a star athlete, who excels at his game and has youth on his side, dies suddenly. Like Thurman Munson, Lyman Bostock and Corey Lidle, the sudden loss of 24-year-old Jose Fernandez left his family, friends, teammates and fans shaking their heads in disbelief.
Jose Fernandez was born in Cuba and made three unsuccessful attempts to defect to the United States. In 2007, his mother fell overboard when their boat hit rough waters and Jose dove in to save her. The family made it to Mexico and settled in Tampa, Florida in 2008.
Young Jose starred as a pitcher at Tampa's Braulio Alonso High School…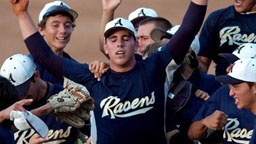 …and caught the eye of scouts for the Miami Marlins (originally the Florida Marlins), who made him their top draft choice in 2011. He was a National All Star in his rookie season …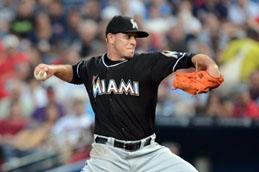 …and he was the National League Rookie of the Year in 2013 and his pictured here reuniting with his grandmother, Olga.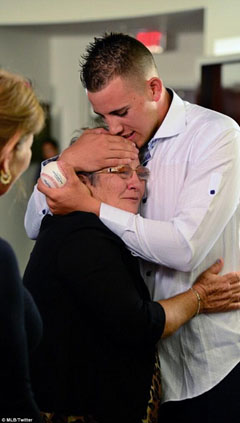 He underwent Tommy John surgery in 2014 and became a U.S citizen in April, 2015.
And it was back to the All Star Game in the summer of 2016.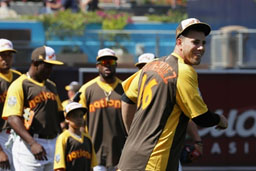 In his personal life Jose and his girlfriend, Carla Mendoza, announced on September 20th, 2016…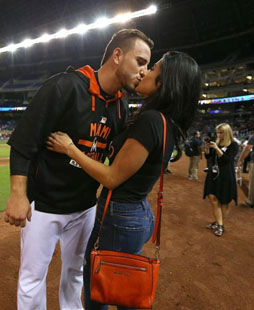 …that they were expecting a baby - as Carla was photographed on a beach in her bikini.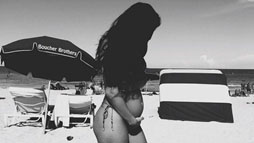 And then, five days later, disaster struck.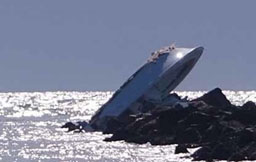 Jose and two friends were killed in a middle of the night, weekend boating accident off Miami Beach, when their craft hit a jetty at high speed.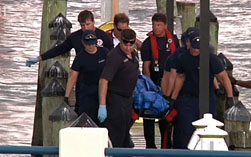 It was impossible to accept.
Marlin' manager Don Mattingly showing genuine emotion while speaking about his late player.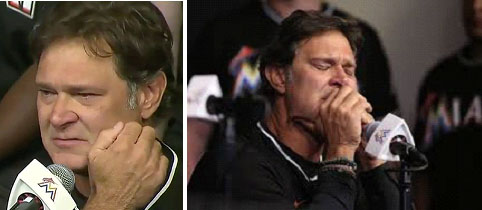 Miami teammate, pitcher Mike Dunn, held Jose's jersey during a news conference.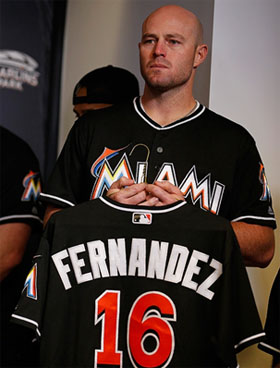 A makeshift memorial was made the next day on the mound he starred on in Miami's Marlins Park.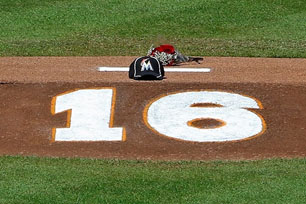 And Jose's name and number were honored in dugouts from New York to Los Angeles…

…and he was remembered on scoreboards across baseball.

The Marlins also announced his number 16 would be retired.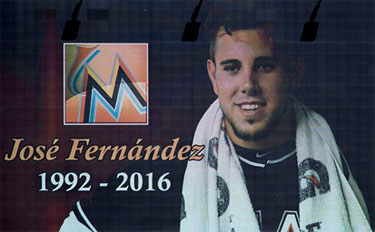 Jose's ashes were scattered at sea four days after the city of Miami held a public memorial and funeral procession for him on September 28, 2016.
Sadly, an autopsy revealed that cocaine and twice the legal limit of alcohol were found in Jose's system at the time of his death. Authorities added that the boat's driver was drunk, speeding and acting recklessly at the time of the crash. The Fernandez family lawyer says Jose was not operating the boat, but authorities have not revealed who the driver was.
But the Florida Fish and Wildlife Conservation Commission did name names the following March and they identified Jose, with alcohol and cocaine in his system, as driving the boat recklessly at speeds more than 65 miles per hour. They added there was no evidence showing his two companions could have possibly been operating the craft.
Nevertheless, the Marlins say number 16 will remain retired.