Famously Dead A-Z:

Cause of Death:
View information about Jake LaMotta's death here on famously-dead.com. You can view information about Jake LaMotta's death and other famous deaths. You can view by name or by cause of death. We also have included the most popular famous deaths.
Jake LaMotta's Death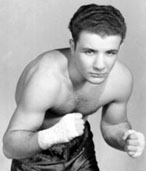 Jake LaMotta
Boxing
July 10, 1922
September 19, 2017
Pneumonia
The life and death of Jake LaMotta:
He was the Raging Bull. And the movie about his life brought him even more fame than his long boxing career did.
Jake LaMotta was born in the Bronx, New York. His mother was born in the United States while his father was an immigrant from Messina, on the island of Sicily. Jake's father was a considerable influence, forcing his son to fight other kids in the neighborhood to entertain adults who would throw coins into the ring. His dad scooped up the money to help pay the bills.
Jake turned pro at the age of 19 in 1941. He was rejected from military service because of problems with one of his ears. He had a lengthy career as a middleweight and light heavyweight boxer who was known for his rough and brawling style. He was known for being able to withstand brutal beatings and had "one of the best chins" in the business.
He gained fame in the ring with his bouts against the legendary Sugar Ray Robinson, of which Jake lost five…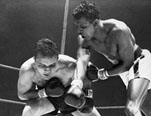 …and won only one.
In 1949, LaMotta won the World Middleweight title with a victory over Marcel Cerdan.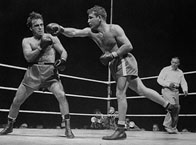 Their rematch never took place because Cerdan died in a plane crash.
After retiring from the ring, Jake then went on to a career as a nightclub owner and standup comedian and was in trouble with the law in 1958 on charges of introducing an underaged girl to other men. LaMotta forever denied it, but served half a year on a chain gang because of his conviction.
Jake also appeared in movies and TV, as a bartender for instance on 1961's "The Hustler."
Jake's name really came to fame, though, in 1980 when Martin Scorsese's movie about him, "Raging Bull", was released.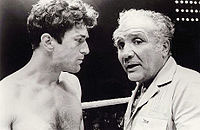 Not only did Robert De Niro getting a Best Actor Academy Award for his role in that movie …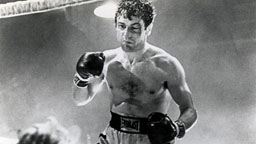 …but it started the long on-screen collaboration De Niro had with fellow actor Joe Pesce, who played the role of Jake's brother and manager, Joey, in the film.
Jake was married seven times, most famously to Vikki LaMotta.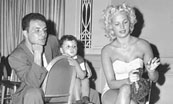 Vikki went on to her own fame, modeling for Playboy years after they split, after the movie came out.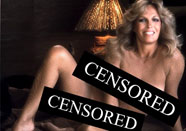 He had six children with his various wives – two sons and four daughters.
A member of the International Boxing Hall of Fame…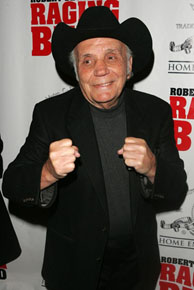 …Jake LaMotta died in late summer 2017 from complications from pneumonia.