Famously Dead A-Z:

Cause of Death:
View information about George Steinbrenner's death here on famously-dead.com. You can view information about George Steinbrenner's death and other famous deaths. You can view by name or by cause of death. We also have included the most popular famous deaths.
George Steinbrenner's Death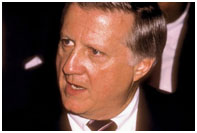 George Steinbrenner
Baseball Executive
July 4, 1938
July 13, 2010
Heart Attack
The life and death of George Steinbrenner:
He owned the most famous franchise in sports history for nearly four decades, (longest in Yankees history at 37 years), achieving a great deal of success financially and on the field and also creating quite a reputation for himself.
His nickname and his identity was "The Boss"…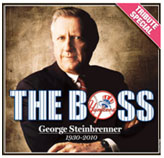 …for his battling – some thought babbling –personality.
He had a prime role in making player salaries hit the roof, helping to make him one of baseball's most controversial owners ever. However, his free spending revitalized the Yankees from more than a decade of on-the-field frustration into a moneymaking powerhouse that not only excelled in the standings but also pioneered in cable television with the development of the YES network.
George Michael Steinbrenner III was an American original, born on the Fourth of July in 1930 in Bay Village, Ohio.
His Irish born mother was named Rita and his father Henry was of German descent. Henry himself was successful in his own right. He had been a world-class track and field hurdler while at the Massachusetts Institute of technology and was a distinguished scholar in naval architecture.
Steinbrenner Sr. also became wealthy shipping magnate who led the family freight firm hauling grain and ore on the Great Lakes. Henry set the tone for the song George's life.
George attended Northern Indiana's Culver Military Academy and in 1952 earned his BA at Williams College. He played half back on the Williams' football team in his senior year and after graduation joined the Air Force, commissioned as a second lieutenant.
After his honorable discharge in 1954 George did post graduate study at Ohio State University, gaining a Master's Degree in physical education.
George married his wife Elizabeth Joan Zieg married her on May 12, 1956 and they had two sons, Henry and Hal and two daughters, Jessica and Jennifer.

George's rah-rah personality meshed nicely at Ohio State, when he served as a graduate assistant to legendary football coach Woody Hayes. He also worked for the family shipping company Great Lakes shipping that his great-grandfather purchased in 1901.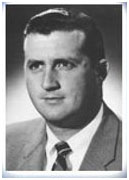 Steinbrenner later became part of the group that purchased American Shipbuilding Company and in 1967 became its chairman and chief executive officer. They had gross sales of over $100 million annually by 1972.
But George had that sporting bug from his football days and got into the sports franchise business for the first time when he bought basketballs Cleveland Pipers of the American basketball league in 1960. Unsuccessfully, he tried to put together a group to buy baseball's Cleveland Indians in 1971.
And in 1972 he famously arranged the financial backing to buy the New York Yankees from CBS which had bought the team in 1965 and had witnessed its stunning, precipitous decline on the field from that point on.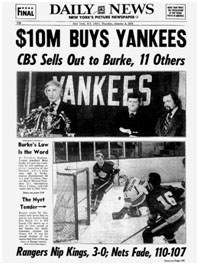 Steinbrenner was the majority, or principal owner, and put together a group to buy the Yankees for only ten million dollars, astonishing when you compare it to the team's two and a half billion dollar value in 2014, as estimated by Forbes.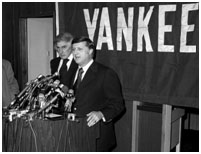 Mike Burke, pictured above with Steinbrenner, had been running the team and was planning to continue as club president but long-time baseball man Gabe Paul the been brought in as a senior Yankee executive, reducing Burke's authority and he quit in April 1973.
That started the house cleaning at the end of the 1973 season. Ralph Houk, field boss during the glory days of Roger Maris and Mickey Mantle in 1961, resigned as Yankee manager took a similar job as manager of the Detroit Tigers. And general manager Lee MacPahil left his Yankee job to become President of the American league.
This also introduced the revolving door for Yankee managers. Steinbrenner tried to hire Oakland manager Dick Williams but he was still under contract to the A's and could not take that Yankee job. So the Yanks' hired for the Pirates manager Bill Virdon to lead the team.
Yanks enjoyed some success under Virdon but Steinbrenner was itchy and brought in Billy Martin, who brought the Yankees to the World Series in 1976 when they lost to Cincinnati. But by 1977 they were winners once again. That didn't stop the rapid turnover of management. In his first 23 seasons he changed managers 20 times.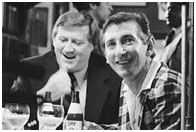 Billy Martin was fired and rehired five times.
And that goes with a side order of eleven general managers over thirty years.
Steinbrenner drove some of his player's nuts over things like facial hair, including star first baseman Don Mattingly.
Steinbrenner also pleaded guilty to making illegal contributions to Richard Nixon's re-election campaign in 1974, pleading guilty felony charge of obstruction of justice. He was pardoned by President Ronald Reagan in January 1989 in one of the final acts of his presidency.
Steinbrenner, a major sports personality who never took the field, was lampooned on the "Seinfeld" TV series and even got into the fun himself.
George also had a running feud with one of his star player's, Dave Winfield, whom he signed to a 10 year $23 million contract. And in 1990 Steinbrenner was banned permanently from day-to-day management (but not ownership) of the Yanks by then baseball commissioner Fay Vincent for paying a gambler name Howard Spira $40,000 dig up dirt on Winfield. Winfield had sued for failing to contribute to his foundation which was guaranteed it is contract.
George was reinstated in 1993 and he left baseball matters to Gene Michael and another baseball executives. For the 1996 season, Joe Torre - already several times a manager of the Mets the Braves and the Cardinals a lot of people – became Yankee manager. Some thought Joe hadn't thought it through very clearly but he was crazy like a fox as the Yankees went on to win the World Series in 1996, 1998 1999 and 2000.
The Boss proudly displayed the trophy.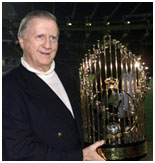 And Torre got a ticket to the baseball Hall of Fame.
Torre's Yanks made the playoffs every year through 2007, winning the American League pennant in seven games over the 2003 Boston Red Sox in very dramatic style. However, the next year - 2004 -marked a dramatic postseason collapse when the Yankees blew three games to none lead over Boston and the Sox came back taking the pennant and the World Series that year.
The Yankees were back in the money in 2009, though, when they defeated the Philadelphia Phillies in the World Series to win their record 27th world championship.
By that time, from 2006 until his death, Steinbrenner spent most of his time in Tampa, Florida leaving his sons Hank and Hal to run the Yankees.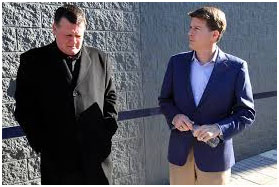 Hank showed similar traits to his father and Hal took the lead after a few seasons.
George made a rare appearance in the Bronx for the 79th All-Star game of July 2008, walking slowly into Yankee Stadium's media entrance with the help of several companions. In later visits, he used a wheelchair. Family members refused to comment on rumors that he was suffering from Alzheimer's disease.
George Steinbrenner's net worth in September 2009, according to Forbes magazine, was $1.15 billion and part of that money was because of the YES cable TV network that the Yankees added to their holdings.
Steinbrenner gave to many charitable causes, including one million dollars to St. Joseph's Children's Hospital, where a wing was named in his honor.
Nine days after his 80th birthday George Steinbrenner died of a heart attack at St. Joseph's Hospital in Tampa, Florida.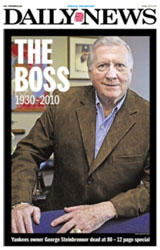 His death came just two days after the passing of the Yankees long time public address Bob Sheppard and eight days before that of Ralph Houk, the first Yankee manager he saw leave.
Legends Field in Tampa, where the Yankees have their spring training facility, was renamed in honor of Steinbrenner.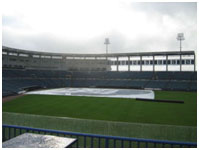 …along with a plaque in Monument Park at Yankee Stadium…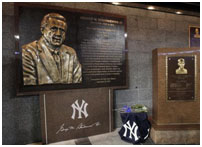 … To honor him.
George Steinbrenner's buried at Trinity Memorial Gardens in Trinity, Florida