Famously Dead A-Z:

Cause of Death:
View information about Floyd Paterson's death here on famously-dead.com. You can view information about Floyd Paterson's death and other famous deaths. You can view by name or by cause of death. We also have included the most popular famous deaths.
Floyd Paterson's Death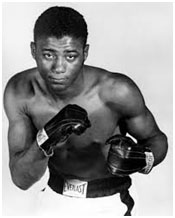 Floyd Paterson
Prize Fighter
January 4, 1935
May 11, 2006
Alzheimer's Disease, Prostate Cancer
The life and death of Floyd Paterson:
He was nicknamed the "gentleman of boxing." And in his day, at the age of 21, Floyd Patterson became the youngest man to ever win the world heavyweight title - although Mike Tyson later bested his record when he won the title of the age of 20. He was also the first heavyweight to regain the title. But when he ran into a steamroller named Sonny Liston, Patterson lost the crown and never recaptured it, despite several attempts.
Floyd Patterson was born into a poor family in Waco, North Carolina. He was the youngest of 11 children and was a troubled youth. The family moved to Brooklyn, New York and Floyd skipped school and was a petty thief.
He was sent to a reform school at upstate New York, which he said turn his life around. Patterson stayed at the Wiltwyck School for Boys for two years and later attended high school in New Paltz, New York where he succeeded in all sports.
When he was 14, he learned how to box - trained by Cus D'Amato who later trained Tyson too. And Floyd was only 17 years old when he won the Olympic gold-medal in 1952 as a Middleweight Boxer. He quickly turned pro and rose through the ranks, competing as a light heavyweight in his early years.
When Rocky Marciano retired in 1956, Patterson was ranked by Ring magazine as the top light heavyweight contender. Floyd won the World Heavyweight Boxing championship on November 30, 1956 when he defeated Archie Moore in a five round knockout.
Patterson went on to have three fights with Ingemar Johansson of Sweden, the number one contender. And in the first one, Johansson won and Patterson lost his title.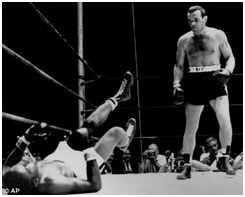 But in their June 1960 rematch, Patterson knocked out Johansson in the fifth round to become the first man ever to regain the undisputed crown.
Floyd won their third fight in the sixth round by a knockout.
Sonny Liston was another story.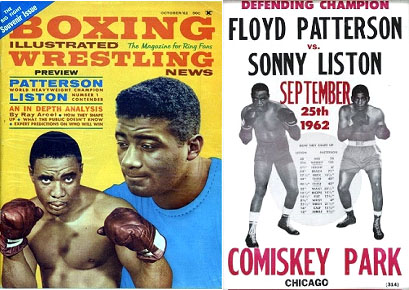 Patterson lost his title to Liston in a first round knockout. Their rematch was delayed to July, 1963 in Las Vegas as Patterson tried to win the heavyweight title for the third time.
But Liston knocked him out again.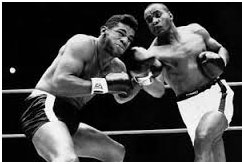 After those losses to Liston, Patterson went into a depression but eventually recovered and began fighting again.
Floyd tried again to win the Heavyweight Title for a third time against Muhammad Ali in November, 1965 but lost in the technical knockout at the end of the 12th round of a punishing fight in which Ali mocked Patterson.
Floyd divorced his first wife Sandra in 1969.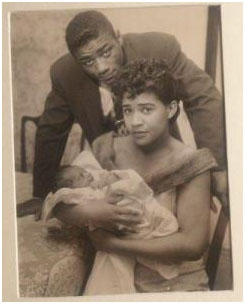 She wanted him to retire from boxing. He still wanted to regain the heavyweight title.
At age 37 in September, 1972, Patterson was stopped in the seventh round in a rematch with Ali. It proved to be Floyd's last fight, although there was never formal retirement announcement.
After hanging up the gloves, Patterson and Johansson became good friends who flew cross the Atlantic to visit each other every year. Floyd was also known as a true gentleman by the people in New Paltz, where he lived in retirement for several years.
At the age of 71 and 2006 Floyd died after suffering from Alzheimer's disease and prostate cancer.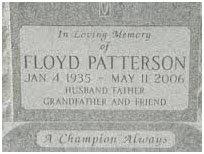 He's buried at new Paltz Rural Cemetery in New Paltz, New York.