Famously Dead A-Z:

Cause of Death:
View information about Catfish Hunter's death here on famously-dead.com. You can view information about Catfish Hunter's death and other famous deaths. You can view by name or by cause of death. We also have included the most popular famous deaths.
Catfish Hunter's Death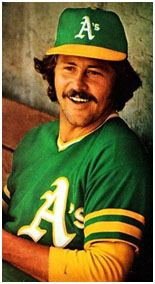 Jim "Catfish" Hunter
Baseball
April 8, 1946
September 9, 1999
A.L.S. (Lou Gehrig's disease)
The life and death of Jim "Catfish" Hunter:
He was the real deal on the pitcher's mound – a true ace who's remembered as a pioneering free agent, besides a multiple World Series champion, perfect game author and Cy Young award winner.
James Augustus Hunter was born and raised in Hertford, North Carolina. He excelled in sports, particularly football and baseball. Not even a teenaged hunting injury which permanently damaged his right foot could stop him.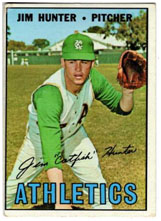 When he signed with the Athletics, then based in Kansas City, their colorful owner Charlie Finley wanted to add some luster to his team of also-rans. So he assigned Jim a nickname that no-one had ever called him before: Catfish. And that's how he'll always be remembered.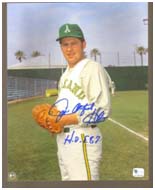 Starring for the A's in Kansas City and later Oakland, Hunter was an 8 time All Star, pitched a perfect game on May 8th , 1968, played for 3 World series champion A's teams and won the Cy Young Award in 1974.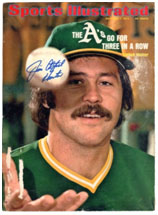 He was the first pitcher to notch 200 career wins by the age 31. The A's retired his number 27.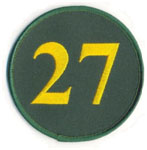 Clearly one of the best pitchers in baseball, when free agency was accepted, he scored what was then considered a huge 3.35 million dollar contract with the New York Yankees…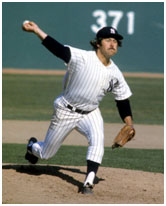 …opening a new era in his career and in baseball itself.
He appeared in another 3 World Series with the Yanks, two of them on the winning team.
For all of his accomplishments, Catfish was voted into the Baseball Hall of Fame.
In retirement, Catfish returned to his hometown and farmed corn, soybeans, peanuts and cotton.The irony here is that Hunter, who was popular with his teammates and the press, suffered the same fate as another well-respected Yankee: Lou Gehrig, because in the winter of 1997-98, after noticing a pronounced weakness in his arm, Hunter was diagnosed with Lou Gehrig's disease: ALS, and died at his home in Hertford at age 53.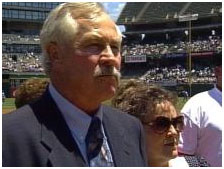 He's buried in Cedarwood Cemetery in Hertford…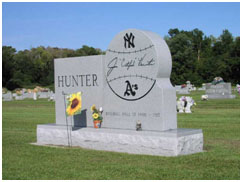 …near the field where he played high school baseball.