Famously Dead A-Z:

Cause of Death:
View information about Andre the Giant's death here on famously-dead.com. You can view information about Andre the Giant's death and other famous deaths. You can view by name or by cause of death. We also have included the most popular famous deaths.
Andre the Giant's Death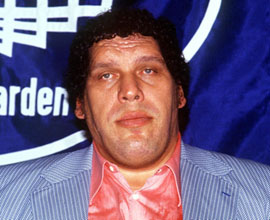 Andre the Giant
Professional Wrestler, Actor
May 19, 1946
January 27, 1993
Heart Failure
The life and death of Andre the Giant:
His ample frame was ample reason for his colorful name.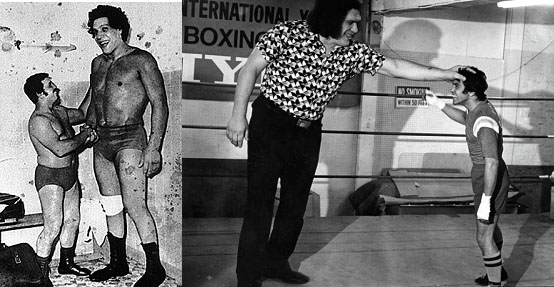 Andre the Giant checked in at seven feet, four inches and 550 pounds. He checked out at age 46 from congestive heart failure.
He was born Andre Rene Roussimoff in Grenoble, France. (Hence another nickname, "Monster Eiffel Tower".) His parents, Boris and Mariann Roussimoff, were a couple of Bulgarian and Polish ancestry. Andre's size was caused by an excess of growth hormone, leading to gigantism. He was already 6' 2" and 240 pounds by the age of 12 and grew to 6' 7' by age 17.
Even though he was a good student, Andre dropped out of high school after the eighth grade, figuring he was going to be a farm laborer for the rest of his days and wouldn't need further education. He spent years working on his father's farm and his brother said he could do the work of three men.
By the time he was 17, Andre moved to Paris and was taught professional wrestling by a local promoter. By 1966, he was making a name for himself with bouts in Germany, The United Kingdom, Africa, Australia and New Zealand.
It was on to Canada next. WWF founder Vince McMahon started to bill him as Andre the Giant and he was an instant star, with regular sellouts at the Montreal Forum. Here he is to the right of basketball's Wilt Chamberlain (another seven footer) and 6' 2" actor/politician Arnold Schwarzenegger.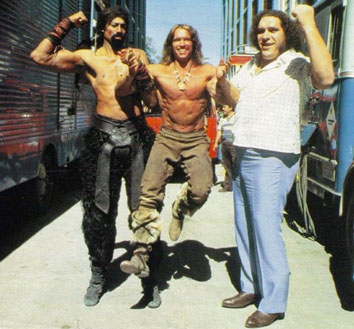 He was described as the ninth tallest professional wrestler in history in 2014. Besides his size, he could be frightening to ring opponents in other ways.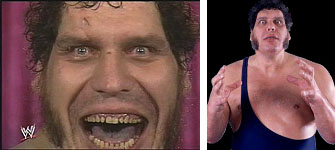 He was a World Heavyweight Wrestling Champion in the World Wrestling Federation, now known as the WWE, and was the first inductee into the WWF Hall of Fame.
He had a running feud with Hulk Hogan…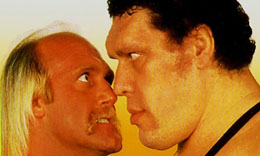 …starting in 1980 to 1983.
There was another notable feud with Killer Khan, nicknamed "Mongolian Giant."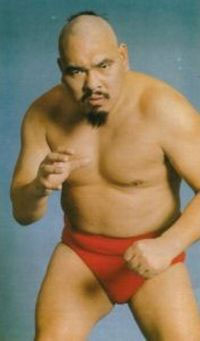 Andre started acting in the 1970's and 1980's, playing the title role in "Bigfoot' and appearing on TV's "The Fall Guy" "The Greatest American Hero" and "The Six Million Dollar Man", reprising his Sasquatch role.
Andre had a daughter named Robin Christensen…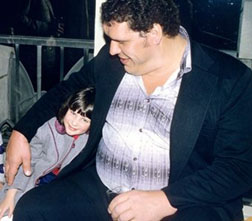 …and he had a brush with the law in 1989, accused of roughing up a TV cameraman.
Andre died in his sleep on congestive heart failure in a Paris hotel room in January, 1993. He was in Paris attending his father's funeral. Andre was cremated with his ashes scattered at his North Carolina ranch.