Famously Dead A-Z:

Cause of Death:
View information about Ron Brown's death here on famously-dead.com. You can view information about Ron Brown's death and other famous deaths. You can view by name or by cause of death. We also have included the most popular famous deaths.
Ron Brown's Death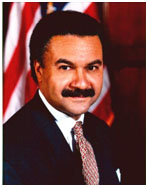 Ron Brown
Government
August 1, 1941
April 3, 1996
Plane Crash
The life and death of Ron Brown:
He was the first Black American to serve as U.S Secretary of Commerce, under President Bill Clinton.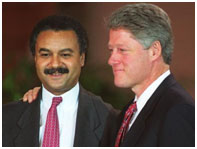 His life and career were cut short when he died along with 34 others in a plane crash in Croatia.
Ron Brown was born in Washington, D.C but grew up in a middle class family in Harlem, where his father managed the Theresa Hotel and the family lived. He appeared in an ad for Pepsi Cola as a young boy…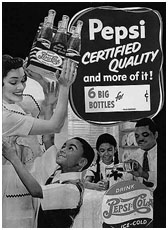 …one that was geared specifically towards black consumers.
In another first, Ron was the first black member of the Sigma Phi Epsilon college fraternity, while a student at Vermont's Middlebury College. He was in the Army, serving in South Korea and Europe, obtained a law degree from St. John's University and joined the National Urban League, which fought for economic equality in the U.S.
A Democrat, Brown worked his way up the party ladder. He worked on Edward Kennedy's failed bid for the Democrats' 1980 Presidential nomination. Brown worked as a lawyer and lobbyist for a D.C law firm and in 1988, headed the Reverend Jesse Jackson's convention team at the party's National Convention in Atlanta.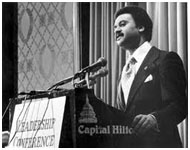 He became the party's National Chairman in 1989, helping Clinton get elected in 1992. Clinton then named Brown Commerce chief in 1993.

Three years into the job, Brown was leading an official trade mission with 34 other people on an Air Force CT-43, which was a modified Boeing 737. The jet crashed into a mountainside in Croatia while attempting an instrument landing at Cilipi airport, killing everyone.
The Air Force blamed it on pilot error and a poorly designed landing approach and later took steps to make sure it wouldn't be repeated.
Conspiracy theories grew after the crash because Brown was under investigation by an independent counsel for corruption. But none of those suspicions were ever proven.
President Clinton posthumously presented Brown with the Presidential Citizens Medal, which was accepted by Brown's widow, Alma. In addition many academic scholarships were established honoring Brown.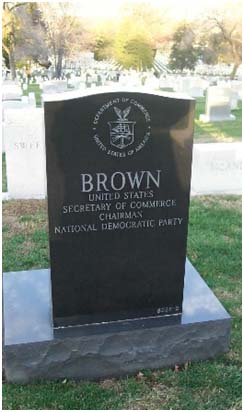 His final resting place is in Arlington National Cemetery.