Famously Dead A-Z:

Cause of Death:
View information about Ted Kennedy's death here on famously-dead.com. You can view information about Ted Kennedy's death and other famous deaths. You can view by name or by cause of death. We also have included the most popular famous deaths.
Ted Kennedy's Death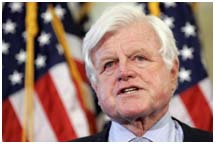 Edward "Ted" Kennedy
Politician
February 22, 1932
August 25, 2009
Cancer
He was the youngest brother in the trifecta of Jack, Bobby and Ted. Edward Moore Kennedy's life was marked by dramatic valleys and peaks. He had his own brush with death in a 1964 plane crash and suffered political disgrace on the national stage resulting from a 1969 car accident, ultimately failing in his own bid for President in 1980. But he was also a long serving U.S. Senator from his native Massachusetts (fourth longest tenure in history) and championed many popular causes before being forced to step down because of brain cancer, which claimed his life.
The youngest child of the very wealthy Joseph P. and Rose Kennedy, he shuttled among numerous homes as a child, attending ten different schools by the time he was eleven. When he received his First Communion at age seven, it was from no less than Pope Pius XII at the Vatican.
As he grew up, his parents sometimes unfavorably compared him to his older brothers, Joe (killed in World War II), Jack (the future President) and Bobby, with whom he's pictured here.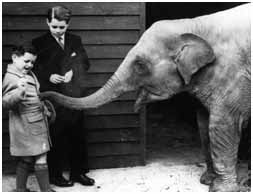 (No, that's not necessarily a Republican tweaking the lifelong Democrat as a child.)
After enjoying the privileged upbringing that being a Kennedy entailed, Ted entered the U.S Senate in November 1962…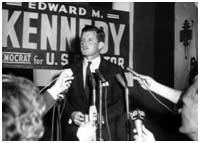 …winning a special election to fill the seat previously held by his brother Jack, who was already President of United States.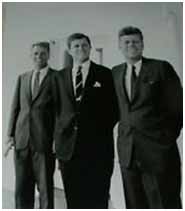 Brother Bobby was working for Jack as U.S Attorney General. Ted Kennedy was elected to a full six year term in 1964 and was re-elected seven more times.
However, there was a major scare in June, 1964, when the plane he was in crashed in bad weather in Massachusetts.

He suffered chronic back pain for the rest of his life.
His national political appeal was seriously damaged by the Chappaquiddick incident on July 18, 1969 when Mary Jo Kopechne, a passenger, drowned when the car he was driving went off a bridge.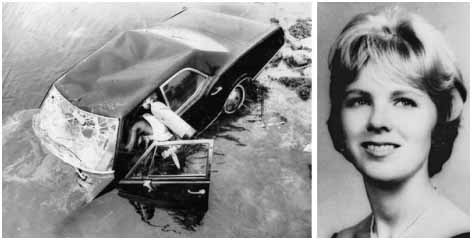 Eleven years later, Ted was running for the Presidency.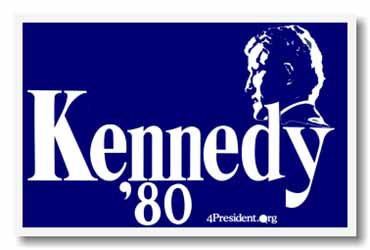 But he lost the Democrats' nomination to the incumbent President Jimmy Carter, who himself went on to lose the general election to Ronald Reagan.
Nevertheless, Ted Kennedy was known for his charisma and his oratory. He gave a moving address at the 1968 funeral of his assassinated older brother, Robert.
And in his many years in the Senate, Kennedy played a big role in passing many laws including those addressing immigration, health insurance, disability discrimination, AIDS, civil rights, mental health and so forth.
Kennedy was married twice, to Virginia Joan Bennett in 1957.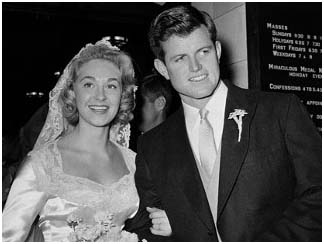 They had three children, including future Congressman Patrick Kennedy. The couple divorced in 1990 and Ted married Victoria Reggie in 1992.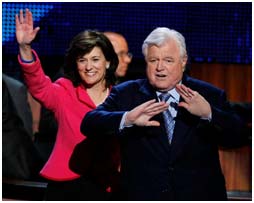 In 2008, Kennedy was diagnosed with a malignant brain tumor and the illness limited his time in the Senate. He died the following year at his Hyannisport, Massachusetts home.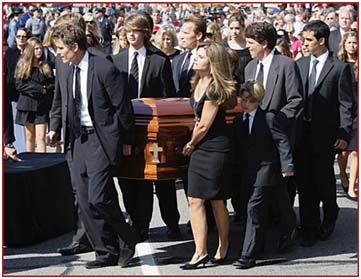 Ted Kennedy is buried, like his brothers, at Arlington National Cemetery - not far from their graves.