Famously Dead A-Z:

Cause of Death:
How did Robert Moses die? Here on famously-dead.com, you can view information about Robert Moses's death and other famous deaths. You can view by name or by cause of death. We also have included the most popular famous deaths.
Robert Moses's Death

Robert Moses
Politics
December 18, 1888
July 29, 1981
Heart Disease
The life and death of Robert Moses:
He was probably the most prolific urban planner of the 20th century, forever altering the landscape of New York City and its surrounding counties with scores of parks, highways, bridges, tunnels and other public works projects.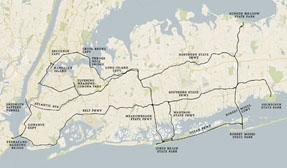 But he was also criticized for many of the ways he did things, most notably for spurning mass transit. And he as much as any one individual was instrumental in triggering the NIMBY movement, shorthand or "Not in My Backyard".
Robert Moses was born in New Haven, Connecticut to German Jewish parents. He would later convert to Christianity and spent his early years living just a couple blocks away from one of his future high-powered schools: Yale University.
In 1897, when Robert was still only nine years old, his family moved to New York City and lived just off Fifth Avenue on East 46th Street.
His father was a department store owner and a real estate speculator but he sold his real estate holdings in New Haven and retired from business for the rest of his life. Moses mother Bella was active in the settlement movement. Its goal was to get the rich and poor to live more closely together in an inter-dependent community.
Robert and his brother Paul attended several schools in the area. And after graduating Yale in 1909, Robert got his PhD in political science at Columbia University. Active politically, he wanted to change the way things were done in New York City, with its custom of hiring through patronage.
He caught the attention of friends of Al Smith, a rising state politician in New York who unsuccessfully ran for president in 1928. Prior to that setback, Smith served as Governor of New York and he named Moses to serve as New York's Secretary of State from 1927 to 1929.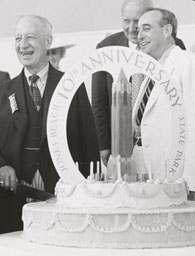 But even before that, Moses helped to create the Long Island State Parks Commission and that led to the development of Jones Beach State Park…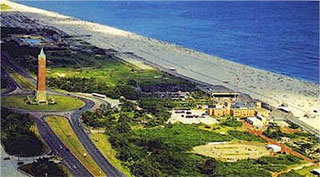 …along with several other parks in Nassau and Suffolk Counties.
He also began several highway projects including the Northern State, Southern State, Wantagh and Meadowbrook Parkways on Long Island. Later Moses planned and built the Long Island Expressway along the spine of Long Island.
But Moses did not limit his activities to Long Island and became powerful in New York City…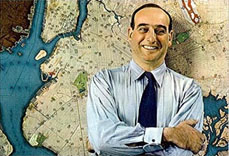 …as Parks commissioner to Mayor Fiorello LaGuardia - building public pools in places like Brooklyn.
He also had power as head of the New York City Housing Authority, building large scale apartment projects. And as chairman of the Triborough Bridge and Tunnel Authority Moses hit the jackpot -- building what is now the Robert F Kennedy Bridge and several spans linking the Bronx, Manhattan and Queens.
The TBTA was a government unit into itself and the tolls generated by Moses' bridges and tunnels gave him plenty of money to fund his projects and to shield him from typical government power of elected officials.
Not all his projects came to fruition. Moses planned the Brooklyn Battery Bridge but that was stopped and instead the Brooklyn Battery Tunnel (known called the Hugh Carey Tunnel) was built. Moses also oversaw the construction of the Queens Midtown Tunnel.
Moses also put his stamp on the headquarters of the UN building and he was instrumental in the construction of the 1939 and 1964 Worlds Fair's in New York City.
And one of his largest and best-known projects was the Verrazano Narrows Bridge, linking Brooklyn and Staten Island.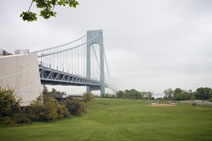 Moses was blamed by many in New York (along with the owner of the Brooklyn Dodgers, Walter O'Malley) for the Dodgers' move to Los Angeles.
When O'Malley proposed a new, domed stadium near the present-day Barkley's Center….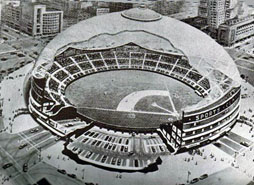 …Moses insisted he build his ballpark in Queens instead, on the site of the current Citi Field. When O'Malley rejected the Queens site, he left for Los Angeles in 1957 leaving Brooklyn Dodger fans feeling decimated.
The 1974 book "The Power Broker" by Robert Caro also hurt the so-called "Master Builder's" reputation.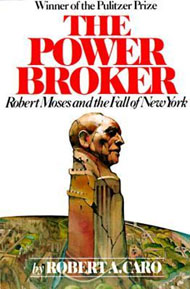 The "hero" builder was seen to have destroyed more than a score of neighborhoods by building expressways, like the Cross Bronx…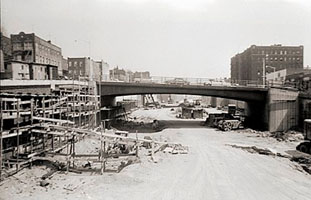 …and Brooklyn Queens and Long Island Expressways through New York City without regard to the surrounding communities.
So, when Moses planned a similar expressway project in lower Manhattan…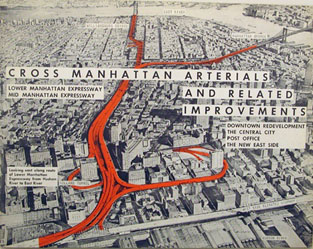 …the NIMBY movement led by an urban activist named Jane Jacobs…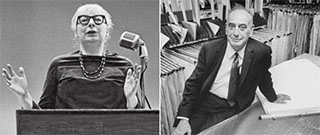 …fought him and won.
Another of Moses' failed ideas was a planned bridge across Long Island Sound from Rye, New York to Oyster Bay. A local NIMBY campaign fought it and the project was scuttled.
Moses was also accused of racist tendencies in his plans for housing projects in New York City.
He was married twice…to Mary Sims from 1915 to 1966 and to Mary Alicia Grady from 1966-1981.
Robert Moses died of heart disease at the age of 92. He's buried at Woodlawn Cemetery in the Bronx in an outdoor mausoleum…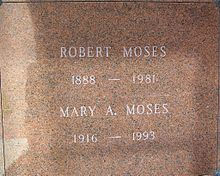 …and although his name graces a park, parkway and causeway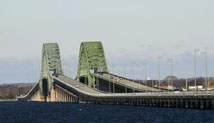 …on Long Island, his reputation is still tainted among his critics because of the accusations many made against him.