Famously Dead A-Z:

Cause of Death:
View information about Nancy Reagan's death here on famously-dead.com. You can view information about Nancy Reagan's death and other famous deaths. You can view by name or by cause of death. We also have included the most popular famous deaths.
Nancy Reagan's Death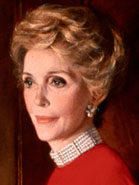 Nancy Reagan
First Lady of the United States, Actress
July 6, 1921
March 6, 2016
Heart Failure
The life and death of Nancy Reagan:
Her first career led directly to her second, more obvious claim to fame as First Lady of the United States. That's because this New York City native was married and co-starred in a movie with a future President of the United States, leading to eight years in the White House in the 1980's and burial next to him at his Presidential Library in California.
The name on her birth certificate was Anne Frances Robbins, even though she was commonly referred to as Nancy from the day she was born in the Washington Heights section of New York City. Her father Kenneth came from a family that had been well-to-do and he worked as a car salesman. His wife and Anne's mother was radio actress Edith Prescott Luckett.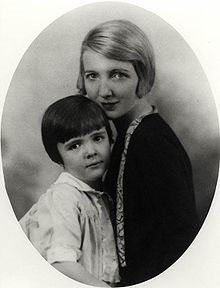 Nancy lived until age two in Queens, New York but her parents separated soon after she was born and were divorced when she was seven years old. After the separation, as her mother sought out acting roles, Nancy was raised in Bethesda Maryland for six years by an aunt and uncle.
By 1929, her mom married Doctor Loyal Davis, a prominent neurosurgeon who moved the family to Chicago. Dr. Davis was a political conservative and Nancy thought very highly of him, praising him for his integrity and old-fashioned values.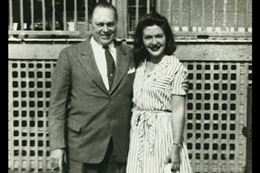 Her name was legally changed to Nancy Davis. Pictured her posing with her step-brother, Richard Davis…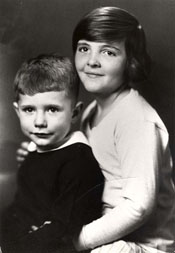 …Nancy attended Chicago's Girl's Latin School and later graduated from Smith College in Massachusetts.
With the help of some of her mom's acting friends, including Spencer Tracy and Walter Huston, Nancy embarked on her stage and screen career.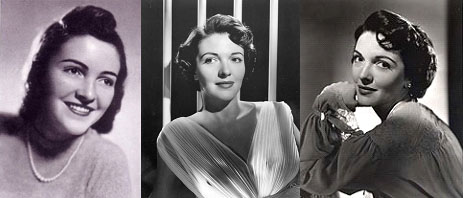 She moved to California in 1949 after passing an MGM screen test and signing a seven year contract and she appeared in eleven feature films, often as the loyal housewife or young mom. And so, in 1949, she met Ronald Reagan who was already President – of the Screen Actor's Guild. They began dating, and though wary after his prior divorce, Reagan and Nancy married in March, 1952.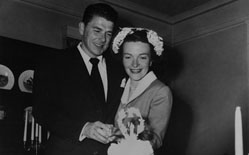 They had two children Patricia, aka Patti Davis, and Ronald Jr., born in May, 1958.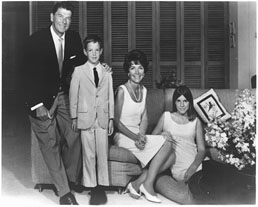 Growing up, Patti rebelled against her parents' conservatism, although she and her mom reconciled years later. There were also angry sparks between Nancy and Reagan's adopted some Michael.
She and Ronald – who referred to her as "mommy" while she called him "Ronnie" - made one film together: 1957's "Hellcats of the Navy".
As First Lady, she's remembered for her loyalty to her husband and became even more protective of him after he survived an assassination attempt in March, 1981 – only a few weeks into his new Administration. Here's they posed for photographers at George Washington Hospital a few days after the shooting.

However, she was criticized early on for her decision to replace the White House china, even though it was purchased with private donations. And as she tried to restore some of the glamour of the Camelot era of President John F. Kennedy and his wife Jacquelin Kennedy, she got a lot attention as well as criticism for being out of touch with a populace struggling through a recession.
She's best remembered as First Lady for her "Just Say No' drug awareness campaign
She herself was a breast cancer survivor, diagnosed with a tumor in October 1987 and choosing to undergo a mastectomy. But controversy swirled around her again in 1988 when it came out that spoke with an astrologer to help plan her husband's schedule after the 1981 assassination attempt. Nevertheless, when the Reagan's left the White House, 56 percent had a favorable impression of her as First Lady.
Moving back to California, the former President's health faltered as he suffered from Alzheimer's disease and Nancy continued as his number one protector. And when Reagan died at home in Bel Air in June 2004, Nancy led the nation in mourning.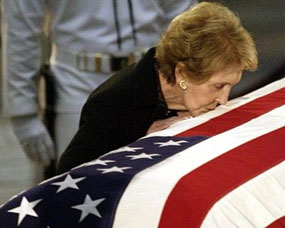 Nevertheless, she remained active in politics, including favoring an expansion of stem cell research – something the incumbent President George W. Bush had opposed. She also raised money for Alzheimer's research.
Months before she died, she hosted one of the 2016 Republican Prudential debates at the Reagan Presidential Library.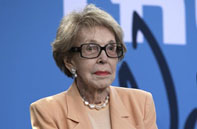 Nancy Reagan died of heart failure at her home. She was 94 years old, the second oldest First Lady in history, after Bess Truman.
She lied in repose for two days…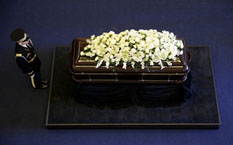 …before being buried next to her husband at the Reagan Presidential Library in Simi Valley, California.