Famously Dead A-Z:

Cause of Death:
View information about James Brady's death here on famously-dead.com. You can view information about James Brady's death and other famous deaths. You can view by name or by cause of death. We also have included the most popular famous deaths.
James Brady's Death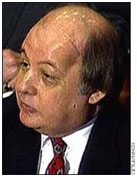 James Brady
Government & Politics / White House Press Secretary
August 29, 1940
August 4, 2014
Homicide, a series of health issues
The life and death of James Brady:
He was Ronald Reagan's right hand man in handling the media. James Brady was only a couple of months into his job as White House Press Secretary when he was wounded in the hail of bullets on March 30, 1981 in which the President was also seriously wounded.
Brady's head wound left him close to death and eventually disabled; however, he became a staunch supporter of gun control. The federal law requiring background checks on handgun buyers bears his name and the Brady Campaign to Prevent Gun Violence is named in his honor.
James Brady was a native of Centralia, Illinois, born to George Brady and his wife Emily Mae. James graduated from the University of Illinois at Urbana-Champaign, majoring in political science.
He began his professional career on the staff of Illinois Senator Everett Dirksen and later worked as a press aide for John Connolly in the former Texas Governor's run for President in 1979. When Connolly dropped out, Brady worked for the Reagan-Bush team and when Reagan took office, Brady became White house press chief.

However, it didn't last long because on March 30th, about two months into the job, Brady was one of the four people shot by John Hinckley Jr…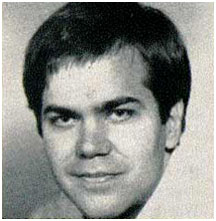 ...when he took aim at the president.
Brady was hit in the head and many major TV outlets reported that he had died. ABC News anchor Frank Reynolds lost his temper on the air when he had to retract the report of his friend's death.
Even though Brady survived, he was left disabled with partial paralysis and slurred speech and could not do the job, although he retained his title until the end of the Reagan Administration. Larry Speaks and Martin Fitzwater served as "acting' or "deputy" press spokesmen.
As time passed, Brady lobbied for stricter handgun controls and "The Brady Bill" was named in his honor.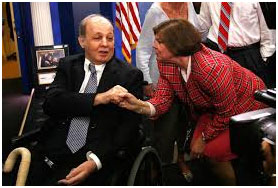 At the White House, in 2000, the press briefing room and also named after him.
James Brady married twice. The first marriage to Sue Bah ended in a 1968 divorce. He married Sarah Brady in 1973 and they had two children; Scott and Melissa. They all survived him.
Ten days after he died, James Brady's death was ruled a homicide. His family said he died because of a series of health issues.
Hinckley was found not guilty by reason of insanity of all charges against him. It remains to be seen if charges will be filed in Brady's death, since it's been ruled a homicide.
James Brady's death was ruled a homicide in August, 2014, but in January, 2015 federal prosecutors decided they would not charge Hinckley with his murder – even though Brady's death was a direct result of the bullet Hinckley fired 34 years earlier.
Prosecutors said their decision was based on a review of the law, the history of the case and circumstances of Brady's death. Hinckley's lawyer said any idea that the case could be prosecuted was ridiculous and the defense attorney believed it would be thrown out as a matter of law.