Famously Dead A-Z:

Cause of Death:
View information about Geraldine Ferraro's death here on famously-dead.com. You can view information about Geraldine Ferraro's death and other famous deaths. You can view by name or by cause of death. We also have included the most popular famous deaths.
Geraldine Ferraro's Death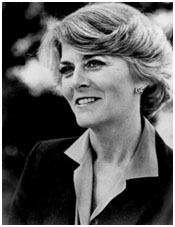 Geraldine Ferraro
Politics
August 26, 1935
March 26, 2011
Cancer
The life and death of Geraldine Ferraro:
She was a lawyer, a Democratic Party politician and a member of the House of Representatives from New York. And she is famous for being the first female Vice Presidential candidate for a major American political party.
Her name at birth was her name in fame. Geraldine Anne Ferraro was born in upstate Newburgh, New York. Her Italian immigrant father and first generation American mother owned restaurants in the area and she had three older brothers.
When Geraldine was eight years old her father died of a heart attack. Her mother invested and lost the remainder of the family's money, forcing them to move to a low income area in the South Bronx while her mother worked in the garment industry.
Geraldine grew up New York City and attended Marymount Manhattan College with a scholarship and it was there she began dating John Zaccaro of Forest Hills, Queens. They eventually married.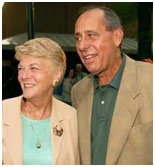 Ferraro started her working life is a public school teacher but found the job lacking before training to be a lawyer. She joined the Queens County DA's office in 1974, which was run at the time by her cousin, District Attorney Nicholas Ferraro.
By 1978 she was elected to the U.S .House of Representatives where she climbed through the party's leadership posts.
Equality for women - in wages, pensions and retirement plans - was one of her major focal points.
By 1984, Walter Mondale…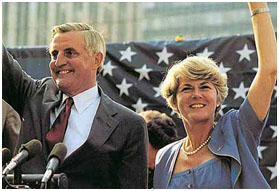 …who was running for the Democrats against Ronald Reagan for President, chose Ferraro to be his running mate.
Not only was she the first woman to be nominated for such a high national office, she was also the first Italian-American. However, damaging revelations about her husband's John's finances and wealth, and her congressional disclosure statements, bogged her down.
It was disclosed that Ferraro and her husband were worth nearly $4 million, owned a boat, had two vacation homes and employed a full-time maid. Much of their money was tied up in real estate and wasn't liquid, but it hurt her image as a rags to riches story.
The fact that her father was arrested for possession of numbers slips in Newburgh before he died didn't help her image.
She was also criticized by the Roman Catholic Church for her pro-abortion stance.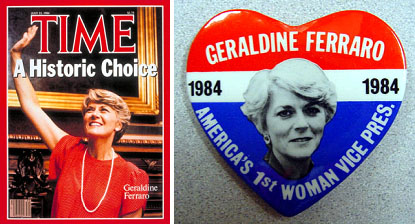 Reagan, with George H.W. Bush as vice president, won in a landslide against the Mondale-Ferraro ticket.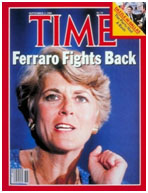 Trying to come back, Ferraro ran for the U.S. Senate from New York and started as the front runner for the party's nomination in 1992 to 1998, but ended up losing in the primaries.
She served as the U.S. ambassador to the United Nations commission on Human Rights for the Clinton Administration from 1993 until 1996.
And Ferraro also continue working as a political commentator for CNN and Fox News…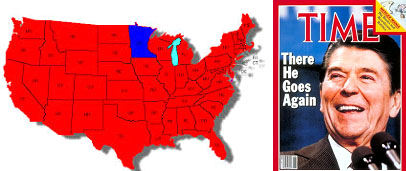 …an author and a businesswoman and served in the 2008 presidential campaign for Hillary Clinton.
12 years after being diagnosed with multiple myeloma, a form of blood cancer, Geraldine Ferraro died of the disease, survived by her husband, three children and eight grandchildren.
Local, state, and national politicians attended her funeral mass.

Mondale and both Clintons were among the speakers.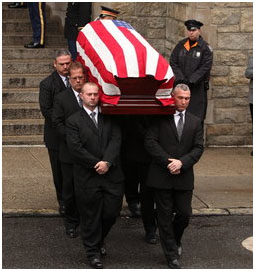 She's buried at St. John's Cemetery in Middle Village, Queens.