Famously Dead A-Z:

Cause of Death:
View information about Fred Thompson's death here on famously-dead.com. You can view information about Fred Thompson's death and other famous deaths. You can view by name or by cause of death. We also have included the most popular famous deaths.
Fred Thompson's Death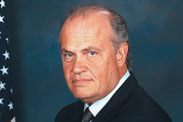 Fred Thompson
Politician, Actor
August 19, 1942
November 1, 2015
Cancer
The life and death of Fred Thompson:
He was a success in two vastly different fields that play upon the same innate talent. On the one hand, he was a politician who rose all the way to a seat in the U.S. Senate with aspirations, although unattained, for the White House itself. On the other hand, he was also a very successful actor, starring in noted movies and TV shows.
Freddie Dalton Thompson was born in Sheffield, Alabama, the son of a car salesman named Fletcher Thompson and his wife, the former Ruth Inez Bradley. Freddie was raised in Tennessee where he attended public school in Lynchburg and graduating from Lawrence County High School. He also got his hands dirty, working at the local post office by day and a bicycle assembly plant at night. He later changed his named from Freddie to Fred.
Fred then went on to college- the first member of his family to do so. He earned a double degree in Philosophy and Political science at the University of Memphis in 1964 and got his law degree from Vanderbilt Law School in 1967.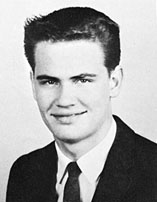 He then practiced law in Nashville and Washington, DC and served on various corporate boards. By 1973, he was appointed minority counsel to assist Republicans on the Senate Watergate Committee, investigating charges against President Richard Nixon.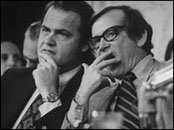 He is sometimes credited with the most famous question at the hearings, mouthed by Senator Howard Baker: "What did the President know and when did he know it?" It helped pave the way for the implosion of the Nixon presidency.
Thompson also served as a lobbyist, picking up a million bucks for those efforts over the years.
He also represented Mary Ann Ragghianti in a 197 corruption case against Tennessee's Governor. The movie "Marie" was made about that case cast Thomson as himself.
Other film credits included "No Way Out", and "The Hunt for Red October"
Fred also had a recurring role on TV's "Law & Order"
...and "The Good Wife"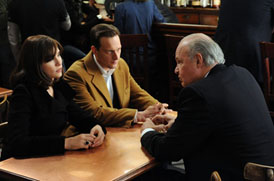 By 1994, Thompson was elected to finish Vice President Al Gore's unfinished Senate term and won election to that office twice.
But he refused to run again in 2002, not wanting the Senate for a long term career. He started doing voice over work at the 2004 Republican National Convention, worked as a news analyst for ABC Radio in 2006 and was mentioned as a possible Presidential contender in 2008 – though it didn't pan out.
Thompson married Sarah Lindsay at the age of 17 in 1959 and a son was born seven months later. They had two other children before divorcing in 1985.
He married Jeri Kehn in 2002 and they had two children.
In between his marriages, Thompson was linked to columnist Margaret Carlson, country singer Lorrie Morgan and Republican fundraiser Georgette Mosbacher.
Fred Thomason was diagnosed with non Hodgkins Lymphoma, a former of cancer, in 2004 and doubted it would affect his life expectancy. However, he suffered a recurrence at the age of 73 and died of the disease.