Famously Dead A-Z:

Cause of Death:
View information about David Kennedy's death here on famously-dead.com. You can view information about David Kennedy's death and other famous deaths. You can view by name or by cause of death. We also have included the most popular famous deaths.
David Kennedy's Death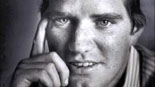 David Kennedy
Political Scion
June 15, 1955
April 25, 1984
Drug Overdose
The life and death of David Kennedy:
Mention the Kennedy family, and most Americans will tell you they're the nation's most famous political family. An almost equal number will also tell you the family name has been marred by tragic, unexpected deaths, like the assassinations of John and Robert, the plane crashes that killed JFK Jr. and his aunt Kathleen and the ski slope accident that claimed the life of RFK's son Michael. But this Kennedy's untimely demise is unusual in another way.
David Anthony Kennedy was the fourth child of Robert F. Kennedy and Ethel Kennedy, born in Washington, DC. A shy youngster, he had a strong bond with his dad.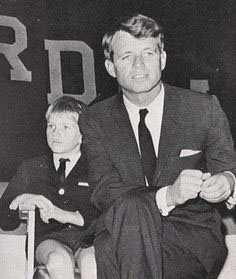 But just days shy of turning the age of 13, David had an extremely bad day on June 4th, 1968. He nearly drowned in the Pacific Ocean near Malibu, California. He'd been knocked over by a wave and his dad jumped into the water and rescued him, scraping his own forehead in the process. The Democratic Presidential candidate needed make up, because he was going to be on TV that night - as he was claiming victory in the California primary. But just after midnight, June 5th, the 12-year-old was aghast when the same broadcast reported that his father had been shot dead. That experience scarred David for life and a short time later he started using drugs.
Things got worse in the coming years. A 1973 car accident left his girlfriend paralyzed while David had a broken vertebrae and became addicted to hospital painkillers. He then started experimenting with heroin in his final year at the Middlesex School in Concord, Massachusetts. Kennedy was then admitted to Harvard and spent two years there pursuing in American history major but dropped out in 1976. He interned at a Tennessee newspaper in 1974, announcing ambitions to become a journalist.
But after dropping out of Harvard, David moved back and forth between the family home in McLean, Virginia and New York. He moved to the city full time in 1979 and was often seen out all the town in Manhattan with some attractive women, including British actress Rachel Ward.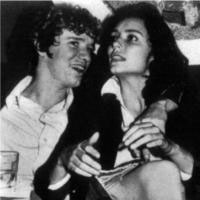 Adding to a rap sheet that included drug overdoses in 1976 and '78, he had some skirmishes with the law that included driving under the influence and speeding. In September 1979 he made the papers when he was robbed and beaten while buying heroin in Harlem.
David tried to clean up his act in the spring of 1984 with a month-long stay in St. Mary's Hospital and Rehab Center in Minneapolis.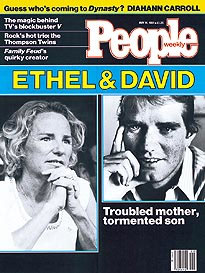 He flew down to Florida for Easter with the family, which had gathered at the Brazilian Court Hotel in Palm Beach. He was partying while there and on April 25, hotel staff went to check on him and found him dead. He died of an overdose of cocaine Demerol and Mellaril.
David Kennedy is buried at Holyhood Cemetery in Brookline, Massachusetts…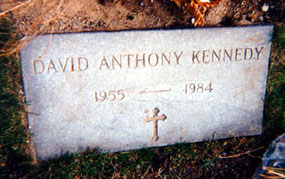 …where the Kennedy family had its roots.