Famously Dead A-Z:

Cause of Death:
View information about Phyllis Hyman's death here on famously-dead.com. You can view information about Phyllis Hyman's death and other famous deaths. You can view by name or by cause of death. We also have included the most popular famous deaths.
Phyllis Hyman's Death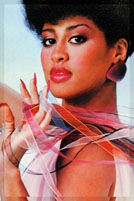 Phyllis Hyman
Music, Actress
July 6, 1949
June 30, 1995
Suicide
The life and death of Phyllis Hyman:
She enjoyed success as a singer, actress and songwriter in the 1980's. But sadly it didn't last long, with her taking her own life with an overdose of pills.
The name on her birth certificate is the same as the one that brought her fame. Phyllis Linda Hyman was born in Philadelphia. Her father was black and her mother was of Italian descent.
Her first big break included an appearance in the 1974 movie "Lenny", based on the life of comedian Lenny Bruce. She was also performing with a music group called New Direction and a band called "Phyllis Hyman and the P/H Factor". Over her career. She recorded several albums, including:

And some of the statuesque, six foot one-inch beauty's hits included "You Know How to Love Me"
"Don't Wanna Change the World" was another Hyman hit.
In 1983 she recorded the title song of the James Bond movie "Never Say Never Again".
She also won Tony Award nomination for Best Performance by a Featured Actress in a Musical for her role in a Broadway musical called "Sophisticated Ladies", based on the music of Duke Ellington. Here she is from that show performing "It Don't Mean a Thing."
Sadly, a week shy of her 46th birthday, Phyllis took her own life with a drug overdose (pentobarbital and secobarbital) hours before she was to give a performance at New York's Apollo Theatre.
She left a suicide note saying she was tired, saying those she loved knew how she felt about them and asked God to bless them. Phyllis was cremated and her ashes were given to family and friends.