Famously Dead A-Z:

Cause of Death:
View information about Lenny Bruce's death here on famously-dead.com. You can view information about Lenny Bruce's death and other famous deaths. You can view by name or by cause of death. We also have included the most popular famous deaths.
Lenny Bruce's Death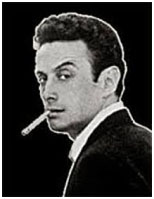 Lenny Bruce
Comedian, Social Commentator, Satirist
October 13, 1925
August 3, 1966
Drug Overdose
The life and death of Lenny Bruce:
To get an idea of the kind of impact this comedian-satirist had, consider those whom he influenced: George Carlin, Richard Pryor, Bill Cosby, Jerry Seinfeld, John Stewart, John Belushi, and Joan Rivers – to name just a few. Lenny Bruce paved the way for these, and other, counter-culture comics. Bruce did standup that included topics that used to be taboos: American culture and politics, race, religion, sex and obscenity.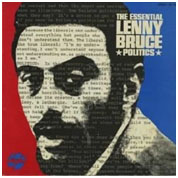 Born in Mineola, Long Island on October 13, 1925, Leonard Alfred Schneider grew up in nearby Bellmore. His parents divorced when he was just a boy and Lenny lived with various relatives over the next several years. His father Myron moved to California and saw little of his son. His mother Sadie, a.m. Sally Marr, was a stage performer and influenced Lenny in his career.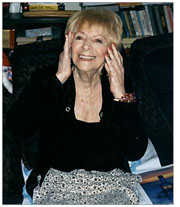 Lenny was in the Navy in World War Two and saw action in North Africa and Italy. But he was dishonorably discharged after a comedy routine for shipmates, in which he dressed in drag and told the ship's medical officer he was experiencing homosexual urges.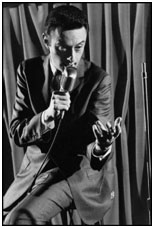 Lenny then settled in New York and changed his last name to Bruce and started making TV appearances on "The Steve Allen Show."
During a severe blizzard in February 1961, he gave a famous performance at New York's Carnegie Hall.
But his network TV appearances would be limited to six over the course of his career, mostly because of his brushes with the obscenity rules.
In 1951, Lenny married Honey Harlow, a stripper…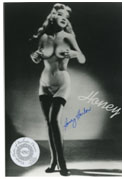 …but he wanted her to quit her act. They worked as a double act, though, and he used the strip club environment to perfect his maverick act. Honey and Lenny had a daughter named Kitty…

…but the couple divorced in 1959.
Lenny's desire to get his wife off the stage and into some clothes led to a scam in which he impersonated a Catholic priest. He was arrested in Miami for doing that, after soliciting donations for a leper colony. He was also arrested in San Francisco in 1961 for obscenity for his on stage language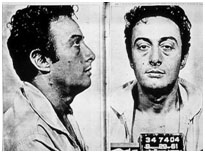 And Bruce arrested later that year in Philadelphia for drug possession.
In 1964, in New York's Greenwich Village, Bruce and the owner of Café Au Go Go were arrested after Lenny used various obscenities in his act.
In August, 1966, Bruce – only 40 years old – was found dead in the bathroom of his Hollywood Hills home on a drug overdose.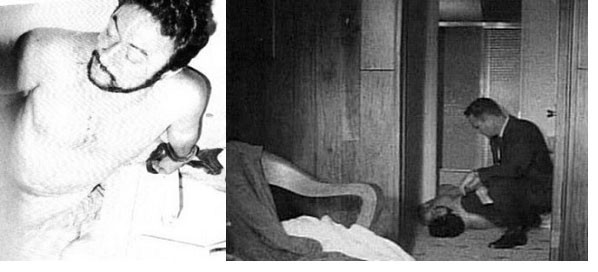 The official photo showed him naked on the floor with a drug syringe and other drug paraphernalia nearby
Lenny Bruce's buried in Eden Memorial Park Cemetery in Mission Hills, California.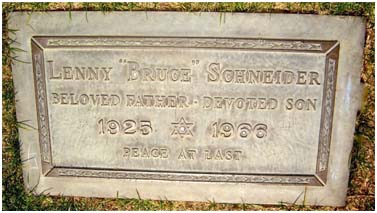 He was convicted in an obscenity trial in 1964, but was granted the first posthumous pardon in New York State History by then Governor George Pataki in 2003.
Lenny was portrayed by Dustin Hoffman in the 1974 biopic about his life