Famously Dead A-Z:

Cause of Death:
View information about Michael Hutchence's death here on famously-dead.com. You can view information about Michael Hutchence's death and other famous deaths. You can view by name or by cause of death. We also have included the most popular famous deaths.
Michael Hutchence's Death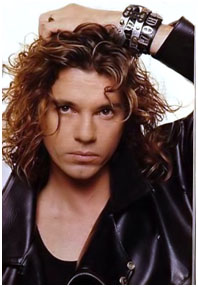 Michael Hutchence
Music
January 22, 1960
November 22, 1997
Suicide
The life and death of Michael Hutchence:
He lived the life of a rock star and movie star, enjoying fame, fortune and lots of pretty women too. And he maintained it for two decades as the lead man and lyricist for the rock band INXS and as an actor in some movies too, until he did himself in in a hotel room.
Michael Kelland John Hutchence was born in Sydney, Australia and did some moving around as a kid.. His father Kelland was a businessman and his mother Patricia was a makeup artist. Michael's family moved to Brisbane when his younger brother was born and later relocated to Hong Kong, because his father took a job with an Australian trading Company.
The Hutchence's returned to Sydney in 1972 and Michael became good friends with Andrew Farris and they started jamming in the Farris garage with Andrew's brothers. Michael's parents split up when he was 15, and he moved briefly to California with his mom and older half-sister. When they returned to Australia in 1972 the three Farris brother – Tim, Andrew and Jon - formed a band and Michael was brought on as the lead singer.

Michael's pictured top row, left in this 1975 photo at Davidson High School.
Other musicians were added and in its early days, the group performed as The Vegetables and they released their debut album in October 1979 called INXS. Hutchence was the group's leader, a lightning rod on-stage who co-wrote the group's songs with Andrew Farris.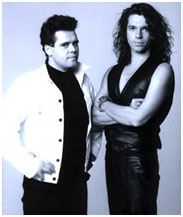 They had several big records, including this number one US Hit "Need You Tonight".
It was part of the album "Kick", which produced four Top 10 singles in the U.S., including "Devil Inside"
His career was going full speed…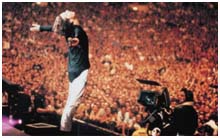 …and his on stage persona (like an Australian version of The Doors' Jim Morrison) made Michael a natural for the movies. He had the male lead role in the Australian film "Dogs in Space" and also appeared in "Frankenstein Unbound" and "Limp".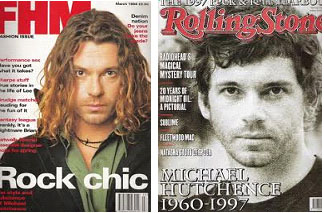 In his personal life, he took up with British television personality Paula Yates…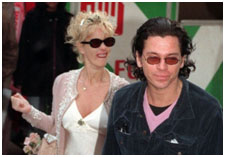 Her marriage to singer and "Live Aid" organizer Bob Geldof was unravelling and they divorced in May 1996. Two months later, Yates gave birth to Hutchence's only child, a daughter they named Heavenly Hiranni Tiger Lily Hutchence.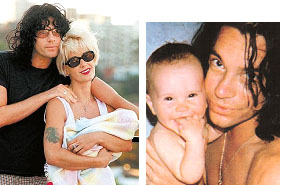 Hutchence and INXS went on a world tour in April 1997 to support the release of a new album, "Elegantly Wasted." The album's title was indeed ironic, because Michael's demise was inelegant, although his life was wasted.
On the morning of November 22, 1997 Hutchence was found dead in his hotel room at the Ritz-Carlton in Sydney…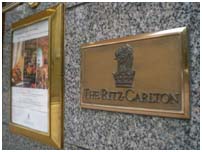 ...the result of suicide by hanging. He'd used a snake skin belt to tie a knot on the automatic closing mechanism at the top of the door. The coroner called it suicide saying Hutchence was depressed and was under the influence of alcohol and other drugs.
A funeral service was held at St. Andrew's Cathedral in Sydney and Michael's remains were cremated. His ashes were divided into thirds, with Yates and his parents receiving an equal share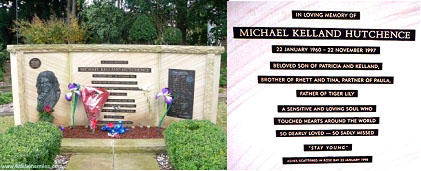 He's memorialized at Northern Suborns Memorial Gardens and Crematorium in New South Wales, Australia.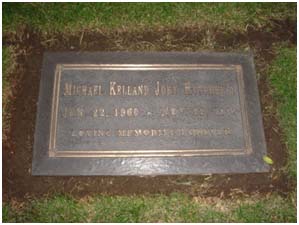 Another portion is buried at Forest Lawn Memorial Park in Hollywood Hills.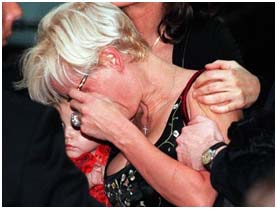 In 1999, Yates claimed Michael's death may have resulted from autoerotic asphyxiation, in which oxygen supply is reduced to the brain for sexual arousal. In fact, there was no suicide note and fans and relatives believed his death may have been accidental.
Yates died of an accidental heroin overdose in September 2000, her body discovered by her four year old daughter. Her ex-husband Geldof filed for custody of the child and he legally adopted Tiger Lily…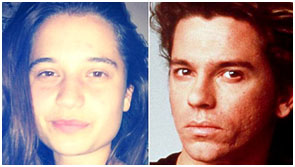 …against the wishes of Hutchence's mother. When Patricia Hutchence died, the then 14-year-old Tiger did not attend her funeral.
Sadly, another of Paula Yates' daughters, Peaches Geldof, died at age 25 in April, 2014. It was reported at her inquest that heroin probably played a role in Peaches' death