Famously Dead A-Z:

Cause of Death:
View information about Jim Morrison's death here on famously-dead.com. You can view information about Jim Morrison's death and other famous deaths. You can view by name or by cause of death. We also have included the most popular famous deaths.
Jim Morrison's Death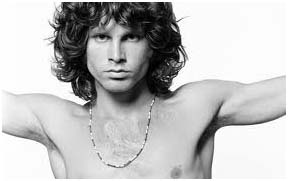 Jim Morrison
Music
December 8, 1943
July 3, 1971
Overdose
He was a poet with sex appeal and as front man for The Doors one of the top rock stars of the 1960's.
Born in Florida, Jim Morrison was the son of a career Navy man, who'd eventually rise to the rank of Rear Admiral. Travelling across the country, he's said to have seen a grisly car wreck that had a big effect on him. He often referred to it in his work.
With a father in the Navy, the Morrison's bounced around the country. As a boy, Jim read poetry and philosophy and eventually settled in California, where he became a film student at UCLA. After graduating, he lived in Venice Beach, often living on canned beans and LSD. That's according to one of his bandmates in the group that was his claim to fame, The Doors.
They stormed to fame with this song.
The group's other huge hits included: "Touch Me", "Love Her Madly", "Break on Through" and "People Are Strange".
But Jim had a serious problem with drugs and drinking. Exposing his private parts while onstage was also sometimes part of his act. He was convicted for indecent exposure in 1970.
His onstage antics began to take their toll …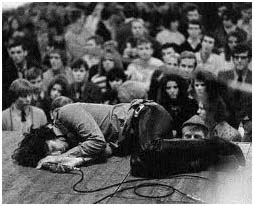 After another chaotic performance, here he is being placed under arrest in New Haven, Connecticut.
The rocker known for his leather pants and legions of groupies started to put on weight …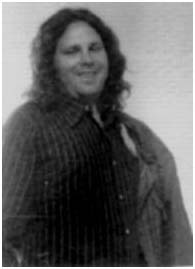 In March 1971, Morrison and his long-time companion, Pamela Courson…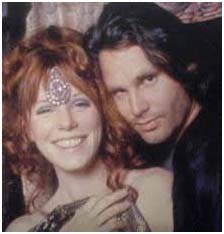 …went to Paris. He was found dead in an apartment bathtub on July 3, 1971. No autopsy was performed because foul play had been ruled out by authorities. Courson later said Morrison died of a heroin overdose, snorting it while believing it was cocaine. Courson had nodded out instead of calling for help.
Jim Morrison was dead at age 27.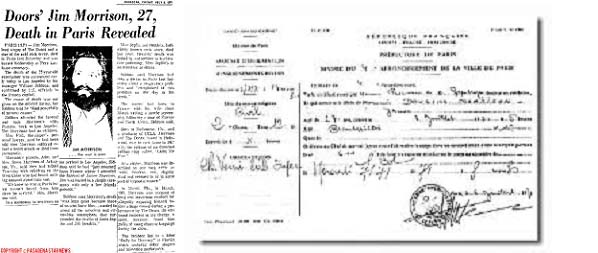 Morrison left his entire estate to Courson in his will. After she died in 1974, California's probate court said their relationship qualified as a common law marriage.
His grave in Pere Lachaise Cemetery in Paris is one of the city's most visited tourist attractions.