Famously Dead A-Z:

Cause of Death:
View information about Liberace's death here on famously-dead.com. You can view information about Liberace's death and other famous deaths. You can view by name or by cause of death. We also have included the most popular famous deaths.
Liberace's Death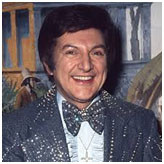 Liberace
Music
May 16, 1919
February 4, 1987
AIDS
The life and death of Liberace:
He was one of those rare artists known by only one name. He had so many nicknames, though, that a sports hero or mob boss would be proud. They included: Walter Liberace (by family), Lee Liberace (by friends), The Glitter Man, Mr. Showmanship and Walter Busterkeys. During his forty year career, in which he performed in concerts, recordings, movies, television and commercials, Liberace was famous for his ability as a pianist and his extravagant, personal flamboyance.
He was born Wladziu Valentino Liberace in West Allis, Wisconsin, the first generation son of working class immigrants from Italy (his father, Salvatore) and Poland (his mother, Frances). His twin died at birth.
Liberace started playing the piano at age four and his great talent was shown by the time he was seven. He played with the Chicago Symphony Orchestra when he was 20 and by the mid to late 1940's was performing in major U.S. nightclubs. He also interacted with his audience.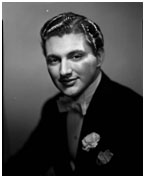 It needs to be noted that he was a gifted pianist, although he was criticized by some for stylized flourishes.
Liberace also appeared in the 1940's version of music videos, called "soundies" and he broke into television in the summer of 1952. His show was syndicated across the country. Liberace attracted mainstream, superstar talent as guests on his long running TV show.
Liberace won two Emmy Awards, had six gold albums and earned two stars on Hollywood's Walk of Fame.
And the Guinness Book of World Records said that, during the 1950's-1970's he was the highest paid entertainer in the world. (Think of all of the big stars of that era and it is an amazing fact.) Worth millions by the time he died Liberace left most of his estate to his scholarship foundation.
Liberace was known for flashy costumes and his candelabra.

Liberace was clearly effeminate and androgynous and he's credited for laying the groundwork for other outrageous, flashy acts that followed, including Elton John, Boy George and Lady Gaga. But as a practicing Catholic, he would consistently deny being homosexual and even once made anti-gay comments to an interviewer - even successfully suing two publications…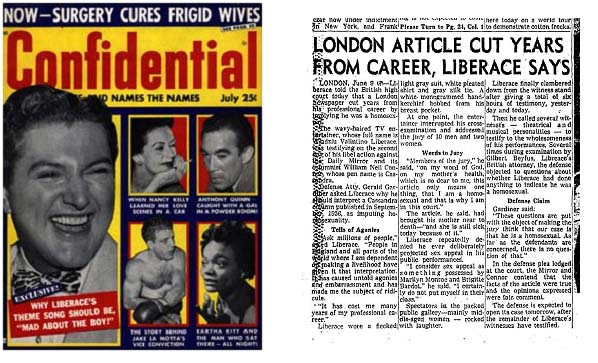 …when their writers insinuated that he was gay.
The Liberace Museum was established in Las Vegas but it closed in October 2010
Even in death he was controversial. There were rumors before he died that he had contracted the AIDS virus. His personal physician, business managers and friends denied it. However, the Riverside County, California coroner ordered an official autopsy despite the protests of his estate and reported that Liberace did indeed die of AIDS related illness. He was the second major media celebrity to die of the disease, after Rock Hudson.
Home Box Office produced a biopic based on his life in 2013, "Behind the Candelabra", starring the usually macho Michael Douglas.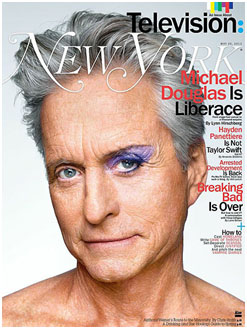 Liberace is buried Forest Lawn Memorial Park, in Los Angeles.