Famously Dead A-Z:

Cause of Death:
View information about Dennis Wilson's death here on famously-dead.com. You can view information about Dennis Wilson's death and other famous deaths. You can view by name or by cause of death. We also have included the most popular famous deaths.
Dennis Wilson's Death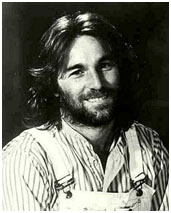 Dennis Wilson
Music
December 4, 1944
December 28, 1983
Drowning
The life and death of Dennis Wilson:
He was a charter member of the Beach Boys, the 1960's rock band that zoomed to fame with songs about surfing. In fact, he was the only surfer in the band and got the whole thing rolling when he told his older brother Brian it'd be a good idea to write a song about it. Best remembered as the group's drummer, he also sang, wrote songs and played a variety of instruments, including keyboards, guitar, bass guitar and accordion. However, he had his demons – like alcohol abuse – and drowned after diving off the side of a boat.
Dennis Carl Wilson was born and raised in Hawthorne, California. He was the son of Audree and Mury Wilson and the middle brother of Brian and Carl Wilson, with whom he formed the Beach Boys with their cousin Mike Love and neighbor Al Jardine.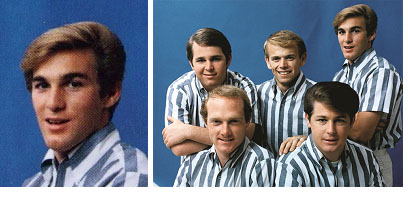 Dennis was considered the black sheep of the family and was the most likely of the brothers to get a spanking from his father. He'd sometimes refused to play along in family sing-alongs, but would harmonize with his brothers in the bedroom they shared, helping to develop that unmistakable Beach Boys' sound.
Mom forced her oldest son, Brian, to include Dennis in his musical group, originally called the Pendletones. At the suggestion of older cousin Mike Love, Dennis told Brian they should all form a group and compose a song about surfing. By August 1961, they were quickly noticed and were guided by the Wilson brothers' Dad, Mury, who served as their manager.
Brian assigned Dennis to be the drummer, and Dennis took lessons.

When Brian didn't think Dennis' technique was up to speed, he'd hire a session drummer to sit in. Dennis rolled with the substitutes and praised his older brother's songwriting skills. He also developed his own style as a drummer, with time and experience.
He didn't sing many leads on the Beach Boys' major hits, but he was the main voice on the band's 1965 hit "Do You Wanna Dance", as performed here on ABC-TV's "Shindig."
Dennis also had song-writing skills and perhaps his best known composition was the one he co-wrote at a party with Billy Preston called "You Are So Beautiful."
Although Joe Cocker had the major hit with it, here's Dennis performing it.
In 1968, Dennis picked up a couple of hitch-hikers while driving through Malibu, gave them a ride and dropped them off. Later, he saw the girls hitch-hiking again and this time took them to his house before leaving them there to go to a recording session.
he got home in the middle of the night, this is who he found standing in the driveway.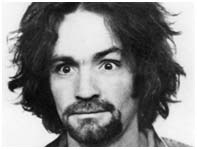 Charles Manson, who fancied himself a song-writer. Dennis originally thought Manson had some skill and introduced him to some friends in the music business. One of them was Terry Melcher, the son of actress Doris Day. Melcher lived in the house…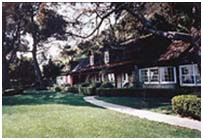 …that was later rented to movie director Roman Polanski and his wife Sharon Tate, the site of the Manson family led murders in August 1969.
However, by that time, Dennis had figured out Manson's volatile and violent nature, and severed his relationship with him by moving out of his own house. Wilson rarely discussed his involvement with the Manson group and would become agitated whenever the subject came up.
On his professional side, Dennis also appeared in a 1971 movie called "Two Lane Blacktop" and put out a solo album, "Pacific Ocean Blue" in 1977. He had a falling out with his cousin, Mike Love, and because his alcohol addiction sometimes left him out of control, the group sometimes banned him from their concerts. In 1983, they told him to sober up if he wanted to join their upcoming tour.
He signed up in a detox unit in December, but quit on Christmas Day. Three days later he went diving in Marina del Rey, California to recover some things he'd thrown off his yacht three years earlier.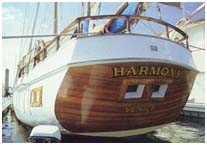 He never surfaced alive. A drowning victim at age 39, an autopsy showed Dennis had cocaine in his system and an elevated blood alcohol level. Dennis was buried at sea, which required the help of then President Ronald Reagan, because non-veterans of the Coast Guard and Navy usually cannot be buried at sea, unless they're cremated first.
Dennis Wilson had five wives and as many kids. He had a daughter, Jennifer, with Carole Freedman, wife number one, and adopted her some Scott. His marriage to Barbara Charren produced two sons, Michael and Carl. He was married twice to Karen Lamm. And when he died, Dennis was married to – but separated from – Shawn Love, the mother of his son Gage.
Among his famous girlfriends, Christine McVie of Fleetwood Mac.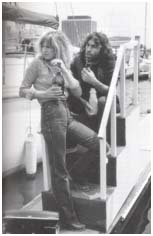 She broke it off because of his drinking problem.