Famously Dead A-Z:

Cause of Death:
View information about Biggie Smalls's death here on famously-dead.com. You can view information about Biggie Smalls's death and other famous deaths. You can view by name or by cause of death. We also have included the most popular famous deaths.
Biggie Smalls's Death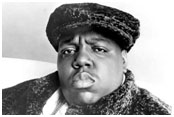 Biggie Smalls
Rap Music
May 21, 1972
March 9, 1997
Shooting
The life and death of The Notorious B.I.G. also known as Biggie Smalls:
This famous American rapper was a big star on the East Coast hip-hop scene but got caught up in an East Coast/West Coast hip-hop feud and was shot and killed in a drive-by shooting.
He was born Christopher George Latore Wallace in The Clinton Hill section of Brooklyn, New York. His mother Voletta Wallace was a preschool teacher. His father was a welder and Jamaican politician and left the family when Christopher was only two years old.
His mother worked two jobs raising him and in middle school Christopher was a great student, winning several awards as an English student.
He was only 12 when he was nicknamed Big, because he was overweight.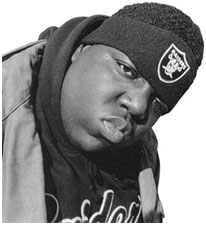 And he started selling illegal drugs while his mother was at work. She said she didn't realize it until he was an adult.
While in high school he transferred out of Roman Catholic Bishop Loughlin Memorial High to attend the George Westinghouse Career and Technical Education High School.
Rappers-to-be Jay-Z and Busta Rhymes also attended that school. His mother later said that while he was still a good student, he developed a wise guy attitude in his new environment.
And at 17, he dropped out and got involved in crime. He was arrested on weapons charges in Brooklyn in 1989 and by 1990 was arrested on a probation violation. The following year, Biggie was picked up in North Carolina for dealing crack cocaine and spent nine months in jail before making bail.
But he started rapping as a teenager and by 1992 he was featured in a column dedicated to aspiring rappers. He signed with Uptown Records.
His first child - with a girlfriend - was born in August 1993 and they named her T'yanna.
Biggie gained attention with a remix of Mary J. Blige's "Real Love ", under his new name: "The Notorious B I G"
He married R&B singer Faith Evans in August, 1994 and then had his first solo hit with "Juicy".
He also became friends with rapper Tupac Shakur, who was also destined to be a drive-by shooting victim
In 1995 his group Junior M.A.F.I.A released their first album "Conspiracy" and by the end of the year, Biggie was the top-selling male solo artist and rapper on the U.S R&B and pop charts. But he also became involved in a rivalry between the East and West coast hip-hop scenes, with his now his former friend, Shakur.
As the feud between the hip-hop camps grew, Biggie's legal problems continued. In March 1996, he was arrested outside a New York City nightclub for chasing and threatening to kill two autograph seekers.
The feud came to a head we Shakur was shot and killed in a drive-by shooting in Las Vegas on September 7, 1996.
Less of the year later, at the 1997 soul train music awards on March 8, 1997 Biggie had presented an award to Toni Braxton and was leaving in a GMC suburban SUV
It was stopped at a red light when a dark-colored car pulled alongside and a man rolled down the window, drew out his blue steel pistol and shot four times, hitting Smalls and killing him
The Notorious B I G's murder remains unresolved despite many theories regarding the identities and motives of the killers.
Some link them to the murder of Shakur because of the drive-by shootings and the involvement of both men in the West Coast East Coast hip-hop rivalry.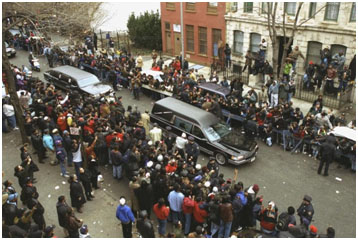 Cremated, his ashes were given to friends and family.
Biggie is remembered as one of the best artists and hip-hop music described by all music is the savior of East Coast hip-hop.