Famously Dead A-Z:

Cause of Death:
View information about Tupac Shakur's death here on famously-dead.com. You can view information about Tupac Shakur's death and other famous deaths. You can view by name or by cause of death. We also have included the most popular famous deaths.
Tupac Shakur's Death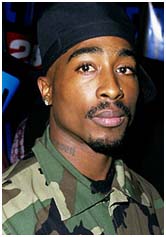 Tupac Shakur
Music
June 16, 1971
September 13, 1996
Shooting
The life and death of Tupac Shakur:
He's one of the best-selling music artists in the world, selling more than 75 million albums worldwide. Tupac Shakur was a rapper and an actor. "Rolling Stone" called him one of the eighty sixth greatest artists of all time, and MTV rated him number two on its list of "The Greatest Emcees of All Time". And police trace his death to a drive-by shooting that was the outgrowth of a gang fight.
Born in East Harlem, New York, Tupac's mother Afeni Shakur and his father Billy Gardner were active members of New York's Black Panther Party. Some of his relatives (stepfather and godfather) were convicted of serious crimes and imprisoned.
Growing up in Harlem, Tupac performed at the Apollo Theater when he was 12 in the play "A Raisin in the Sun." The family moved to Baltimore in 1986 and he continued studies in acting (appearing in Shakespearean plays), poetry, ballet and jazz and was considered one of the most popular students because of his ability to get along with all crowds and his sense of humor.
In June, 1988 his family moved near San Francisco to Mann City, California. That's where his entertainment career started in the early 1990's as a roadie, backup dancer for the hip hop rap group Digital Underground in 1991.
His first solo album was"2Pacaclypse Now", playing off the title of the 1979 movie "Apocalypse Now". And it generated criticism when it was linked to the shooting of a state trooper. Some high government officials, like Vice President Dan Quayle, said a record like that has no place in society. But face it, Quayle wasn't Tupac's audience by any stretch of the imagination.
This album also generated hits like "Keep Ya Head Up".
His second album "Strictly 4 My N.I.G.G.A.Z" underscored Tupac's social and political views and sold better than the first one.
In 1996, "All Eyez on Me" was released as his fourth studio album, and was hailed as one of the top examples of '90's rap music. It featured two singles that hit number one on Billboard's Hot 100: "How Do U want it" and "California Love." It won 1997/s Soul Train R&B/Soul Rap Album of the Year.
He also appeared in movies like "Above the Rim."
Shakur had his share of legal problems. He filed a multi-million dollar lawsuit against Oakland's Police Department, accusing them of beating him for jaywalking and he got a settlement of more than $40,000.
There was a 1992 incident in which Shakur dropped his legally registered gun at an outdoor festival and when a member of his entourage picked it up, it fired and hit a 6 year old playing in a nearby playground in the head, killing him. Criminal charges were dropped because there was a lack of witnesses, but Shakur paid a settlement of several hundred thousand dollars to the victim's parents.
He was accused in a 1993 shooting in Atlanta involving a couple of off-duty police officers, but all charged were later dropped.
And in November of that year Shakur and others were charged in a hotel sexual assault. Tupac denied it and claimed it was consensual oral sex, and while he was acquitted of sodomy, he was convicted of sexual abuse for "unwanted touching."
He was ordered to serve 120 days in jail in April, 1996 for violating the terms of a bail agreement and did his time in New York's Clinton Correctional Facility. A short time later, his "Me against the World" album was released and it went platinum.
The end came for Tupac when he was shot in a drive-by in Las Vegas on September 7, 1996. He went to the Mike Tyson-Bruce Seldon heavyweight fight at the MGM Grand that evening and after leaving, a member of his group spotted an alleged member of the Crips gang, Orlando Anderson. Shakur's entourage assaulted Anderson because he was involved in a robbery affecting one of them.
Hours later, while travelling along Flamingo Road, a late model Cadillac pulled aside the car Tupac was riding in, rolled down a window and started shooting. Shakur was hit several times, including a chest wound. Rushed to a local hospital, Tupac was put on life support and was placed in a medically induced coma because he repeatedly tried to get out of bed.
Six days after he was wounded, while in critical care, Shakur died of internal bleeding – the official cause was respiratory failure. But it all stemmed from the drive-by shooting.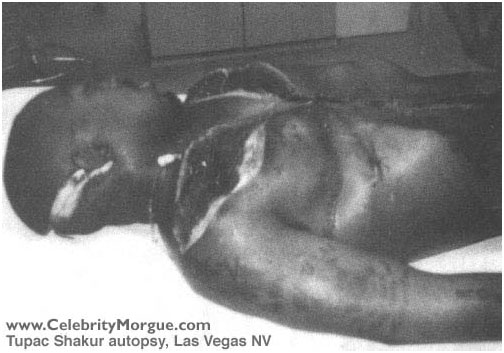 Tupac's body was cremated and the next day some of his ashes were mixed with marijuana and smoked by member of his group.
Other rappers hold Tupac Shakur in high regard and his mother founded the Tupac Amaru Shakur Foundation in 1997 to preserve his legacy.