Famously Dead A-Z:

Cause of Death:
View information about Ruby Dee's death here on famously-dead.com. You can view information about Ruby Dee's death and other famous deaths. You can view by name or by cause of death. We also have included the most popular famous deaths.
Ruby Dee's Death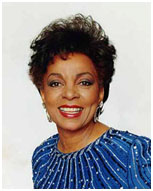 Ruby Dee
Actress, Civil Rights Activist
October 27, 1922
June 11, 2014
Natural Causes
The life and death of Ruby Dee:
She was a black woman in movies from the film roles written for black women were scarce. Additionally, over the years, she became a strong celebrity voice in the Civil Rights movement, along with her long-time husband and fellow actor, Ossie Davis.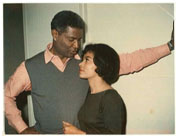 Ruby Ann Wallace was born in Cleveland, but when she was an infant, her family moved to Harlem in New York City. She graduated from a very competitive high school and enrolled in college, but wanted to be part of show business. In 1940, she got a role in a local Harlem production and she advanced from there.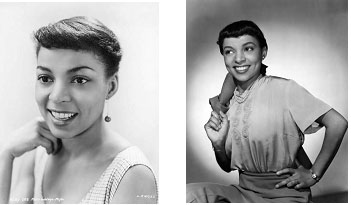 Ruby married blues singer Frankie Dee Brown in 1941 and used his middle name as her stage name. The couple split in 1945.She met Davis on Broadway in 1946 and they remained married for more than a half century, until he died in 2005.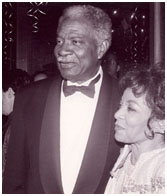 Perhaps her most famous role was opposite Sidney Poitier in "A Raisin in the Sun".
However, she also frequently collaborated with her husband over the years in 11 stage productions and five movies, including in the Spike Lee film "Do the Right Thing".
Ruby also starred in the early 1950's opposite another genuine hero for American blacks: Jackie RobinsonJackie Robinson, playing the role of Jackie's wife Rachel in the original "Jackie Robinson Story."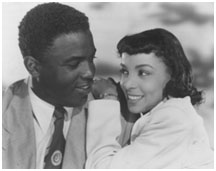 Working well into her later years, Ruby earned an Oscar nomination at age 83 for "best supporting actress" for her role in the 2007 film "American Gangster." She also won an Emmy in 1990 for the TV movie "Decoration Day" and was nominated for several others.
Dee and Davis were active in the civil rights movement and battled for social and racial justice in the United States.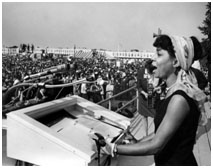 Dee and Davis served as masters of ceremonies for the historic 1963 March on Washington. She also spoke at the funerals of both Martin Luther King Jr. and Malcolm X.
In June, 2014, at the age of 91, Ruby Dee died of natural causes at her home in New Rochelle, New York surrounded by her children and grandchildren. Her remains were cremated, and her ashes held in the same urn as that of Davis. The inscription: "In this thing together".