Famously Dead A-Z:

Cause of Death:
View information about Robin Williams's death here on famously-dead.com. You can view information about Robin Williams's death and other famous deaths. You can view by name or by cause of death. We also have included the most popular famous deaths.
Robin Williams's Death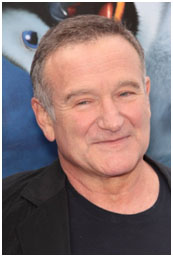 Robin Williams
Actor, Comedian
July 21, 1951
August 11, 2014
Apparent suicide
The life and death of: Robin Williams.
He was a beloved actor and comedian by several generations of fans. And his death in an apparent suicide brought a tidal wave of profound sadness and shock from the Hollywood community and movie-goers, the likes of which hadn't been seen since the deaths of Michael Jackson and James Gandolfini.
Robin McLaurin Williams was born in Chicago. His mother, Laura McLaurin, was a model. His father, Robert, was a senior executive for the Ford Motor Company. Robin was raised an Episcopalian and in 1973 was accepted to the Julliard School in New York City.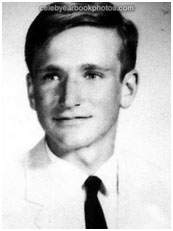 He and another star student sparkled there at the same time: Christopher Reeve, of "Superman" fame. Jonathan Winters was a major influence in his career.
Robin had a break through role as Mork on "Happy Days"…
...and his fame grew in the spinoff series, "Mork & Mindy".
He was also well known for his work as a standup comedian.
Robin won a Best Supporting Actor Oscar for his role in "Good Will Hunting".
And he played it for laughs in "Mrs. Doubtfire".
He appeared in a series of comedic and dramatic film roles, including "Good Morning Vietnam," "Dead Poets Society," "Patch Adams" and several others.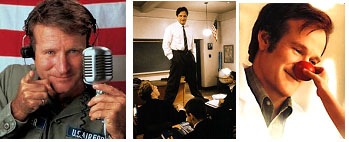 In all, he was nominated for three Best Actor Oscars, and won two Emmy Awards, four Golden Globes, five Grammy Awards and two Screen Actors Guild awards.
Williams was married three times. He and Valerie Velardi were married in 1978 and they had one son, Zachary, but divorced ten years later.
He married his son's nanny. Marsha Garces, in 1989, who was several months pregnant with his daughter, Zelda. They also had a son Cody. But by March 2008, they divorced after Marsha cited irreconcilable differences.
He married his third wife, Susan Schneider, in October 2011 and she survived him at his death.
Williams also had his demons. He was addicted to cocaine in the late 1970's and early 1980's and admitted to being an alcoholic after checking into a substance abuse rehab center in August, 2006. He was also hospitalized in March 2009 with heart problems.
Robin Williams was found unconscious in his San Francisco area home at around noon on the afternoon of August 11, 2014. He was dead at age 63 of asphyxiation and was suffering from severe depression. His death was considered an apparent suicide, pending further investigation.
Robin was cremated and his ashes were scattered in San Francisco Bay just one day after he was found dead in his Tiburon home. His widow said he was in the early stages of Parkinson's disease and hadn't been ready to share his Parkinson's diagnosis publicly. Mrs. Williams also said was sober at the time of his death.
Less than a year later, in May of 2015, there was word of a dispute over Robin's estate. His three children and his widow Susan couldn't agree on how much cash she should receive over her lifetime, even though they did settle their differences over how his personal effects should be split.
Williams left most of the estate to his kids, including funds received from the sale of a home and property in Napa County, California. But he did leave the house in Tiburon to Susan, with instructions that she get enough money to maintain it through her lifetime. She and the step-kids couldn't agree on a number.
To be continued….