Famously Dead A-Z:

Cause of Death:
View information about Christopher Reeve's death here on famously-dead.com. You can view information about Christopher Reeve's death and other famous deaths. You can view by name or by cause of death. We also have included the most popular famous deaths.
Christopher Reeve's Death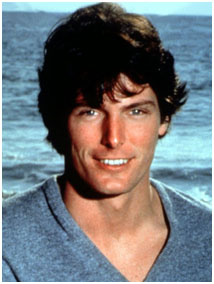 Christopher Reeve
Actor
September 25, 1952
October 10, 2004
Heart Failure
The life and death of Christopher Reeve:
How sadly ironic it was that this actor, remembered primarily for his portrayal of the "Man of Steel", Superman, ended up being a quadriplegic after a tragic equestrian accident. He was only 43 years old when the accident happened and he spent the rest of his life in a wheelchair and using a breathing apparatus.
However, as his life changed, so did his approach to it. He became an advocate for people with spinal cord injuries and for human embryonic stem cell research and founded the "Christopher Reeve Foundation" and cofounded the Reeve-Irvine Research Center.
Christopher D'Olier Reeve started life in New York City, the son of a journalist Barbara Pitney Lamb and Franklin D'Olier Reeve, a teacher, novelist, poet and scholar. Chris's ancestors also registered huge accomplishments. His paternal grandfather, Richard Henry Reeve, was the CEO of Prudential Financial for over 25 years. Reeve's great-grandfather, Franklin D'Olier, was a prominent businessman and the first national commander of the American Legion.
On top of that, Reeve's father descended from U.S. Supreme Court Justice Henry Baldwin and his mother was the granddaughter of Supreme Court Justice Mahlon Pitney.
Christopher caught the acting bug when he was only nine years old and was in many school plays. He was accepted to several Ivy League schools, including Brown, Columbia, Cornell, and Princeton. He chose Cornell because it was close to New York City and he wanted to be an actor. (That's besides the fact that Columbia is in New York City.)
Before his third year of college, Reeve took a three month leave of absence, going to Glasgow where he was involved in theatrical productions throughout Scotland and England. Returning from Europe, he decided he wanted to focus on acting and went to the Juilliard School. His first year at Juilliard was counted as his senior year at Cornell.
Reeve and Robin Williams were the only students selected for Juilliard's advanced program. They had several classes together in which they were the only students.
Reeve's first Hollywood roles were small parts, like a submarine officer in "Gray Lady Down". He also acted in the play "My Life" at the Circle Repertory Company.
Reeve was asked to audition for the leading role as Clark Kent and Superman in the big-budget movie "Superman" in 1978, his biggest role. Because of the casting director's persistence, he won the part. However, Chris refused to wear fake muscles under his Superman suit and went under intense two-month training regimen. He added 30 pounds of muscle to his thin frame, and started looking very much the part.
Chris appeared in several Superman sequels, right through Superman IV, for which he would have partial control over the script.
In a change of pace for him, he appeared in the 1980 romantic fantasy "Somewhere in Time"…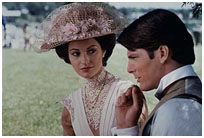 …opposite Jane Seymour. They became friends and she named one of her twin son, Kristopher, in his honor in 1996.
Reeve was certainly in demand. Some of the lead roles Chris rejected included: "American Gigolo", "Splash", "The World According to Garp", "Pretty Woman", "Fatal Attraction", "Lethal Weapon" and "Body Heat".
He took up his fateful horse riding hobby in 1985, after learning to ride for the film "Anna Karenina". He was initially allergic to horses but took antihistamines. He bought a 12-year-old thoroughbred named Eastern Express, and nicknamed Buck.
Chris married Dana Morosini in April 1992…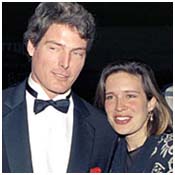 …and they had a son, William. He also had two other children Matthew Reeve and Alexandra Reeve, from an earlier relationship with Gae Exton.
On May 27, 1995, Chris's horse Buck refused a jump over the third fence. Buck started to jump but then stopped. Reeve held on and the bridle, bit and reins were pulled over the horse and tied his hands together. Chris landed headfirst on the other side of the fence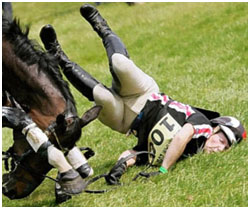 He sustained a cervical spine injury, leaving in paralyzed from the neck down. The impact of his body hitting the ground shattered his first and second vertebrae. (His helmet prevented any brain damage.)
After rehab, he had continuing frustration with the pace of stem cell research. He went to Israel where he tried to get the necessary cells and began his public activism after that.
Chris suffered from asthma and allergies since childhood and in 2002 and 2004 fought off a number of serious infections, believed to have originated from a bone marrow condition.
In October 2004 he was being treated for an infected pressure ulcer, which was causing sepsis, which can lead to organ failure..
Here's Chris in his last public speech at the Rehabilitation Institute of Chicago on October 5, 2004.
Chris went into cardiac arrest on October 9th after receiving antibiotics for an infection. He fell into a coma and later died of a heart attack at the age of 52. His doctor believed an adverse reaction to the antibiotic actually caused his death.
He was cremated and his ashes were scattered.
His widow, Dana Reeve…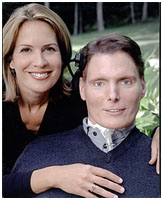 …headed the Christopher Reeve Foundation after his death, but then she was diagnosed with lung cancer in 2005 and died at the age of 44 in 2006.
Christopher and Dana Reeve were survived by their son William, and Reeve's older children, Matthew and Alexandra.
Matthew and Alexandra both went on to serve on the board for the Christopher and Dana Reeve Foundation.