Famously Dead A-Z:

Cause of Death:
View information about Rita Hayworth's death here on famously-dead.com. You can view information about Rita Hayworth's death and other famous deaths. You can view by name or by cause of death. We also have included the most popular famous deaths.
Rita Hayworth's Death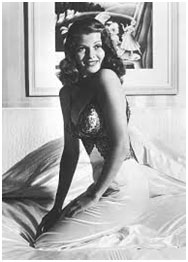 Rita Hayworth
Actress, Dancer, Singer
October 17, 1918
May 14, 1987
Alzheimer's disease
The life and death of Rita Hayworth:
She was one of the biggest film stars of the 1940's singing and dancing and acting in some top films. She was known for her sultry voice and flaming red hair and appeared in 61 movies over 37 years, her biggest hit was "Gilda". She's also listed as one of the 100 greatest stars of all time by the American Film Institute, but she died at a relatively young age from complications associated with Alzheimer's disease
Margarita Carmen Cansino was born in Brooklyn, New York - the oldest child of two dancers. Her father Eduardo came from a town near Seville, Spain. Her mother Volga Hayworth was an American of Irish English descent and also was a dancer who performed with the Ziegfield Follies.
Her father wanted to be a professional dancer and her mother hoped she would become an actress. It turned out she was successful at both.
She didn't like dancing much, taking lessons from the time she was three and a half but didn't have the heart to tell her father. She attended the dance classes every day and eventually started performing probably from the age of six. She was even in a short film for Warner Brothers of the age of eight in 1926.
But in 1927 the Cansinos moved from Brooklyn to Hollywood. Eduardo believed dancing could be featured in the movies and wanted his family to be part of it. So he set up a dance studio and had students like Jean Harlow and James Cagney. But he lost all of his investments in the Great Depression as the interest in dance lessons faded.
So he partnered with his daughter as they formed "The Dancing Casinos". It was during this time she was spotted by the head of Fox Films who signed her to a short-term contract. She never completed high school because she was working - but she was getting those movie roles, though not big ones at Fox.
But her future first husband Edward Judson saw something in her and arranged for a screen test at Columbia Pictures and the studio had signed her to a long-term contract.
Columbia's chief, Harry Cohn, thought she was "too Mediterranean" and she was asked to change her hair color to dark red and changed her name to Rita Hayworth. The studio boss pressured directors to put her in bigger films and her credits began to grow.
Her biggest role was as Gilda in the movie of the same name…
Another notable role was in Pal Joey, co-starring Frank Sinatra.
One of Hollywood's most popular female stars…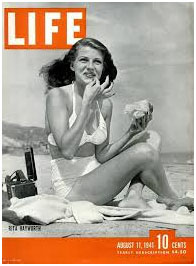 She also appeared in the movie "Lady from Shanghai", directed by Orson Welles…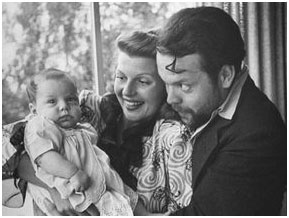 …and she eventually married him - husband number two.
In 1948, a major star, she travelled to Cannes and was introduced to Prince Ali Khan.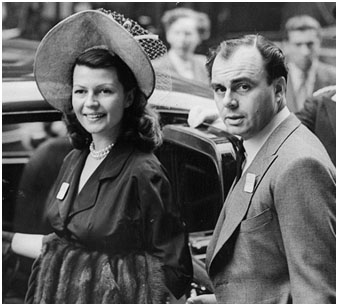 They had a courtship and they married - her third husband.
They divorced in 1953 and she married two more times to singer Dick Haynes and then to film producer James Hill.
One of her daughters Yasmin Aga Kahn acknowledged her mother's long struggle with alcoholism.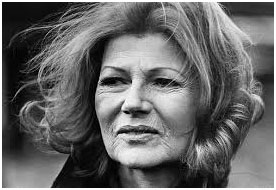 Her disease his symptoms of what was eventually understood to be Alzheimer's disease.
In February 1987, Rita Hayworth fell into a semi coma and she died at age 68 from complications associated with Alzheimer's.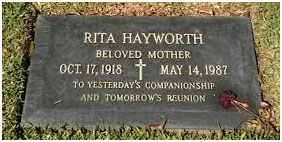 She's buried at Holy Cross Cemetery in Culver City, California.